Back to top
Blue Bedding Sets.
add elegant tones to your bedroom with stunning blue bedding.

When used in the home, blue is an incredibly versatile colour. Create calm and peaceful settings, moody and mysterious interiors, or royal and elegant spaces with our collection of stunning blue bedding. Browse through colours of teal, navy, royal and duck egg blue bedding sets to find the perfect hue for your home.Choose between gorgeous florals, bold animal prints and geometric designs to create a statement in your bedroom. Why not keep it minimal with a simple yet stunning plain blue bedding set. There is a shade, texture and design for every home style.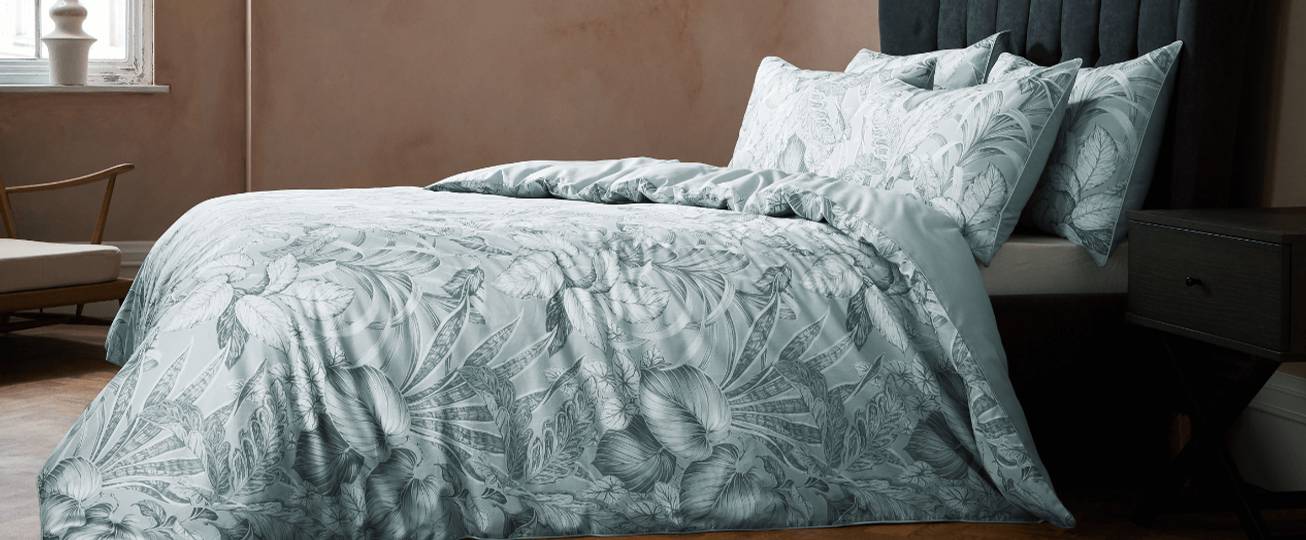 blue bedding at furn.com
In our large collection you will be able to choose between bright, plain, light or dark blue bedding in a range of designs and compositions. Deciding which shade you want is important as the tone can define the overall feel of your bedroom…
what goes with blue bedding?
White with blue bedding – Create a classy look in your home. Navy and white bedrooms are timeless yet modern. Adding some white cushions to dark blue bedding will make the colour pop and stand out.
Grey with blue bedding – Grey is an unbiased colour and is great for pairing with most shades. Adding accessories such as grey throws or grey cushions to a blue bedding set will create a cool-toned atmosphere that you can feel totally relaxed in.
Go minimalistic with navy and grey bedding. A classic striped blue bedding set is the perfect choice for a simple yet effective look in your bedroom.
Although blue and gold are at opposite ends of the colour wheel, they work perfectly together by creating deep colour contrasts. Adding soft textures such as a velvet blue bedding set against golden accents in your room will ooze a luxurious style.
don't forget to add…
Blue pillowcases are a subtle yet effective way of introducing colour to your room. Adding small details like this can establish layers which in effect, can make your bed appear larger and grander.
Add a finishing touch with a cosy blue blanket or bed throw. Not only will you be adding textures but also an additional layer of comfort and warmth. Our blue throws can be paired easily with a variety of duvet cover sets including the ones found in our blue bedding collection.