Back to top
Velvet Bedding Sets.
lay down in luxe with our velvet bedding sets.
The fabric of choice for 16
th
and 17
th
century nobles, velvet has stood the test of time like few other textiles. Featuring quilted and crushed velvet in a variety of embroidered designs and opulent jewel tones, our velvet bedding sets collection brings
the age-old elegance of this fabric into a contemporary interior space. Shop the collection today.
Our selection of velvet bedding sets is made from the highest quality fabrics for a super-soft finish that demands to be touched. From dreamy 100% cotton weaves to silky-smooth viscose, durable polyester and polycotton blends – our collection merges the timeless elegance of velvet with modern-day durability. Our single sized duvet sets come with one matching pillowcase, while double sizes and up come with two.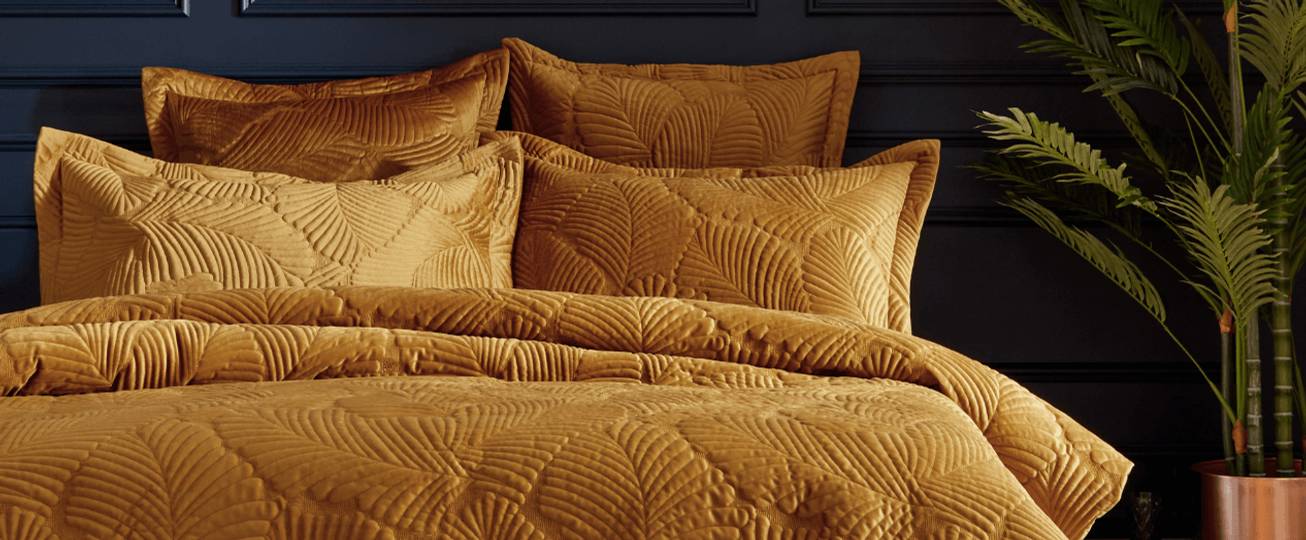 velvet bedding sets at furn.com.
Pairing the age-old luxury of velvet with modern-day durability, our velvet bedding sets collection is the perfect marriage of style and substance. Made in the UK from the finest 100% cotton, viscose, polyester and polycotton fabrics, our entire collection is strong, durable and perfect for busy environments like the family home.
Most sets are recommended for professional dry cleaning, however some polyester options are machine washable. Velvet is an extremely durable fabric that will endure for decades with proper care, so make sure to have a look at specific washing guidelines on the individual product pages.
Want to know more? Our useful bedding buying guide covers everything you need to know – from bedding basics to sizing options, fabrics to finishing touches and more.
how to style velvet bedding.
Nothing makes a statement quite like luxury velvet bedding. A historical favourite among artists, aristocrats and designers alike – velvet carries colour in a way that other fabrics simply can't achieve.
Its irresistible texture is also a unique quality which other fabrics fail to imitate. Velvet demands to be touched, stroked – and in the case of our velvet bedding – rolled around in.
Adding a touch of velvet to your space will fit with most styles, but it's generally linked to the more maximalist side of interior design. If you're determined to introduce velvet bedding to your space but want to maintain a pared-back aesthetic, it's important to remember that less is often more with this luxuriant fabric.
Balance out the richness of velvet by introducing other textiles and materials that quell its intensity. Neutral white or beige wallpaper will provide a serene backdrop for your velvet to really take centre stage, and you can carry on this clean-cut motif with neutral decorative cushions made from cotton or linen. The lighter fabrics will offset the regality of the linen, creating a more relaxed feel.
For a more rustic look that's rough around the edges, contrast the silky-smooth texture of velvet bedding with textured fabrics. Jute or tufted cushions, a knitted bed throw and wooden bedroom furniture will bring strong textural depth to your space – balancing the velvet's formality with homely, inviting materials.
To dial up the luxe, go for quilted or crushed velvet bedding and continue the opulent motif in other areas of the room. Rich, jewel-toned wallpaper will enhance the decadence of your space and complement the velvet fabric beautifully. Introduce matching velvet curtains in saturated tones to create an enchanting cocoon of luxury that you'll never want to leave, and pepper the look with different types of metallic bedroom lighting to round off the lustrous aesthetic.