Back to top
Christmas Bed Throws.
welcome in the wonders of festive comfort with our Christmas bed throws.
With crisper mornings and a whiff of mulled wine, the festive season announces its arrival – and what better way to celebrate than with a
Christmas
bed throw? Wrap yourself up in our stunning range of seasonal designs, from classic tartan checks to fun-filled festive prints, to understated snowflakes and winter woodland scenes. Shop the collection.
Whether you're crackers for Christmas or a self-professed scrooge, we're sure you'll find something to love in our magical selection of
Christmas throws
for your bed. Take your sleep sanctuary from so-so to festive grotto with our merry range of seasonal shades, from traditional green, red and gold to snowy whites and cool winter neutrals.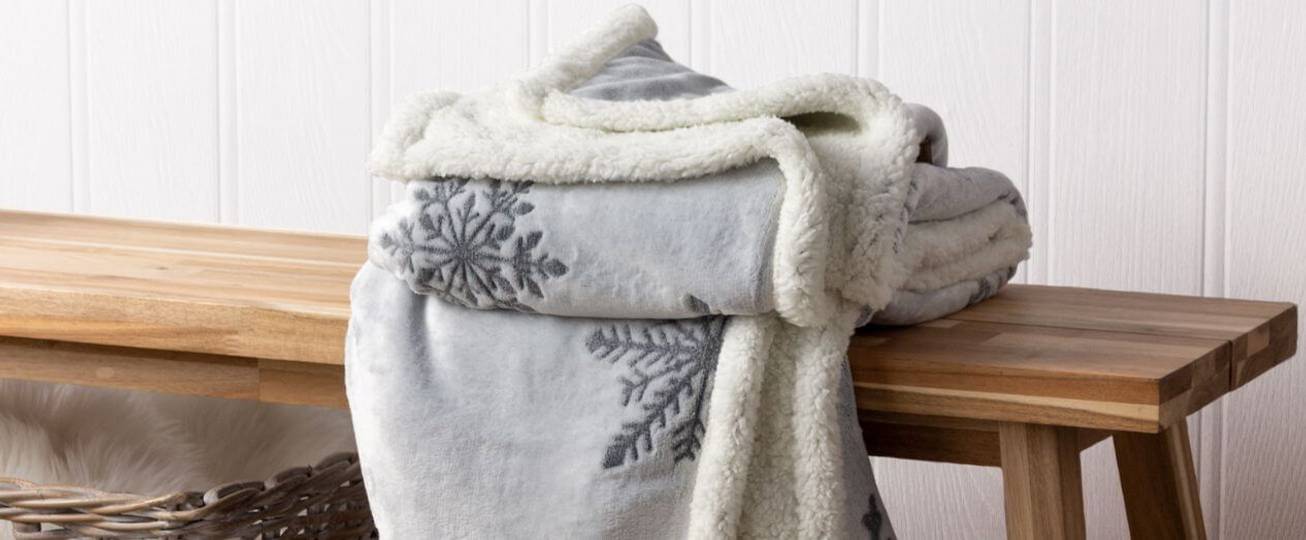 christmas bed throws at furn.com.
Craving a spark of Christmas joy for your sleep sanctuary? Look no further than our shimmering selection of Christmas bed throws. Stuffed with a rich selection of signature designs, from traditional checks and serene snowflakes to wintery woodlands and bustling festive prints – you're sure to find your perfect merry match.
Can't get enough of the Christmas vibes? Make sure to check out our full Christmas range. It's chock full of festive home furnishings, from Christmas bedding and cushions to toasty throws, as well as glimmering Christmas gifts that'll look serene beneath your tree.
If you're picking up some Christmas gifts but aren't quite sure where to start, our inspiration blog is packed with helpful guides and expert styling tips that are sure to spark fresh ideas. Sort through your snuggly layers with our bedspreads, throws and blankets guide, learn how to layer your bed like an interior designer or get your space Santa-ready with our guide to styling your home for Christmas.
how to have a cosy Christmas.
While Autumn and Halloween might hold the official title of cosy season, there's no denying that getting snug, lighting some scented candles and flicking on your favourite Christmas film is a coveted part of the holiday season. As temperatures drop, everyone starts to crave a taste of that snuggled-up fireside feeling, and some easy adjustments to your interior will go a long way in getting you there.
Your bedroom should be the core of cosiness when it comes to organising your interior for the holidays. While Christmas is a magical time of year, we all know that the average person's experience can get a little overwhelming, so it's important to have a snug little hideaway on standby when all that cooking and cracker-pulling starts to feel like a bit too much. Our sleep sanctuary guide is stuffed with quality tips for bringing relaxation to your bedroom, but we're sure you'll agree that Christmas requires an extra special touch.
When it comes to creating a cosy bedroom for Christmas – and any other time of year, really – the most important thing is to start with a solid sleep foundation. Bedding is the beating heart of your bedroom's comfort, so investing in a quality sheet, quilt and pillows will make the world of difference. We've got plenty of Christmas duvet cover sets if you fancy bringing a festive motif to your sheets, with a stunning selection of novelty prints and soothingly seasonal designs to choose from.
Textures should be a top priority when it comes to creating any sort of cosy vibe, and that's where our Christmas bed throws come in. Made with irresistibly soft teddy fleece and Sherpa fleece fabrics, they're packed with fuzzy comfort – giving you a sumptuously soft safe haven to return to after all the festive fun. Adding in a mix of textures will create endless visual and tactile depth in your space, so don't be afraid to layer up with bouclé cushions, faux fur throws and any nuzzle-worthy textures that take your fancy.