our go-to blanket guide for sorting through your snuggly layers.
---
Do you have a favourite cosy layer? Or, like many of us, do you struggle to tell the difference between them in the first place? With all this chatter around the myriad types of fabric coverings, it's easy to feel thrown off, spread thin and downright draped in confusion.
However, it's important to head out into the world of interiors armed with the best of knowledge. Getting to grips with the finer details of decor might save you a lot of hassle down the line, and will allow you to squeeze every last drop of joy from the delight that home decorating should be.
In the name of efficiency, knowledge-sharing and easing any stress that might creep in when styling your space, we've put together the quintessential guide to everyone's favourite cosy layers. So, get the PJs pressed, pointy nightcaps on and fire up those old-timey oil lanterns – we're going under the covers on everything bedspreads, throws and blankets.
---
starting with the similarities...
When talking about what separates bedspreads, throws and blankets from each other, it's ironically a bit easier to start with what they all have in common. At the most basic level, all three are finishing layers of fabric that are used in interiors for three main reasons – warmth, texture and style.
While a faux fur throw might bring richer texture than a quilted bedspread, and a sherpa fleece blanket might provide more warmth than a cotton throw – it's nonetheless true that each is used for building warmth, texture and style in a decor scheme.
Different from duvet covers, quilts or bed sheets – what we're discussing today are the outermost, bed-topping layers of fabric that bring those final touches of style and comfort.
---
bedspreads - what's the big idea?
If you've ever spent the night in a swanky hotel or a suspiciously well-decorated spare room, you've probably been acquainted with the luxe finishing layer that is the bedspread. They're big, extravagant, style-focused fabric coverings that usually span the entire bed and graze the floor. What sets bedspreads apart from other bedding toppers is that they're heavily embellished, decorative pieces that are more about creating an elegant look than anything else.
But don't let all the bells and whistles fool you – bedspreads offer plenty of practical benefits that had them flying off shelves when they exploded in popularity during the mid-century design period. As they're generally thinner than throws or blankets, bedspreads can be slept under in the warmer seasons as a lighter alternative to a quilt or duvet. In cooler climes and chillier times, they can also double as a handy extra layer of cosy insulation.
So, if an elaborate, decorative top-layer sounds like something you wouldn't mind spreading over your duvet – our selection of bedspreads might just be calling your name. Our Shiraz Traditional Jacquard Bedspreads are the missing ingredient in your luxe master suite aesthetic – bringing regal damask embroidery worthy of the queenliest bedchamber. Our quilted bedspreads offer something a little more snuggly, with plain-dye velvet finishes and embroidered diamante crystals satisfying every flavour of interior tastes.
---
the throw-down lowdown.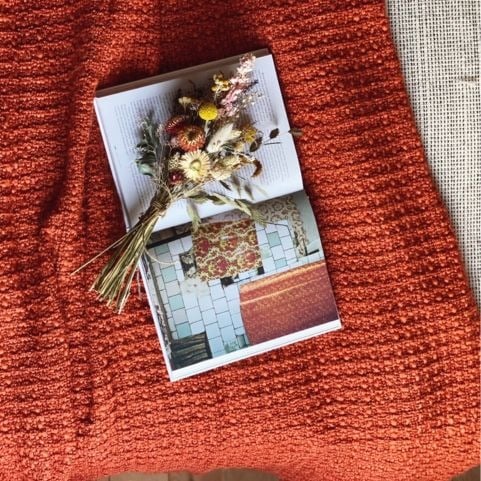 Small but mighty, throws are the teeniest but most versatile of our three top-layer fabrics. They do exactly what they say on the tin – bringing a quick pop of style, colour and texture wherever you decide to throw them. Delicately drape over dining room chairs, spruce and spread along the foot of your bed or throw tousled on your sofa in-wait of snuggly nights in. Wherever you leave your throw, you'll have a no-fuss cosy layer that brings spades of warmth, style and texture in whichever order you prefer.
There isn't a whole pile that separates throws from blankets, and the two terms are often used interchangeably, but the general gist is that throws are smaller and can be used more outside the bedroom. While blankets are typically made to cover the full area of a bed, throws are a smaller comfy layer that can be used in any space in (or outside of) your home.
If you're looking for a handy, all-purpose accessory that doubles as a warming layer when temperatures drop, our collection of throws might just be your perfect match. Go with a lightweight cotton throw for a breezy blast of bright woven patterns and chic frayed fabrics. Or, if you're more cosiness-inclined, our fuzzy fleece throws are fully heat-insulating and make the toastiest winter warmers.
---
behind-the-scenes of blankets.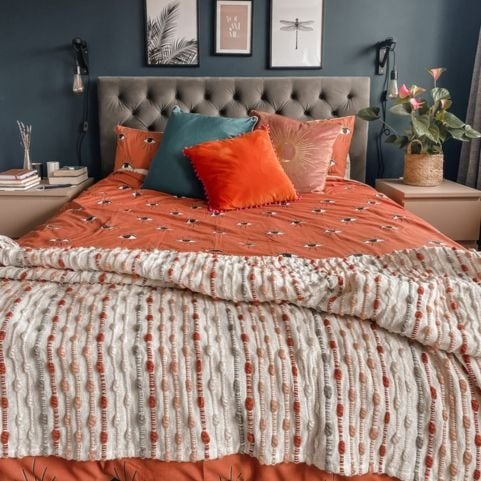 As we've said, blankets and throws are pretty similar aside from slight differences in size and purpose. While throws are smaller multi-purpose accessories that can be used in any room or outdoor space, it's generally accepted that blankets are more of a bedroom thing. They're made as covering layers for sleeping with on your bed either with or instead of a duvet. In essence, this means that the only real difference between a blanket and a throw is that the former is more functional and less about style.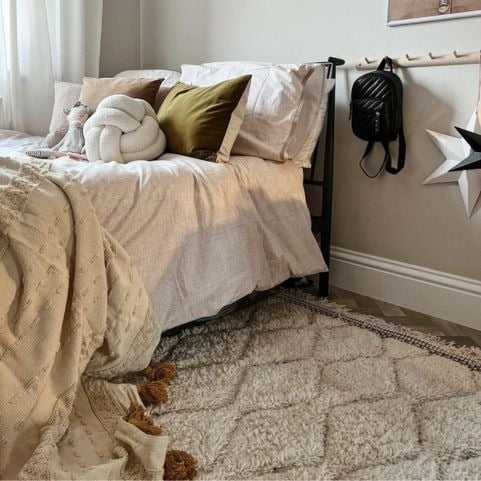 While you might introduce a knitted throw to your living room just for a pop of pattern and some extra depth in your sofa arrangement, you wouldn't necessarily use a blanket for the same reason. A blanket is needed when you want something big, soft and toasty to cover yourself up with in bed or on the sofa.
But don't worry, no one's calling the throw-lice if you get the two mixed up or use them interchangeably. Our ultra-soft Lark Crinkle Cotton Throws are the perfect example, available in a 130 x 180cm size that's ideal for swathing over sofas, as well as an oversized 240 x 260cm option that fits effortlessly over even the largest beds.
---
---
---