Back to top
Rugs.
roll out a fresh layer of luxury with a stylish rug.

We all need something soft, warm and superbly stylish underfoot – and what better solution than a show-stopping area rug? Unroll the lushest of looks with our vivid signature designs, from intricate florals to jazzy geometrics and exotic jungle motifs. Keep it muted with clean neutrals, or up the energy with vivid bright tones. Shop the collection.

With super-soft cotton, natural floor runners and fabrics woven from 100% recycled plastic to choose from – we've got rugs to suit every style and need. From convenient kitchen rugs you can pop straight in the wash to bright living room rugs with bucketloads of personality, we're sure you'll find a perfect match in our resplendent range.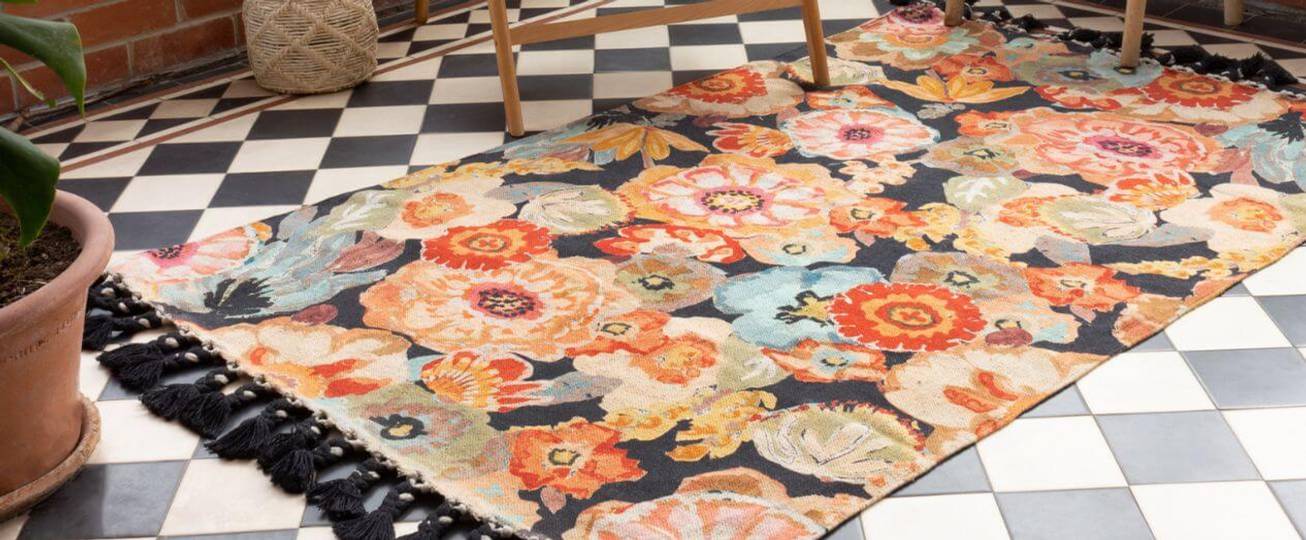 rugs at furn.com.
The right rug can draw on every element in a space – transforming and tying together an entire room with one simple roll. Our captivating collection boasts patterns and hues to suit all manner of interior styles, as well as a stunning mix of rugs for both indoor and outdoor use.
Our outdoor rugs are all water and UV ray-resistant, making them the ideal sunny season addition to any open-air space. Roll your way through the softest cotton and machine-washable polyester flatweave, or embrace sustainable style with designs made from 100% recycled plastic.
On the lookout for a new rug but not sure where to start? Head over to our inspiration blog for a full collection of guides and expert design advice. Get to know our outdoor rug collection with our introductory guide , find your interior design style with our detailed design breakdown, or learn all our expert tips on getting the boho festival look at home.
Whether you've had an unfortunate spill, splash or you're just doing a routine wash – it's important that your rug is cleaned properly and thoroughly. With heavy footfall comes plenty of dirt, grime and sniffle-causing allergens, so a weekly vacuum and deep cleaning two-to-three times per year is advisable.
The first step in cleaning your rug is removing as much loose dirt and debris as possible. Take your rug outside and give it a good shake, followed by a thorough hoover on both sides. Many rugs are not suitable for machine washing, so always check the care label before starting a machine cycle.
The best temperature to wash your rug at will be written on the care label, but a cooler wash will protect against shrinking and damage if you're in doubt. A high-quality rug shampoo will yield the best results, but diluting a small amount of mild dish soap in a bucket of water also works great.
When washing a rug by hand, dilute any cleaning chemicals with water – cool water for natural fabrics, warm for synthetics, but never hot. Patch test the diluted solution by carefully dropping a tiny bit on your rug. If the colours start to run or fade, it's a sign to dilute your cleaning solution some more.
Once you're confident that your cleaning solution is safe, start working it into your rug with a clean sponge, cloth or soft-bristle brush. Make sure the cleaning solution is rubbed in thoroughly, then allow it to sit on the rug for five to ten minutes.
Rinse the rug with clean water, then allow it to dry naturally on a line or laid flat. Give it one last hoover to pick up any straggling debris, and to leave the fibres with an inviting fluffed-up look.