Back to top
Textured Wallpaper.
discover a touch of luxury with our textured wallpaper.


Featuring everything from vivid floral and nature-inspired prints to luxurious velvet-effect options with embossed finishing, our textured wallpaper collection promises to bring new dimensions of style to your space. Explore a range of printed and vinyl paper options, all designed to pleasure the senses and give your space a stylistic makeover. Shop the collection today.


With our exclusively paste-the-wall textured wallpaper range, the daunting task of wallpapering has never been easier. To further boost your confidence, our £1 sample service is available across our entire wallpaper range. Not sure how much wallpaper you'll need? Not to worry – our simple wallpaper calculator will do the work for you, and is available on each individual wallpaper product page.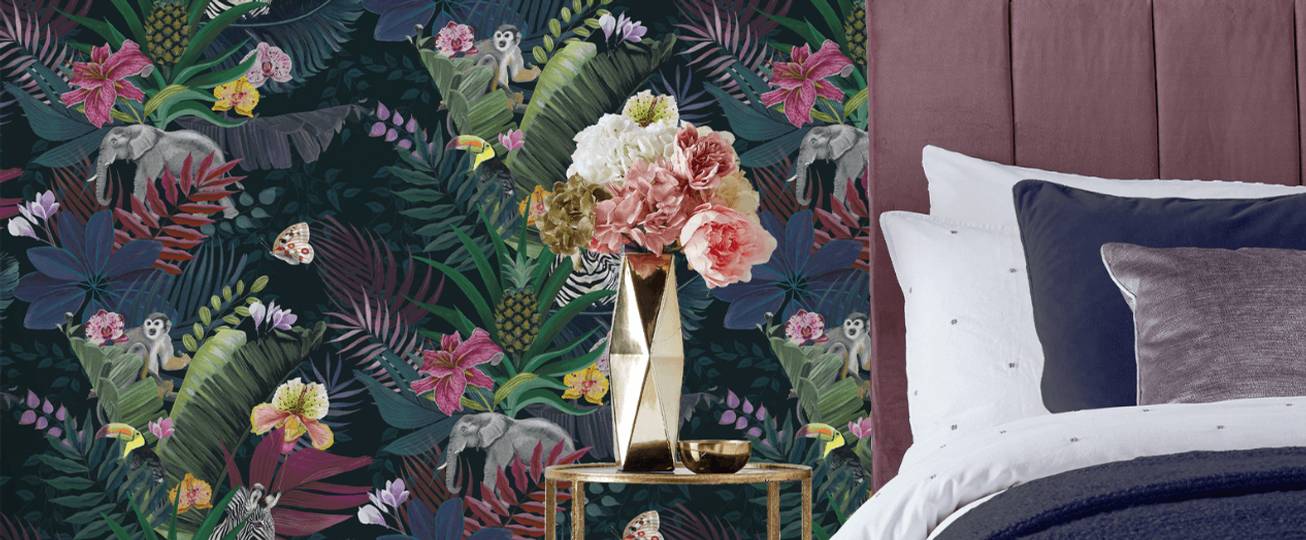 textured wallpaper at furn.com.
We believe the exciting style makeover that comes with new wallpaper should be as quick and stress-free as possible – which is why our textured wallpaper range is entirely paste-the-wall. Simply apply the adhesive to your wall, stick the wallpaper over it – and voila, you've got yourself a brand new look. Easily adjustable (even while the adhesive is setting), and a breeze to peel off whenever you fancy a change, our paste-the-wall wallpaper couldn't be easier to work with. If you're still a bit nervous, our helpful wallpaper fitting guide takes you through the entire process step-by-step.
While vinyl paper options are easier to clean, our entire textured wallpaper range is wipeable and responds well to spot cleaning. Non-fading and designed to keep a showroom-fresh look over time, our collection is the no-mess, no-fuss solution if you're looking for a complete style transformation.
Want to know more? Our handy wallpaper buying guide covers everything you need to know – from wallpaper designs to application methods and more.
how to style textured wallpaper.
With its use dating back to the 1870s when Victorian England was taken by storm with the first ever washable wallcovering, textured wallpaper has been a practical symbol of refinement for generations. From sophisticated and embossed metallic neutrals, to kaleidoscopic floral and cultural designs – our textured wallpaper collection offers a range of options for every taste in style.
A new dimension of interior style, textured wallpaper allows you to add depth and sophistication to a space without having to use colours or patterns. The raised, tactile finishings offer an elegant addition to a room in and of themselves – so it's a perfect option if you're looking to tone down the colours and patterns for a more minimalist feel. Look for a neutral white, beige or grey textured wallpaper. Pair this with a wooden coffee table or shelving unit for an understated natural touch, and you'll be well on your way to crafting a casually elegant Scandi design.
Textured wallpaper adds a sense of depth and tactile warmth to a space that regular wallpaper can struggle to achieve. If you're looking for wow factor with your new wallpaper, our collection has plenty of options to suit your needs. Our bright and lively floral designs are a sure way to add a pop of colour, along with depth and texture to your interior style. To really make your textured wallpaper pop, try following the current trend of creating an accent wall. This involves pairing two wallpapers together in one room – a neutral option on three walls, and a textured showstopper on one. An accent wall works great in the bathroom to really make your bath stand out (though be careful to avoid water damage!), or in any room where you'd like to highlight a favourite feature in your décor.