The Chanel jacket. Kim Kardashian's car. The Saarinen womb chair. All iconic in bouclé.
---
Bouclé is a mark of luxury, whether it's used in fashion or interiors. The soft curls and neutral tones lend themselves to refined and curated spaces, but the unique texture means it's great for making a statement with too.
what is bouclé?
Bouclé (pronounced 'boo-clay') is a fabric made from bouclé yarns. It has little loops in the yarns, which gives the fabric a fleecey, nubby appearance, and the loops can range from tiny coils to larger rings. The name is derived from a French word that means "curly".
It's soft, yet heavy, making it a versatile fabric. It can be used for anything from clothes and shoes to cushions and bedding.
Bouclé was very common in the 1940s and 50s and has come back to add its soft texture to today's homes. Over the pandemic and rocky political climate, we've been focusing on creating a home that we love - and bouclé's soft fuzziness has become essential in creating that cocoon-like feeling.
how is bouclé made?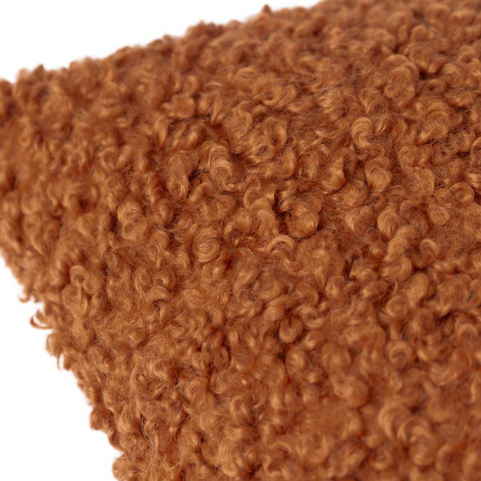 Bouclé is made with two or three strands, where one strand is loose and the other taught. The loose strand forms the loops and the taught strand is the base of the fabric.
bouclé cushions.
Bouclé cushions are one of the easiest and most accessible ways to bring this trend into your home (why buy a new sofa when you can just swap out your cushions?). A quick chop and change for a bouclé cushion and your living room or bedroom feels infinitely more elevated and on-trend.
---
glam contemporary.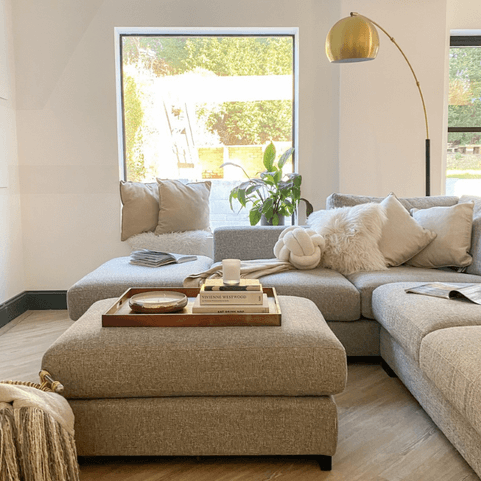 Bouclé is a soft, luxurious material. Pair it with other luxe textures like faux fur and velvets, gold accents and high end finishes for a modern, but glamorous space. Create a more masculine feel by using navy blues and khaki greens paired with darker wood.
---
muted minimalist.
Bouclé is the perfect addition to a minimalist space. Often found in muted and neutral colours, bouclé adds texture and warmth without adding too much colour. Use just one bouclé knot cushion in ecru on your white sofa to create depth and you'll have the ideal warm minimalist space.
---
moody maximalist.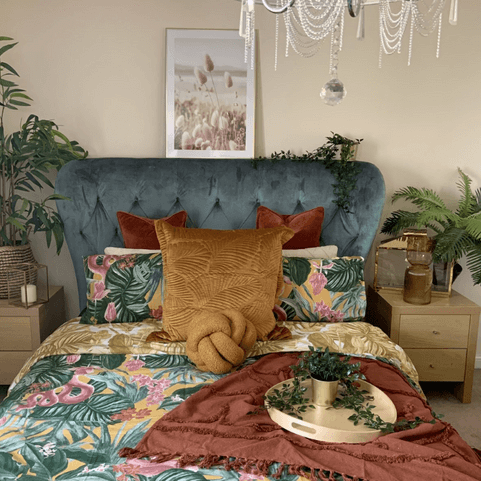 While it might be plain in pattern, bouclé makes up for it in texture. Those little loops are heaven to touch, and in slightly bolder colours, bouclé can perfectly slot into a moody maximalist home. Think jewel tones, impactful warm greys and muted mustards for a delicious colour palette.
---
soft + scandi.
If your style is more scandi, then bouclé soft furnishings will fit right into your space too. Pair the Malham cushion in ivory, dove grey or latte with natural materials like light wood furniture and woven baskets (and don't forget the green plants) for a delightfully relaxed, cosy and comfy living room.
---
pink boho.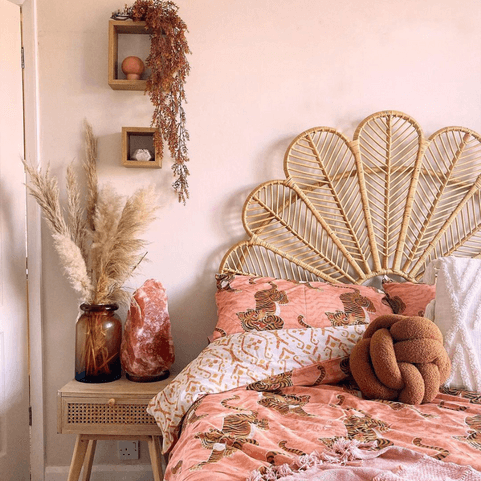 Boho is all about that eclectic feel, so bouclé is the perfect partner. Layer in with tassels and tufting, heaps of earthy tones and playful rattan furniture for a rich and cosy feel. When it comes to colours, think ginger, taupe and caramel.
---
---
---
---