Whenever, wherever, find the cushions that were meant to be together (with you).
---
Cushions are used all over the home. From adding style and texture to your bed to making your sofa even more comfortable, you'll find a cushion in (almost) every room. So how do you know which cushions are the right ones for you? We'll explore everything from what a cushion actually is, the right size and shape to finding the style to suit you!
what is a cushion?
First things first, let's get on the same page. A cushion is:
"a soft pillow or pad usually used for sitting, reclining, or kneeling" – Merriam-Webster
It's a really common decorative accessory used on sofas, beds and chairs to make them comfortable to sit or lie on and aesthetically pleasing to look at. They're usually square, but can be found in all sorts of shapes and sizes!
What's the difference between a cushion, a pillow and a sham I hear you ask? Well, we have an entirely separate blog post that tackles that exact question. It covers the differences and the similarities between the three.
There are other cushion types too! Let's go through them:
Scatter cushions – we know you've been asking yourself, what is a scatter cushion anyway? A scatter cushion is a small cushion that's mainly used for decoration. They're designed to look good when scattered randomly onto your bed or sofa.
Bolster cushions – bolster cushions are long and narrow, generally used for back support. They're usually cylindrical, but not always. We like doubling up our draught excluders as bolster cushions.
Floor cushions – floor cushions are bigger than regular cushions, and are designed to be sat on, perfect for entertaining extra guests.
Outdoor cushions – outdoor cushions are designed to weather the elements more than a cushion designed for your sofa. They should be made from water and UV-resistant material, so they won't get damaged by rain or fade in the sun.
---
what kind of cushions do you need?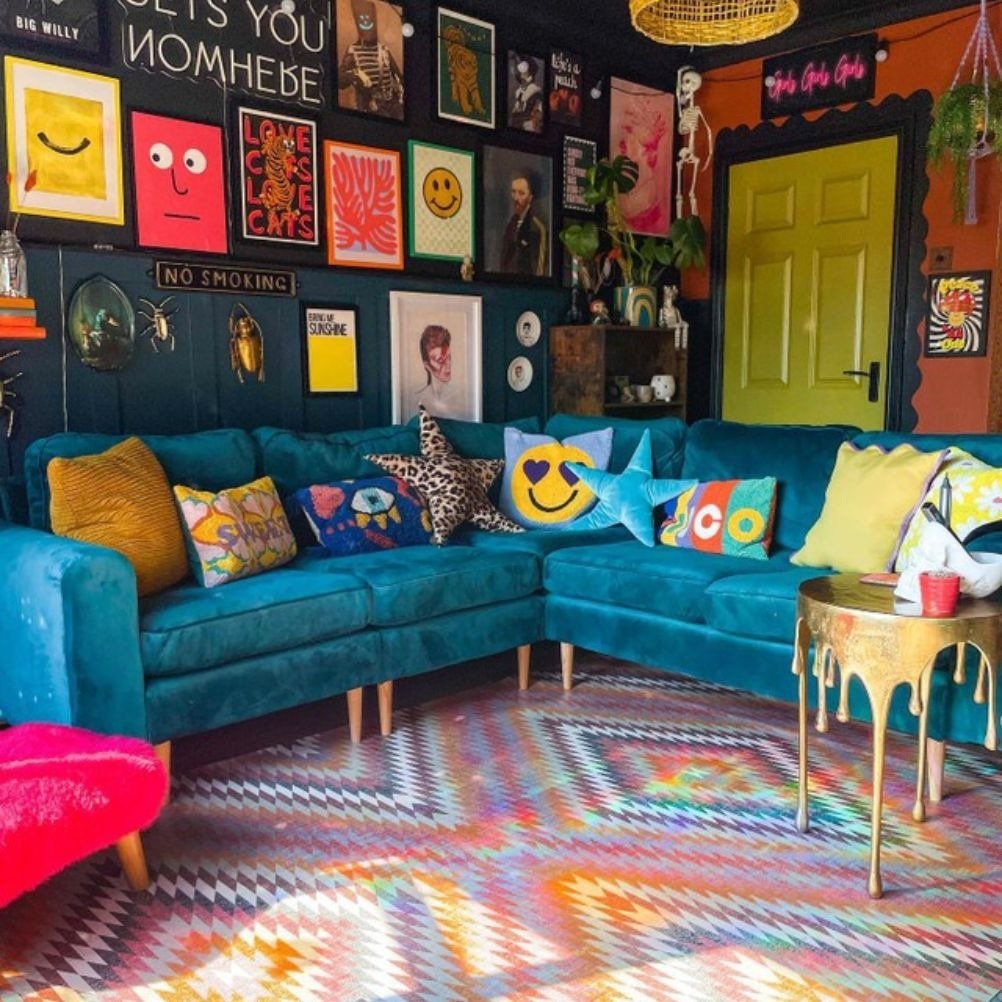 Chances are, you're buying cushions for a specific area of your home, which will help you in deciding what kind of cushions you need.
If you're looking for sofa cushions for your couch or an armchair, are they to make the seat more comfortable or to make a style statement?
Similarly, when it comes to your bed, are your cushions accent pieces for decoration, or are they to lean on when you're sat up reading or eating breakfast in bed (the dream)?
If you intend on using cushions for comfort, avoid delicate embellishments like embroidery or beading. Think about whether you want soft or firm cushions for the best comfort, and how thick or dense you want them to be.
Looking for pure decorative joy? Then that's all down to you and your style.
---
what's the right size and shape for my cushions?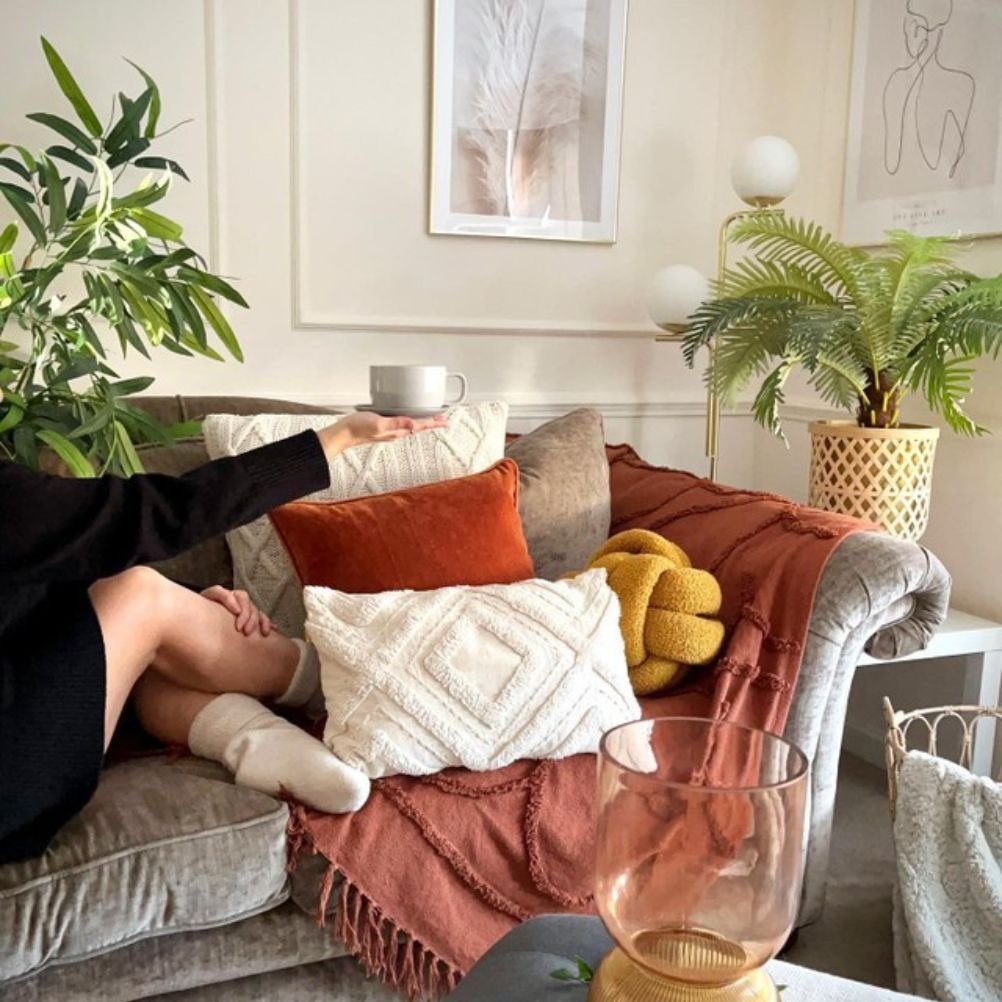 Size and shape can be tricky to get right. Too small? Your cushion will get lost in the sea of your bed or sofa. Too big? It could look bulky and cluttered.
And that's not even mentioning comfort level. Cushions that aren't the right size can be awkward to sit on, and difficult to make a cosy nest with!
We recommend measuring the space intended for the cushions, and then matching your cushion sizes to your space. furn.com's interior expert Suzi advises using a range of shapes and sizes to create a sense of fullness and character. "If you're not confident in your cushion choices, use an app or even draw out your options to help you visualize what it will look like!"
There's also the size of the cushion pad and the cushion cover to think about, but luckily here at furn.com, we make that easy by doing the hard work for you.
If you buy your cushion cover with a filling, it'll come pre-filled with the right size cushion pad. Bonus!
---
which cushion fabrics work for me?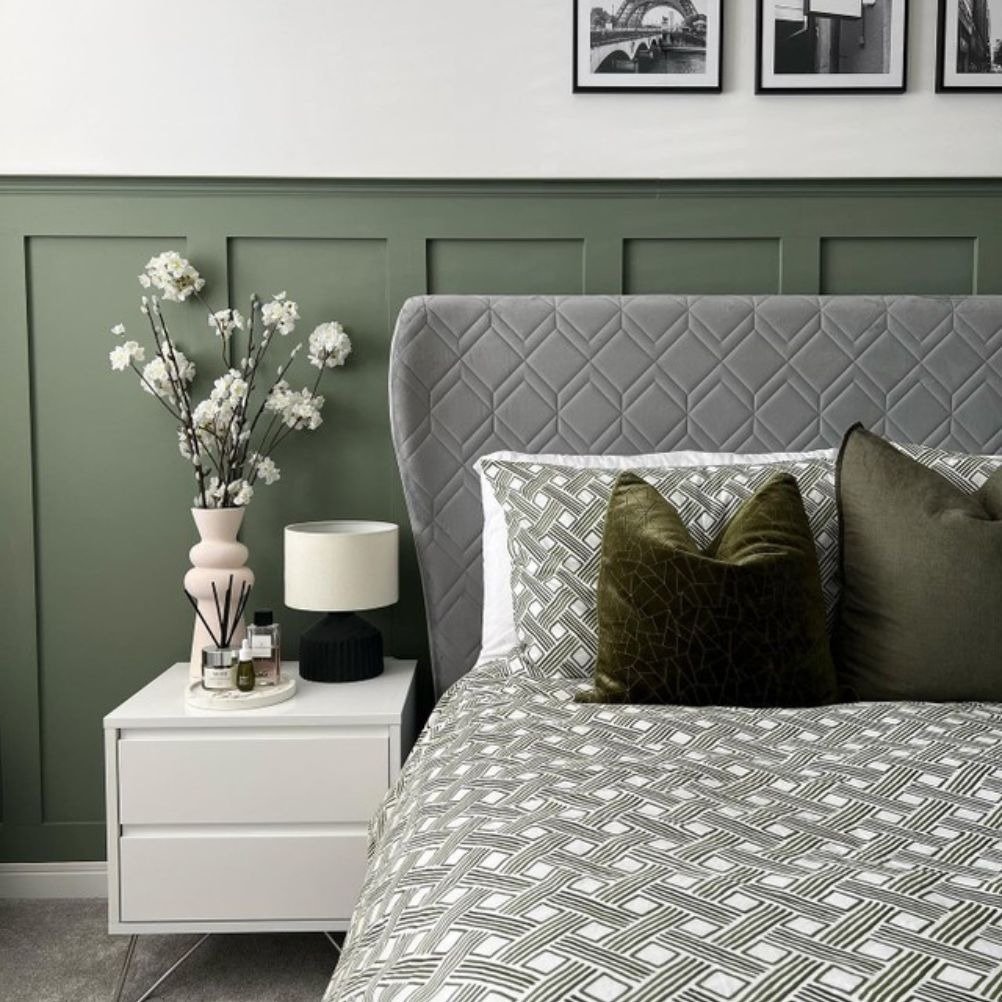 There's lots to think about when it comes to the fabric and design of your new cushion selection. First, your fabric should match your lifestyle. Busy family house? Then you'll need something durable and easy to clean. Want something that will look good for a long time? Choose quality fabrics. "Do your research on the fabric before you buy, if you need the cushion for a high traffic area, you need durable fabric and fewer bells and whistles" Suzi recommends.
The next thing to consider is whether you're buying for a seasonal update or for all year round. Lots of people like to swap in different cushions depending on the general climate. Cotton, muslin and linen are great options for warmer weather and fabrics like faux fur and knit make any room feel that little bit cosier when it's cold outside.
If you're buying for outdoors, then you'll need to make sure that the outdoor cushions you buy are both water and UV resistant, as this will make sure that they're functional for the British weather!
Colour, pattern and texture will all help you create the style and mood that you're after, no matter which room you're decorating. Think about whether you want your cushions to coordinate with your existing décor, or for them to contrast to make more of a style statement.
---
which cushion style should i go for?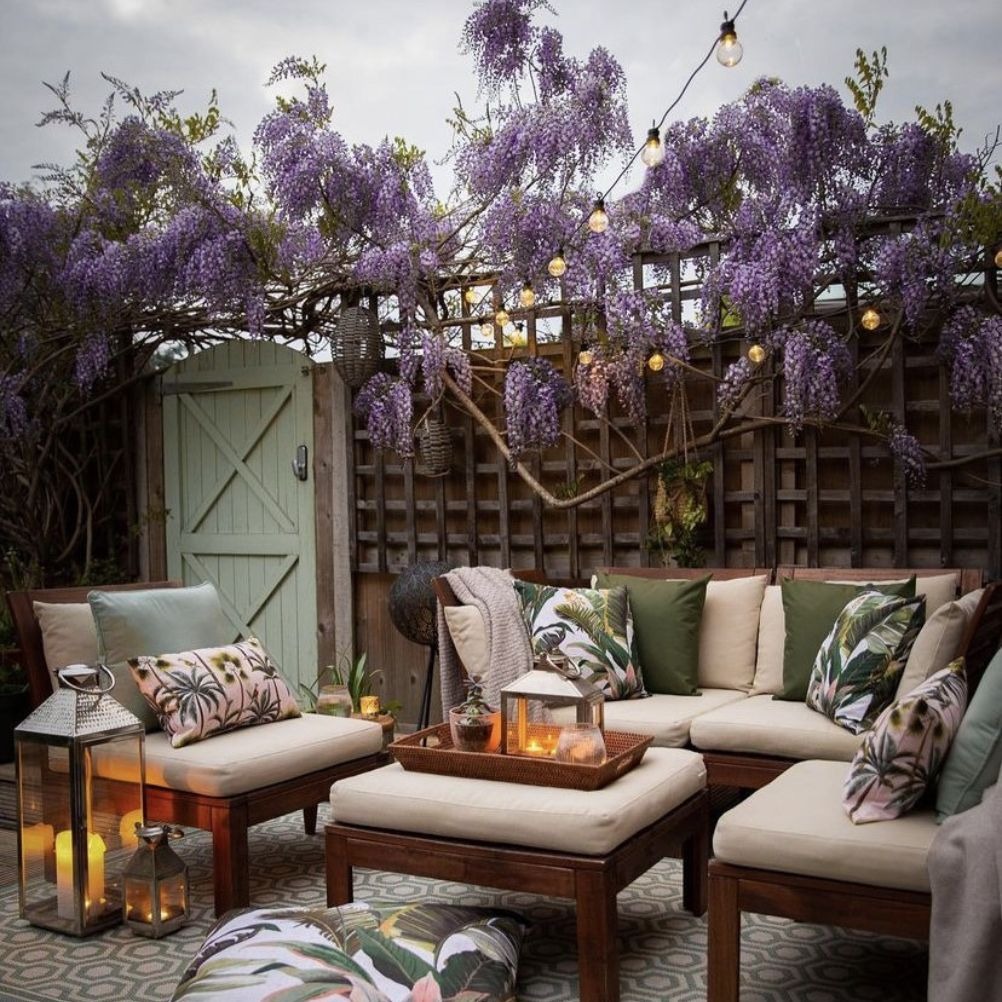 Let's dig a little deeper into the different styles of cushions. As cushions are just as important for their design as they are for comfort, it's an important question to tackle in depth. "Pick pieces you like and build around them," says Suzi, "but don't be afraid to evolve your style slowly. We've all made mistakes and thought, why did I do that? But luckily cushions aren't a big investment, and replacing them is easy."
Scandi cushions – looking to bring Nordic style to your home? Organic and geometric patterns, natural fabrics and neutral shades are perfect for adding a sense of cosy calm to your bedroom or living room.
Shop scandi cushions.
Minimalist cushions – keep it cool and collected with plain cushions that have bags of texture. Think bouclé, velvet or even corduroy. You can get away with a subtle pattern as long as it's all the same colour.
Shop minimalist cushions.
Contemporary cushions – we're talking the latest in design! Contemporary-style cushions are fun, but usually not overly embellished.
Shop contemporary cushions.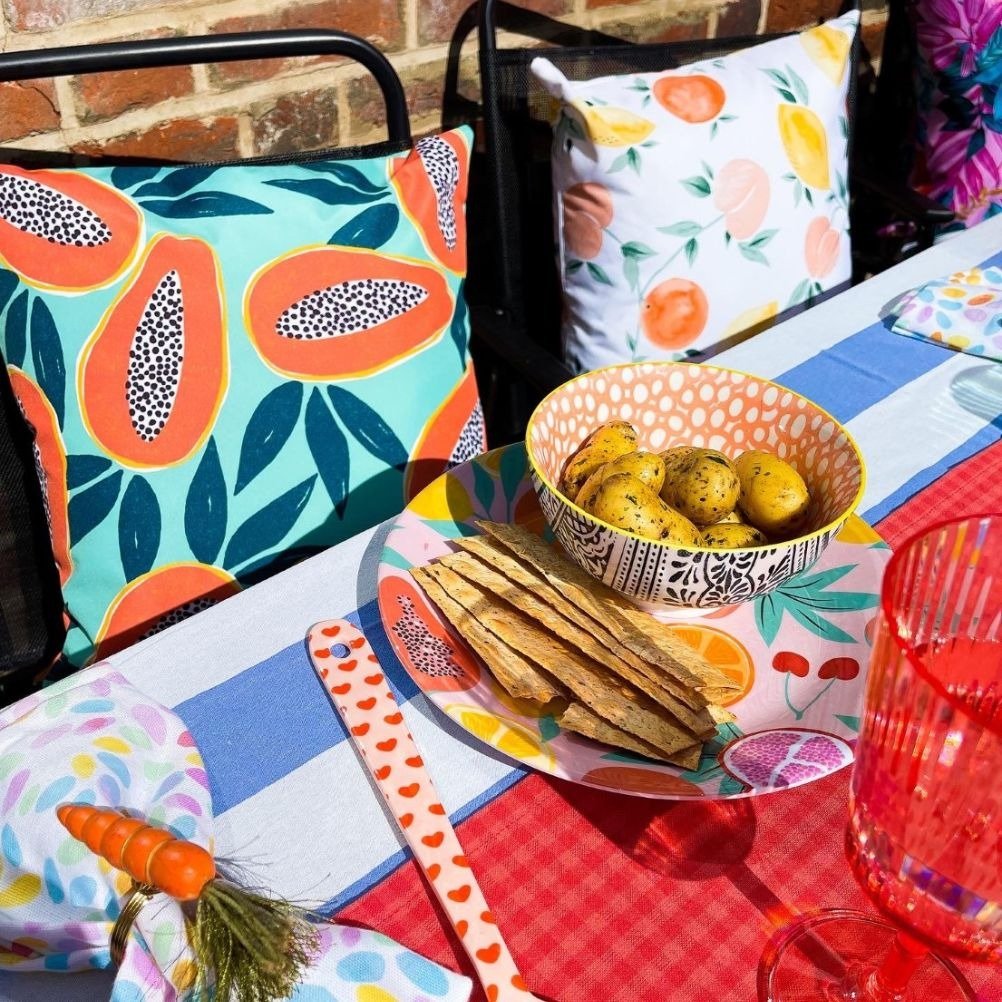 Traditional cushions – like a heritage print? Or a jacquard fabric? A tassel or two? Place a couple of cushions with all of the above and you'll have the perfect traditional-style space.
Shop traditional cushions.
Maximalist cushions – Go bold or go home, that's what we say. Don't hold back and mix slogans with patterns and plains, and use whatever colour combination makes you happy.
Shop maximalist cushions.
Boho cushions – looking for something a bit more relaxed, but still full of personality? Then look for earthy tones, tassels, folk-inspired or global patterns, and lots of layers.
Shop boho cushions.
Luxe cushions – whether it's quiet luxury or more traditional luxury, you're looking for cushions with high-end finishes and exquisite details.
Shop luxe cushions.
Country cushions – if cottage-core is your bag or you love the idea of a country escape, look for cushions in tweed or tartan, ones that feature icons of the British countryside or are in a water-colour style.
Shop country cushions.
---
which cushion filling should I use?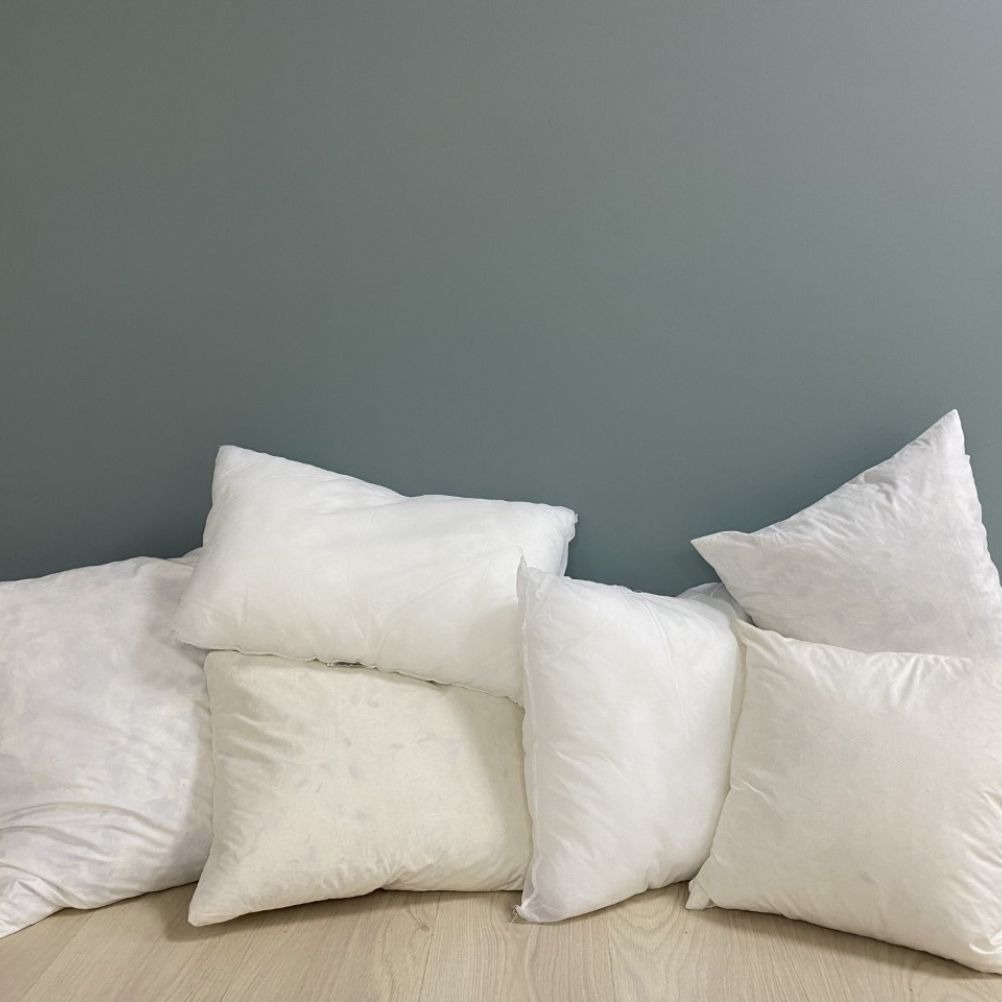 So you've figured out the design, now what? Well, now it's time to decide on the filling (also known as cushion inners or pads) – what goes inside the cushion.
Common cushion fillings include feather or down and polyester or synthetic fibres. You can also use foam, but it's usually only used for sitting directly on.
Polyester is generally more hard-wearing and bouncy than feather fillings. If you're not about that plumping life, then polyester is the option for you.
Unlike feather fillings, polyester is great for allergies and sensitivities.
Feather filling is perfect for that sinkable soft feeling of cushions that mould to your body. They have an air of luxury about them.
Discover more about which cushion filling is the best for you in our blog post.
---
considering maintenance and care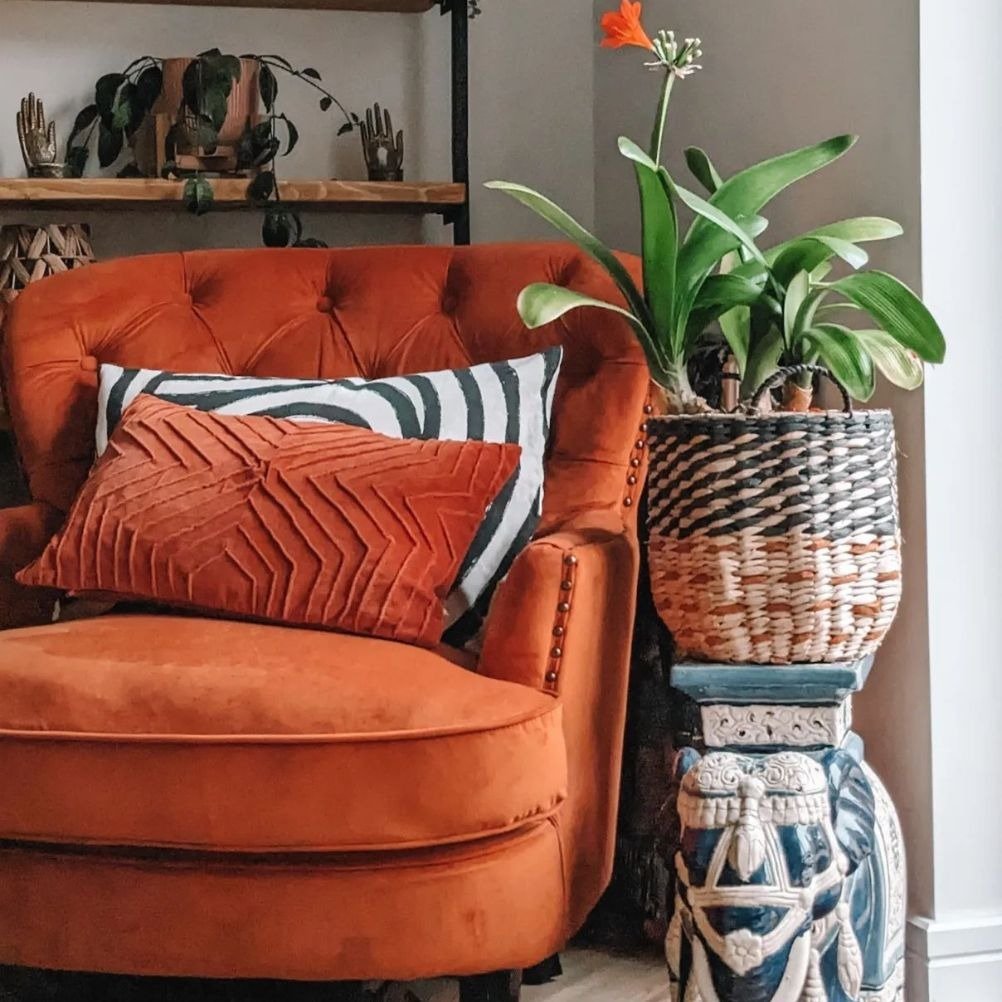 You should always think about maintenance and care before you buy anything for your home. Whatever the item, you want it to look its best and last as long as it can.
The main thing to think about is: how easy is it to clean this cushion?
A removable cushion cover makes cleaning so much easier, especially if it's machine washable. Some cushions may be spot clean only, while others recommend being professionally cleaned.
How busy your home is and how clumsy you are might be a contributing factor to whether you go for a cushion that's easy to clean at home vs one that you have to get dry cleaned.
Regularly fluffing, reshaping and rotating your cushions will mean that they stay looking good and will wear evenly.
---
what's your budget?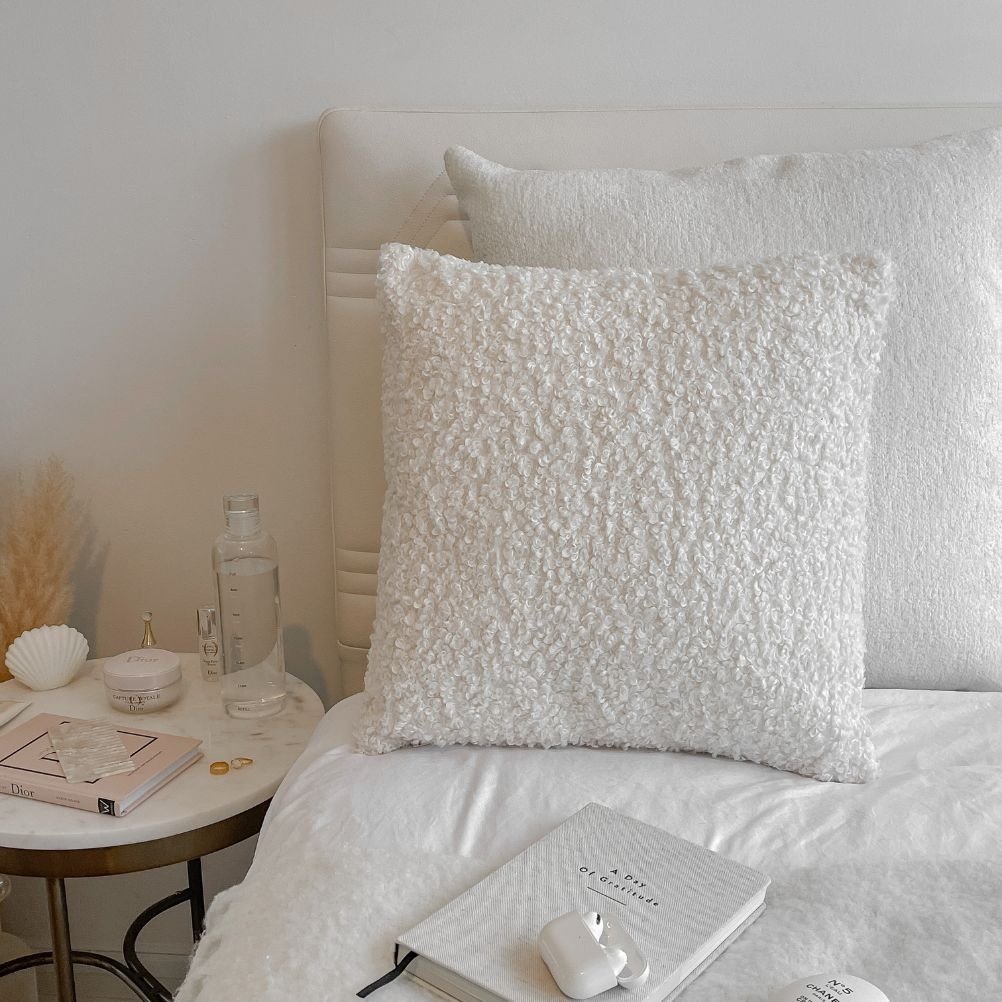 Whether you're redecorating your whole space or you're just updating your cushions, before you buy anything you need to establish how much you have to spend.
This will help you determine what you can buy (or if you need to sacrifice your daily coffees for a couple of weeks!).
As with any purchase, it's important to balance the price tag with quality. Ideally, you want to invest in something that will last a long time, and that generally means a bigger investment.
However, at furn.com, we have thousands of cushions that suit a range of budgets, so you don't have to compromise.
---
---
---
---