Back to top
Blue Duvet Cover sets.
dive into our blue duvet covers collection.

Calm, wise and dripping with serene natural beauty – there's no wonder blue is one of the most popular colour choices for the bedroom. Take a dip in our blue duvet cover sets collection and explore everything from bright botanicals to Art Deco geometric patterns, all set in a soothing palette of teal, navy and pale blue shades. Shop the collection.

Our blue duvet covers are manufactured in the UK using the finest cuts of cotton and polyester fabric, for an irresistibly cosy finish that won't let you down on durability. Look out for our easy-care options, which offer superb fabric quality that's a cinch to maintain. Plenty of our duvet covers come with a fully reversible design, too – ideal for cold-footed decorators who love a spontaneous switch-up.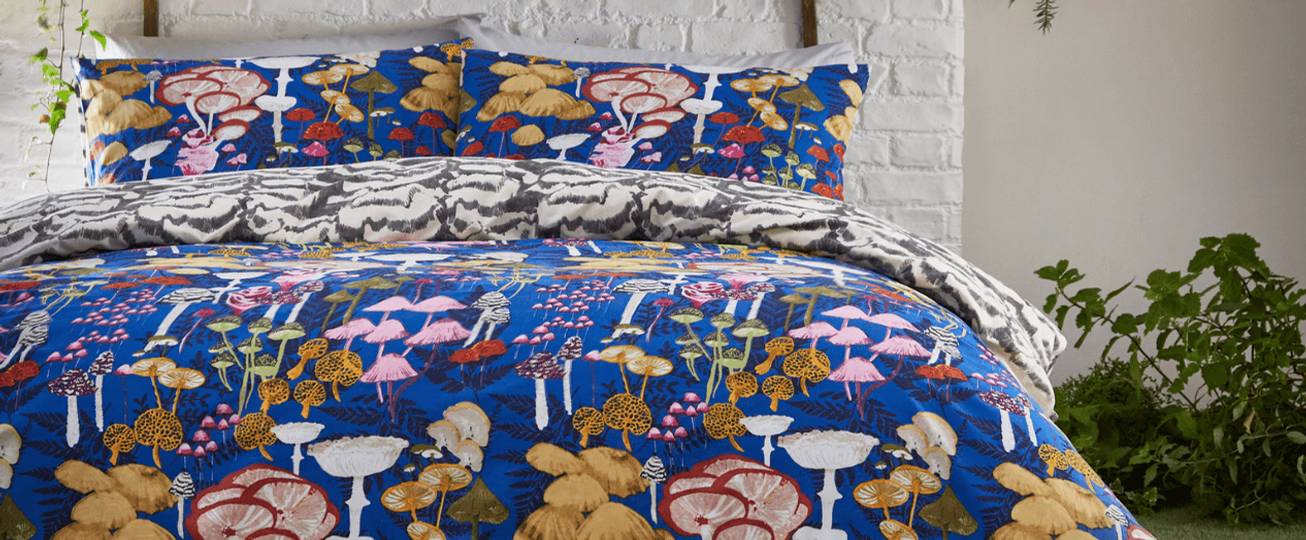 blue duvet cover sets at furn.com.
Surrender to the healing shades of sea and sky with our blue duvet cover sets collection. Whether you're after the alluring moodiness of a midnight navy duvet cover set, or a refreshing splash of aquatic teal or blue coral – you'll find your ideal blue bedding in our collection.
Delight the senses with our luxurious 100% cotton and cotton-rich fabrics. They reach sumptuous highs of 200 in thread count, meaning a superior finish that's softer, smoother, thicker and stronger.
All our toddler and single-sized duvet cover sets come with one matching pillowcase, while double-sized and upwards come with two – so make sure to add extra pillowcases to your bag if needs be.
Feeling lost? Our helpful bedding buying guide breaks the whole process down into handy, no-frills advice. We cover everything from fabric weaves to thread counts, sizing, style tips and more.
what goes with blue duvet cover sets?
So, you've decided on a blue duvet cover. Now it's time to start thinking about what kind of bedroom colour scheme you'd like to go for. Our reversible design options mean it's no biggie if you feel like switching up your look at any point – but we've broken down some helpful colour scheme ideas if you decide that blue is for you.
The safest and most classic combination is blue and white. Harnessing the hues of a cloud-specked summer sky, it's a serenely natural combo that's impossibly easy on the eye.
Blue also looks great alongside pale grey, beige, brown and black – just make sure that you're not going too dark if your room doesn't get a lot of natural light.
To bring out the bolder, brighter side of blue – pair bright teal or aqua shades with buttery yellows or a zesty tangerine orange. Yellow is directly opposite blue on the colour wheel, so it sets up a sharply contrasting colour scheme that's refreshingly summery.
how to style blue duvet cover sets.
Bright sky-blue and cirrus shades work great for breezy coastal designs that are effortlessly laidback. Go for a pale blue or teal duvet cover with a striped or simply patterned design. Pair with white painted walls, raw wood furniture and tasseled boho cushions in neutral shades.
For a cosy bedroom vibe that'll have you feeling snugly enveloped – choose a deep blue or navy duvet cover set and match with painted walls or blue wallpaper. If your bedroom doesn't get enough natural light to pull off a fully dark scheme, lighten things up with white wallpaper on an accent wall or a painted white ceiling.
Introduce subtle burnt orange and blush pink accents to inject some colour while hanging on to the slumberous feel. Layer up your blue duvet cover set with decorative blush pink cushions and a burnt orange bed throw.