Back to top
Bright Outdoor Cushions.
bring summer holiday sunshine to your outdoor space.

Looking for bright, eye-catching accents to liven up your outdoor space? Our bright outdoor cushion collection's got you covered. Featuring a full rainbow of popping neon shades and statement printed designs, our collection's got an array of dazzling decorative cushions that are sure to breathe new life into any outdoor space. Shop the collection today.

Hard-wearing and durable, our bright outdoor cushion collection has far more than just a pretty face. Made from 100% water-resistant polyester, you won't need to waste a moment fretting over spills or splashes. Also resistant to UV rays, our cushions won't fade in the sun – making sure our showstopping signature designs stay first-day-fresh over time. Designed, printed and made with love in the UK, our bright outdoor cushions bring that summer holiday sunny feeling right to your back garden.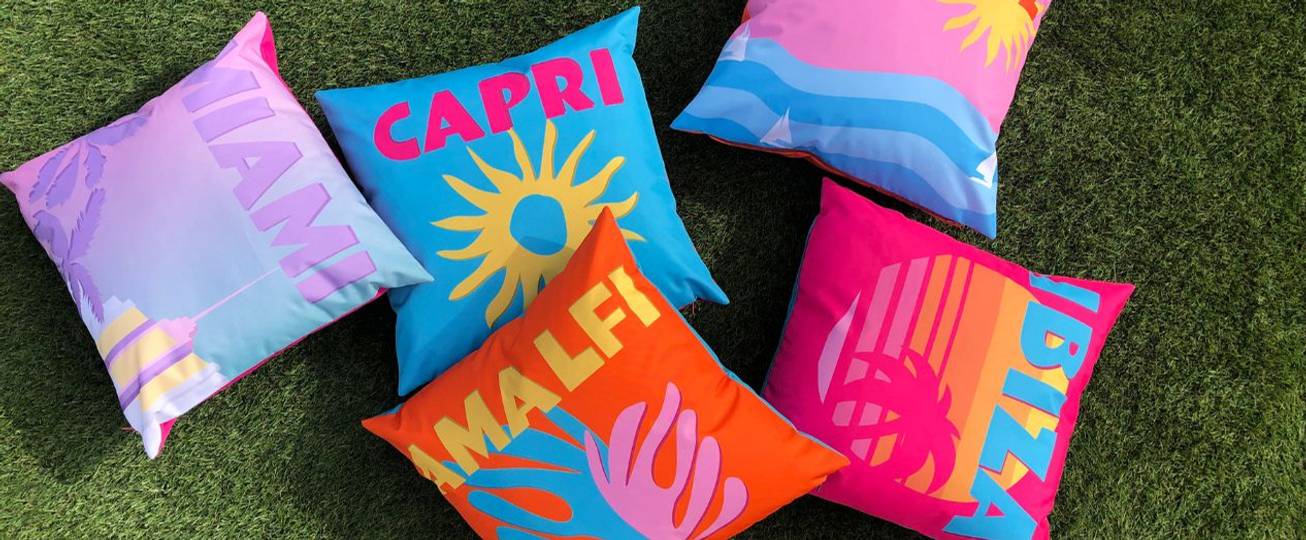 bright outdoor cushions at furn.com.
If you're looking to add a bit of sunshine to your outdoor space, look no further than our bright outdoor cushions collection. Featuring a mix of radiant neon colours in both plain and printed designs, our collection is the perfect way to add a splash of life to your outdoor space.
Also available to buy as cover-only or with our 100% durable polyester filling, our outdoor cushions have no problem fighting off the elements. Resistant to both water and UV rays, you can relax in the knowledge that your cushion's good looks won't fade with time.
Want to know more? Get further acquainted with our bright outdoor cushions collection by checking out our handy get to know guide, which has tons of useful information.
how to style outdoor cushions
The top priority if you're looking to add some outdoor cushions to your space is fabric. Regular soft fabrics do not fare well in outdoor conditions – as many of us have learned the hard way – and can be easily damaged by sun, water, damp and mould. So, you want to make sure that your outdoor cushions are designed to weather the elements. Luckily, everything from our bright outdoor cushions collection is made from 100% waterproof and UV ray-proof polyester. So, you can relax and enjoy our outdoor cushions without the added stress of remembering to bring them back inside!
Bold and bright colours work great for outdoor accessories, as they contrast with the natural textures and tones of the outdoors to produce a real pop. Our outdoor cushions collection is full of glitteringly vivid neon hues and printed designs, so don't be afraid to go all out and layer up. Pair shades of plain neon designs for a carefree bohemian vibe, and layer in a printed design or two to create depth and keep things interesting.
Many of our bright outdoor cushions are designed to be put on the floor, and are a great way to introduce a laidback bohemian feel to your outdoor space. You'll be saving both money and space, as floor cushions are a handy way to introduce more seating space without cluttering an area with too much furniture. A perfect fit with the on-trend Japandi style, floor cushions are a practical and stylish addition to any space.
what goes with bright outdoor cushions?
Our outdoor living range has plenty of stylish and hard-wearing décor to give your summer space a shakeup. If you're looking to pad out your outdoor space and find some bits to coordinate with your outdoor cushions, seat pads are always a good option. We have a stunning range of floral, geometric and tropical designs to add texture to your bright outdoor cushions, as well as more muted and neutral options if you prefer a more grounded look.
If you're looking to play some more with colours and patterns, our throws and outdoor rugs collections have plenty of options to layer up your decking, garden or patio. Highlight the natural features of your outdoor space with a neutral-hued textured fabric throw, or accentuate your bright cushions with a show-stealing tropical printed rug.