Back to top
Green Bedding Sets.
Introduce nature's tones with bold green bedding. 

Psychologically, green communicates feelings of peace, balance and harmony. It could be said that introducing green bedding to your room will make you feel relaxed and calm, making for a better night's sleep. Whether you prefer sage, mint, olive, jade or emerald, you will find it in our range of stunning green bedding.Be at one with nature and discover gorgeous floral, jungle and animal themed designs in our collection of green bedding. Go subtle yet sweet with stripes, geometric patterns or simply soft plain green bedding. There is a unique set for every home interior!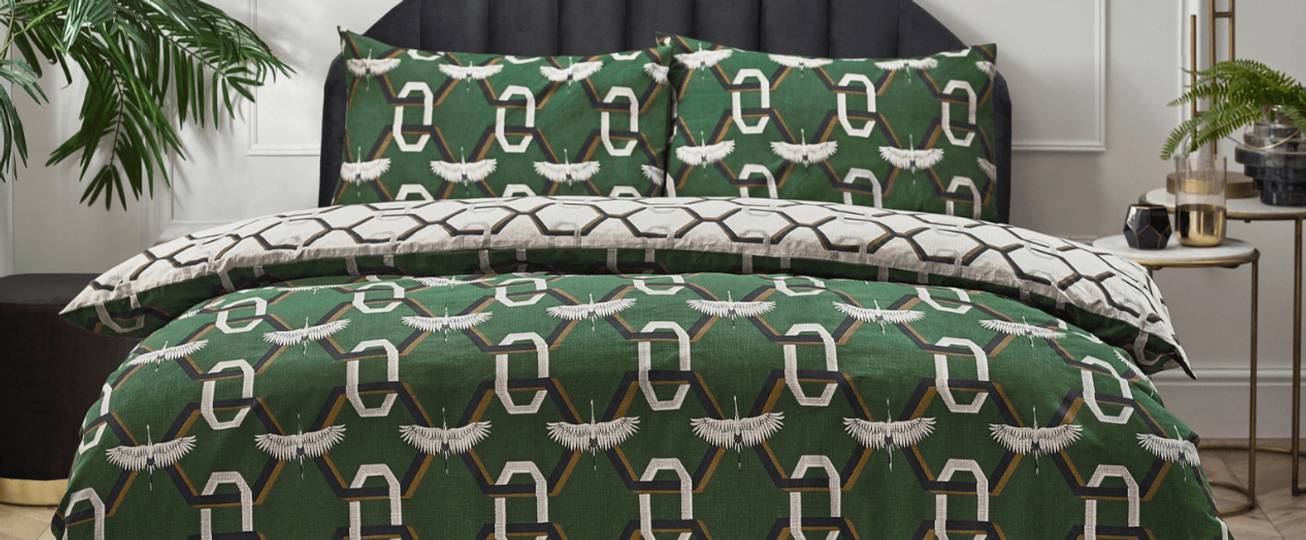 green bedding at furn.com
Can't decide between bright, plain, light or dark green bedding? With so many shades to choose from, it can be confusing knowing which tone is best for your bedroom. Most shades of green will offer a calm and serene feel to your home but its worth considering the colours you are going to pair your green bedding with…
what goes with green bedding?
Bring the outside, inside and connect with nature in your home. Green has become a popular interior trend within recent years and there is a reason why… it looks amazing! Here is our top pick of colours that will compliment your stunning green bedding sets.
White with green bedding – Bright whites in your home will enhance the power of a green bedding set and create an impactful space. Pair the colours close together with traditional white pillowcases and bed sheets. Dark green also compliments creamy, neutral tones so if you don't want to brave pure white, why not add some beige cushions instead.
Pink with green bedding – You may avoid contrasting colours when decorating your home, but in the case of pink and green, opposites attract! These colours bounce off one another perfectly and the tones in your room will pop. Green bedding against pink wallpaper will create a stunning feature space in your home. Or why not add some pink cushions for a more subtle effect.
Gold with green bedding – A dark forest green bedding is the perfect tone to pair with a metallic shade. Adding gold cushions will give your bedroom a stunning art deco vibe.
how to style green bedding.
Add a pop of colour to your bed with green bed sheets. This is a fun yet subtle way of adding bright shades to your room without taking the focus away from any other prominent features.
Transform the overall look of your room for at a fraction of the cost with a stunning green duvet cover. Whether it's a plain, patterned or textured green duvet set you are looking for, you are bound to find the perfect one for your home.
The finishing touch for your bedroom has to be a green bed throw. Introduce colour and texture into your home whilst adding extra comfort and warmth. Our green blankets can be paired easily with a variety of coloured duvet cover sets including the ones found in our green bedding collection. When it comes to your home, there are no rules on your unique interior style!