Back to top
Grey Bedding Sets.
Make a monochrome statement with our grey bedding.

Grey is a timeless shade that will never go out of style and can be paired with most colours given its monochromatic colour. Create an elegant, cool and modern aesthetic in your bedroom with stunning grey bedding. Browse through soft silver, cool grey and deep charcoal to find the perfect shade for your interior.Grey is a subtle colour that can emphasize different textures and compositions which makes them appear more elegant and luxurious. Discover gorgeous textiles amongst this collection including tufted, brushed cotton, fleece, waffle and so many more.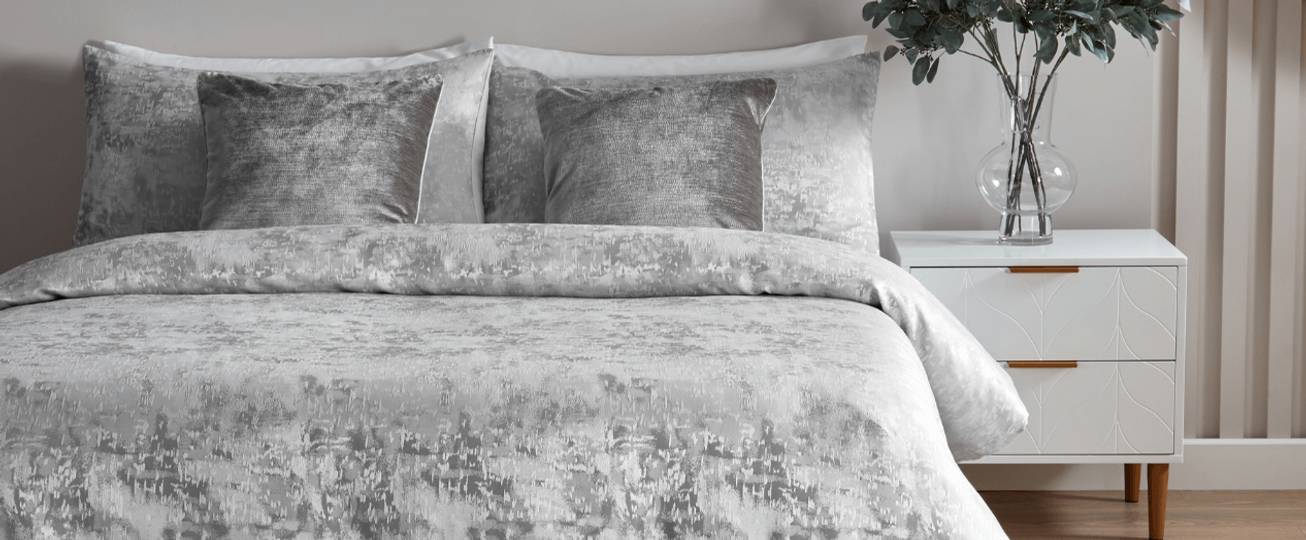 Grey bedding at furn.com
Whether it's dark grey bedding, light grey bedding or something in the middle that you are looking for, you are bound to find it in our generous collection!
what goes with grey bedding?
Grey is an unbiased colour and works well with most shades giving you the flexibility to pair your grey bedding with other soft furnishing easily. However, we suggest the following colour palettes to make your grey bedding pop!
Pink with grey bedding – Pink and grey go together romantically, especially in bedrooms. Try adding some pink cushions or accessories with your grey bedding to creating a calm and relaxing vibe in your bedroom.
White with grey bedding - Keep it monochrome. White and grey compliment one another by creating an ultra-modern aesthetic. This colour pairing leaves room to add any other shades if you wish to.
Yellow with grey bedding – Yellow accessories such as cushions or throws paired with grey bedding create a moody atmosphere that feels expensive and opulent!
how to style grey bedding.
Say goodbye to white! Grey bed sheets and pillowcases are the perfect way to stray from tradition. The subtle change of colour to your bed will add some dimension to your room without creating a drastic change!
Keep it tonal and contemporary with a grey duvet set. A bed cover can transform the overall look of a room at an affordable price. In this collection you will find plain, patterned, textured and so many more grey duvet sets. Grey is a great base colour for your bed as it is monochromatic, it can be paired with most shades if you wish to add a bright pop of colour!
Grey bedspreads and runners are the perfect finishing touches for your bed. They are easily paired with a coloured duvet set and add an element of luxury to your bedroom.