Back to top
Halloween Duvet Cover Sets.
warm up for the witching season with Halloween duvet cover sets.
Whether you're a fright fanatic or a self-professed scaredy cat, we've got
Halloween
duvet covers that bring the perfect touch of spooky style. Go all-out eerie with tufted skulls and ghosts, or keep things sweetly seasonal with abstract symbols or a starry night print – all available in a range of muted and bright Halloween hues. Shop the collection.
From mystical eyes and sinister snakes to cats, crescent moons and more – we've got a howling host of Halloween duvet covers for you to creep your way through. Crank up the creepy vibes with a chilling supernatural design, or keep things elegantly
autumnal
with our range of earthy hues. Many of our devilish designs are hand-crafted right here in the UK at our Yorkshire studio, and head for manufacturing at our Staffordshire factory.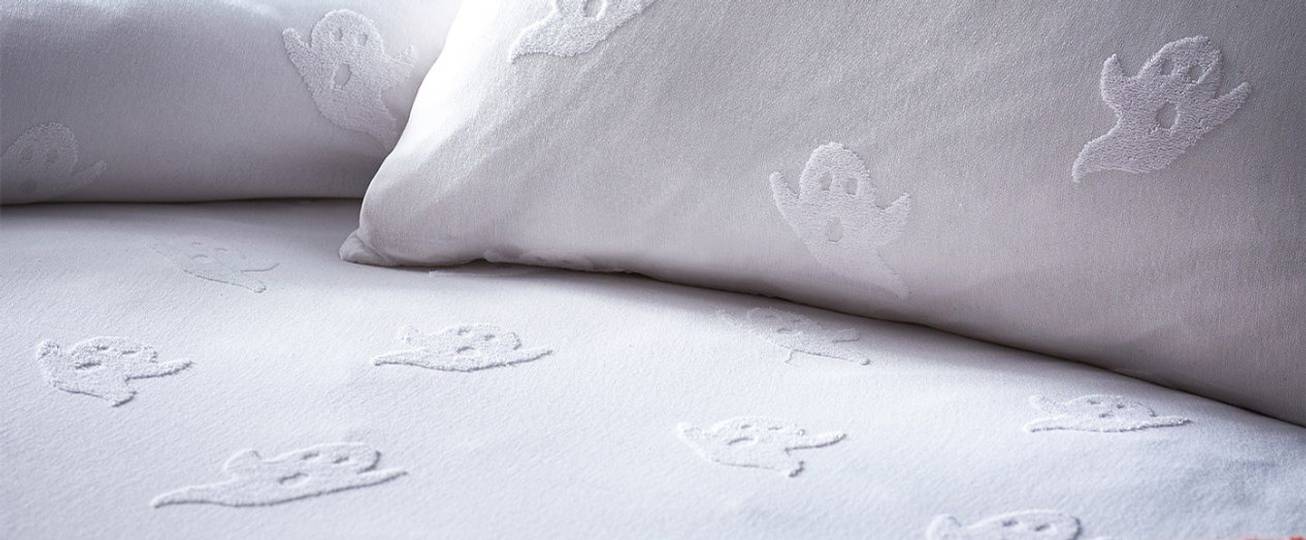 halloween duvet cover sets at furn.com.
Calling all wicked witches, pumpkin spice sippers and habitués of the Halloween party – we've got devilish duvet covers that'll really get your blood pumping. Get spooky in style with tufted cotton ghosts and skulls, capture the magic of a full moon with spellbinding starry prints, or snuggle up in the thickest quilted fabrics and soothing autumn hues.
Got a dose of the chills? Why not tiptoe your way through the rest of our Halloween home furnishings? Flick on your favourite scary movie and bundle up in our bone-chilling Halloween bedding, or give your fancy dress festivities the perfect backdrop with a creepy Halloween cushion. Our Halloween throws collection is the ideal option if you're craving that cosy autumn feeling – offering everything from tufted fabrics and textured weaves to seasonal sunset tones.
If you've got some fearsome furnishing on your to-do list but aren't quite sure where to start, our inspiration blog is crawling with handy guides and seasonal design tips. Learn how to choose bedding with our informative buying guide, or get the inside-spook on how to celebrate Halloween at home with our spine-tingling style tips.
how to decorate your bedroom for Halloween.
Styling your bedroom for the spooky season is as fun as it is rewarding, and you certainly don't have to stop with a Halloween duvet cover. While your sleep sanctuary might not be on show to ghostly gala guests or crowds of Trick-or-Treaters, that doesn't mean a bit of rearranging – or even an all-out monstrous makeover – is off the cards.
If you're a fan of the traditionally terrifying aesthetic, you're in for a treat with our Halloween duvet covers collection. Rummage your way through our classically creepy designs and prints, from slithering serpents and witchy symbols to tastefully tufted skulls and ghosts. We've got a myriad of matching cushions if you're looking to flesh out the look, as well as tons of toasty throws that'll keep the evilest of spirits at bay.
Spooky doesn't have to mean silly, however, and there are plenty of Halloween decorating ideas that offer a slightly more sophisticated look. Instead of picking out your favourite spooky symbols and characters, try basing your design on some seasonal Halloween shades. Orange, black, green and white all have strong associations with the holiday, and will create a subtly seasonal look if used carefully.
Avoid using only novelty shades like bold pumpkin oranges and glowing greens. Instead, opt for a mix of bright and brooding tones. A glistening emerald green duvet cover, for example, will sit serenely alongside neutral wallpaper and some decorative black cushions. While burnt orange bedding, a ghostly white throw and moss or olive green cushions will make your space feel effortlessly autumnal.