Back to top
Orange Throws.
add a pop of vibrancy with our orange throws.

The colour of autumn leaves and tangerines – breathe a pop of orange into your interiors with an orange throw. Perfect for layering, draping and snuggling up in, a throw is an essential accessory in any home that's looking to add comfort and style. With burnt orange and warm rust shades, you're sure to find the perfect throw with us. Shop the collection. Whether you want to upgrade your sofa-scape or add some zest to a dull duvet, a throw will add warmth, colour and texture to any space. Find irresistibly soft textures including deluxe fleece, traditional herringbone and chunky knit throws all in gorgeous orange shades.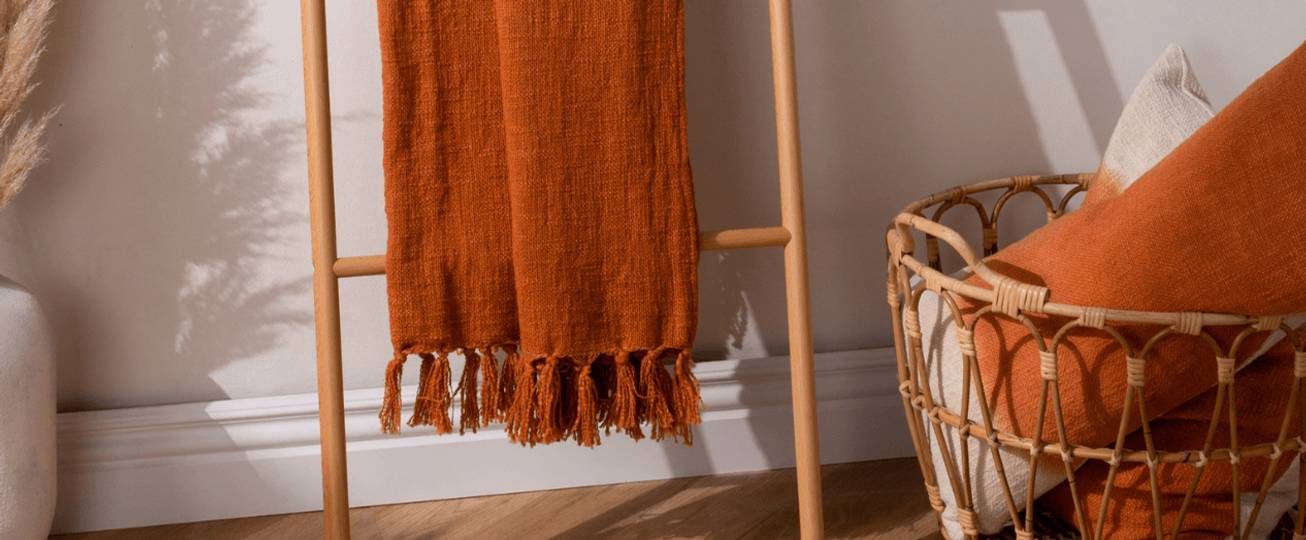 orange throws at furn.com
Transforming a room doesn't always call for a complete overhaul! Cosy home furnishings are the perfect option to add colour, comfort and style without having to re-paint the walls or rip up the floorboards. Jazz up your interiors easily and affordably by introducing an orange throw.
A throw is the ultimate layering accessory! Pair with other throws and cushions to add texture, warmth and colour to your home. So, whether it's for your bedroom or living room – we have the perfect orange throw to spice up an old sofa or brighten a dull bedspread.
Symbolic of joy, creativity and sunshine, orange is an eye-catching colour that's sure to add personality to any room. It's a great colour to translate through the seasons – providing brightness in the darker months and adding extra zest and sunshine in the summer months.
Add the finishing touches with a layer of luxury – all our orange throws are irresistibly soft. No matter your décor, we're sure to have the perfect orange blanket for you to cuddle up in and supply the cosy vibes. Drape your sofa corners with everything from boho tassels, traditional woven herringbone and contemporary fluffy fleeces.
Our throws are available in a variety of sizes, so whether it's for a single bed or a long family-sized sofa, there's an orange throw to suit your needs.
Obsessed with throws but not sure how to get started? Check out our guide on using throws around the home.
styling your orange throw.
Orange is an uplifting shade that we think should be used more often in the home! But there's no doubt about it, it's a bold colour that can be tricky to know what to do with. But with so many different shades of orange, you've got loads of options. Warmer hues like burnt orange and rust will create warmth and cosiness, whereas brighter orange shades will add vibrancy and zing.
A contemporary living room with burnt orange accents is sure to create a feeling of effortless comfort, as well as grab attention. Start with white walls to create a backdrop where the orange can really pop. Drape your burnt orange throw over a neutral sofa and upgrade your sofa-scape by layering on orange cushions. Add a touch of gold to complement the burnt orange tones – a gold mirror will bounce light around the room and create extra warmth.
For a soothing bedroom with a feminine feel, pair your orange throw with blush pink shades. Because of their warm, muted tones they'll create a relaxed vibe that still stands out! And for anyone that's into colour theory, they're super-close on the colour wheel. This means they'll create a feeling of harmony that's perfect for the bedroom. When it comes to the placement of your orange blanket, let it cascade casually over pink bedding and add further comfort with blush pink cushions. Complete the calming look with orange wallpaper.