Back to top
Pom Pom Cushions.
layer in some levity with playful pom pom cushions.

Every home can benefit from an exuberant detail or two, and our pom pom cushion covers bring the ideal burst of character. Choose from classic cushion shapes with full pom pom trims, or make a statement with novelty star and heart-shaped offerings. Snuggle into summery yellow and pink pom pom cushions, or stay lowkey with cool muted shades. Shop the collection.

Many of our cushions are designed right here in the UK at our Yorkshire studio, where they're soon sent off to be assembled at our cushion-making factory in Staffordshire. Our signature pom pom designs feature tufted balls of ultrasoft fabric, stitched around the edges or face of the cushion for a touch of dandy detailing. Treat yourself to a luxury velvet or quilted fabric cushion, or keep it classic with soft cotton and polyblend fabrics.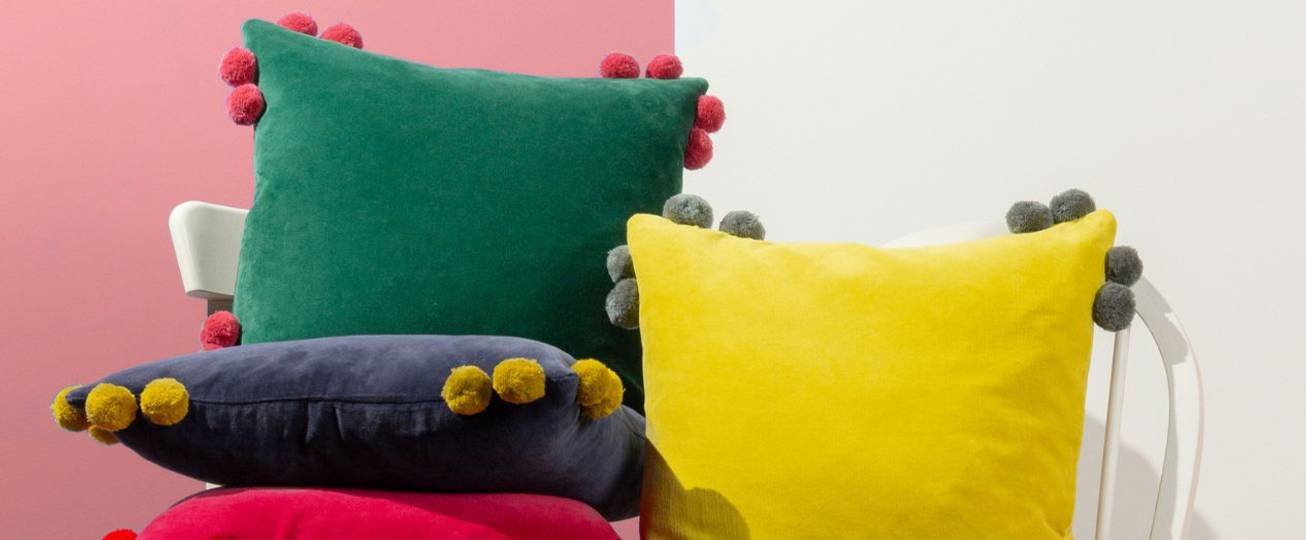 pom pom cushions at furn.com.
Our pom pom cushions are stitched with decorative balls of soft tufted fabric which accentuate the overall design. Quirky, fun and packed with personality – they're destined to become a topic of conversation in any space. Whether you're building a boho bedroom or craving an eclectic accent, live for lighthearted accessories or just want to liven up a muted space – you've found the ideal option in our pom pom cushion covers.
Obsessed with the look? Pining for a palace of pom poms? Make sure to check out the rest of our range, from funky floor cushions and boho throws with tassel fringing to plush bath mats that make toilet trips a treat.
Coming up short on interior ideas? Head over to our inspiration blog for a generous helping of guides and expert style advice. We've got helpful walkthroughs on everything from cleaning velvet cushion covers to crafting a serene sofa-scape, as well as dreamy design tips on how to create a sleep sanctuary.
how to choose pom pom cushions.
Our pom pom cushion covers collection is teeming with designs that'll bring a healthy dose of fun and character to your home. While they might sound like accessories that are limited to the maximalist home, we've got tons of toned-down designs that'll fit beautifully in more minimalist spaces. Our range of colours is just as diverse, offering everything from dusky pastels and saturated sunny shades to cool greys and organic beige tones.
If you're unsure about which pom pom cushion is right for you, start out by looking around and taking stock of your current decor. If you're planning on popping some pom pom goodness on your living room sofa, take note of its colour, as well as the colour of any furniture, throws or sofa cushions. This will give you an idea of what colour pom pom cushion you should be going for, as well as offering inspiration for how you might expand the colour scheme.
Check out our guide on what colour cushions go with your sofa colour for a full styling guide, as well as a crash-course in colour theory that'll make coordinating your pom pom cushions a breeze.
how to style pom pom cushions.
Although they're more of a quirky design, the styling potential of pom pom cushions is broader than you might think. Every space can benefit from a touch or two of maximalism, and you'd be surprised just how well an embellished design like pom poms might fit in a quieter decor scheme.
If you're more of a minimalist and aren't big on outlandish accents, go for one of our subdued designs with pom pom buttons stitched on the face of the cushion. Swinging pom pom tassels aren't for everyone, and a more streamlined design provides the playfulness of pom poms without all the bells and whistles. Stick with understated colours like greys, naturals or soft pastels, and opt for designs with pom poms just on the face or corners of the cushion. Use plain cushions in calming tones of grey, white and beige as a backdrop to make your pom pom cushions pop all the more, and accentuate the cosy look with a toasty knitted throw.
If you've got no qualms about turning up the textures and going for an unapologetically maximalist look, we've got pom pom cushion covers in dazzlingly bright hues that are designed to take centre-stage. Look for heavily tasseled trims, or go with one of our novelty heart or star-shaped designs. Embrace an all-out eclectic look by pairing a few contrasting colours together, and accentuate with a signature floral, animal or geometric cushion design. Stick with plain wallpaper in neutral tones to highlight your accents, or opt for a vibrant feature wall to keep the maximalist motif going strong.