Back to top
Yellow Curtains.
lose the glare but keep the sunshine with our yellow curtains.
The universal hue of happiness, birth, and new beginnings – there's a lot to be gained from introducing some yellow to your home. From fluttering spring florals to immersive exotic vistas, to sophisticated stripes, checks and plain-dye designs, our yellow curtains collection has everything you need for a stunning sunrise of style. Keep it classic with rich ochre and butter yellow, or embrace a brighter look with dazzling tones of citron. Shop the collection.
Stylish in summer, functional through winter – our
100% blackout curtains
are thermally lined to conserve heat while keeping blinding glares and winter chills out. Give your yellow curtains a touch of class with traditional
pinch
and
pencil pleat
headers, or opt for a contemporary twist with our stainless steel
eyelet
options. Can't spot your size in our
ready made
range? Check out our bespoke
made to measure
service for tailored sizing down to the nearest centimetre.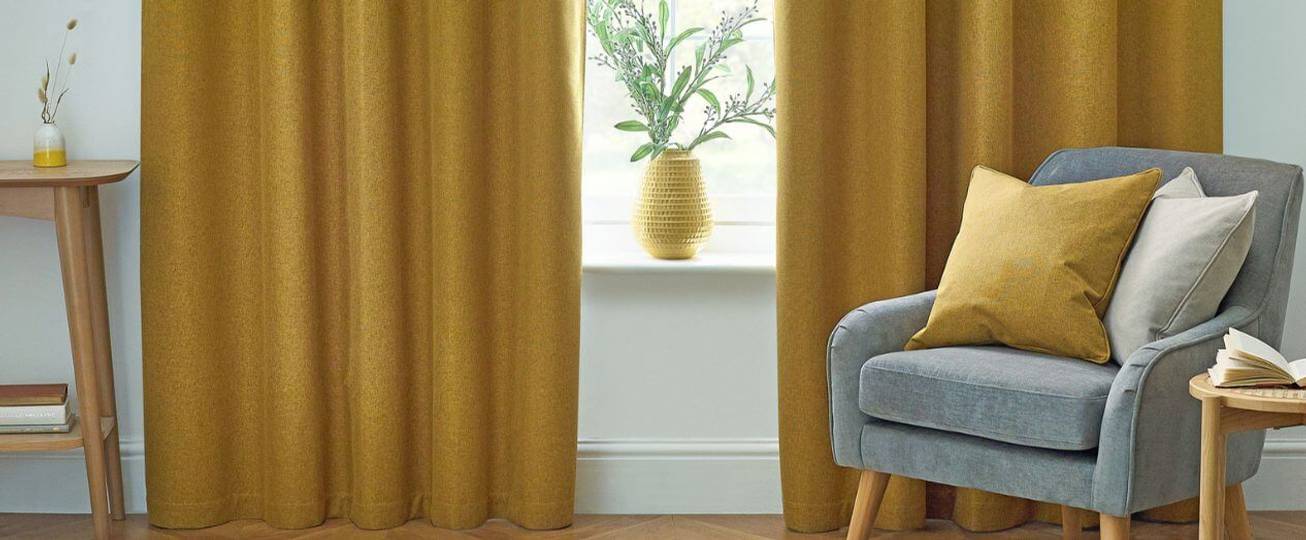 yellow curtains at furn.com.
A sundrenched symbol of energy, positivity and productivity according to our colour psychology guide – yellow is one of the cheeriest hues you can use in the home. Whether you're looking to strengthen a sunshine scheme or bring a ray of light to your minimalist home – our yellow curtains are the ideal summery solution.
Skip your way through our stunning range of signature designs, from lush meadow florals and leafy jungle prints to understated striped, check and plain-dye patterns. Stick with classic yellow hues of ochre and deep mustard, or opt for something a little zestier with fresh citron shades. Take the messiness out of the measuring process with our ready made yellow curtains – ideal for most standard windows – or get tailored sizing down to the centimetre with our bespoke made to measure options.
Feeling the mellow yellow vibes? Make sure to check out the rest of our yellow home furnishings, from sunny cushions and buttery throws to wallpaper that'll wrap your space in summery goodness. If you're in need of inspiration, our blog is teeming with expert guides and handy styling tips. Get to grips with the core curtain fundamentals with our beginner's buying guide, or get down to the nitty gritty of sizing with our detailed curtain measuring guides.
what colours go with yellow curtains?
Although impactful, yellow is a superbly versatile shade that works with all manner of colours to create a variety of styles and moods. Whether you're looking for a dazzling summer scheme, a moody contrast of dark and bright, or a pale yellow shade to use as a neutral – you'll find your ideal styling solution in our stunning range of yellow curtains.
If you've got a neutral kitchen or living room that needs livening up, yellow makes for a serene pairing with all manner of minimalist hues. Pair rich ochre curtains with pale grey wallpaper for a calming, sophisticated look, and scatter in a yellow cushion or throw to subtly build on the colour scheme. Both white and black will also look stunning alongside saturated yellow shades, but stay conscious of the amount of natural light you want your space to capture. If you've got a north-facing living room that doesn't get much sunlight, white wallpaper will work a treat to brighten things up, while black wallpaper will have the opposite effect if your bedroom is lacking that snug, enveloping feel.
If a strong, summery colour scheme is more your style, you've got tons of options when coordinating yellow curtains. Sitting directly across from purple and blue on the colour wheel, yellow is open to plenty of striking contrasts that'll make your space really shine. Couple saturated yellow shades with cobalt blue walls for a characterful eclectic look, or keep things subtle and refined by pairing mustard yellow curtains with navy cushions and other deep blue accents.
Shades of orange and green will make a smooth analogous pairing with yellow curtains, offering a bold look that's slightly less intense than a direct contrast. Go for a tranquilly colourful look by pairing pale yellow shades with mossy greens and burnt orange tones, or stick with saturated shades for maximum drama and impact.