Back to top
Yellow Towels.
brighten up your bathroom with yellow towels.
The colour of sunshine, buttercups and lemons – yellow is the perfect cheery colour to bring a bit of joy to your bathroom. Our yellow towels collection includes bold patterns, textured weaves and saturated plain dye towels, so whatever you're looking for you'll find the right option for you. They're soft, plump and super-absorbent, made from 100% cotton. Shop the collection.
Wrap yourself up in luxury with our collection of yellow towels. Create your dream yellow towel set with our handy sizing options, including yellow face cloths, hand and bath towels, and big bath sheets that envelop you in softness. Don't forget to fully embrace the sunshine scheme with a matching 
yellow bath mat
.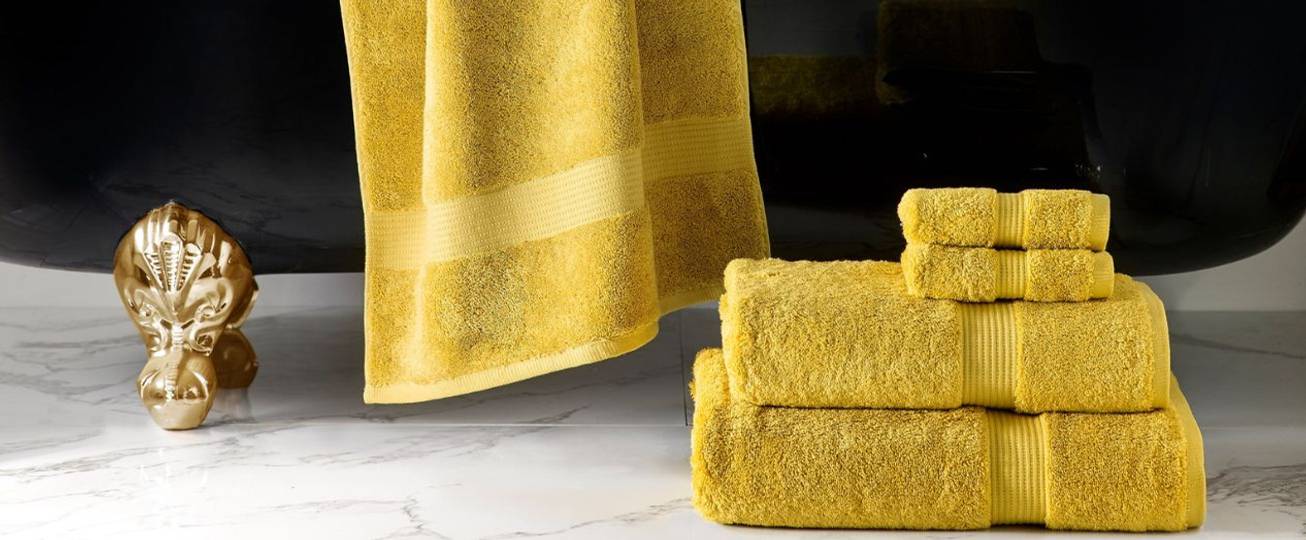 yellow towels at furn.com.
Discover our bright and beautiful yellow towel collection. From saturated ochres to rich honey mustards, you can find the perfect towel when you shop with us. Explore punchy plain dye towels, textured weaves and bright bold patterns – think abstract eye designs, winter woodland scenes and more.
Eager to embrace the energy and bathe your bathroom in sunshine shades? Create your own yellow towel set with our simple sizing options, ranging from dainty face cloths to fluffy hand and bath towels, to billowing bath sheets that drape you in luxury. Easily select your sizes, pop them in your bag and you're already on your way to a sunny yellow bathroom that's dripping in joy.
Whether you know you want the softest Egyptian cotton for your new bathroom or you're looking to cheer your existing room up, our yellow towels will do just the job.
what colours go with yellow towels?
Yellow is a beautiful colour to have in your bathroom – it's a warm, positive colour that can't help but make you smile. Yellow towels are a quick and easy way to add this pop of colour into your family bathroom, ensuite or powder room – but will it go with your decor scheme?
Yellow is a versatile hue, complementing a number of other colours. Paired with neutrals like white and grey, yellow really pops. Really make your yellow towels sing by coupling them with white fittings and a fluffy cream bath mat. You'll end up with a light, sunny bathroom that feels like a breath of fresh summer air every time you step in.
A green and yellow pairing will evoke nature – deep greens and yellows will give a more sophisticated feel, whereas lighter tones will be more playful. Create your own ochre yellow towel set and complement with emerald green wallpaper or a jewel-toned green bath mat to give your bathroom a fresh meadowy feel.
Yellow and blue is a classic colour combination, too. Go for the deepest, darkest blue for an opulent feel or pair with powder blue for a light-hearted take on this timeless duo. Dial up the luxe with a gold mirror and shiny metallic fittings, to bring out the more regal side of your deep yellow towels.
Paint your walls yellow or go for patterned yellow wallpaper, plump thick yellow towels and a plush yellow bathmat – it'll be like living in a happy sunshine paradise every day. Add houseplants and flashes of light blue for depth and interest.