from bright villa looks to tranquil reading nooks, we're making the great outdoors even greater…
---
If you've ever spent an afternoon lounging in a sun-soaked garden space, you're already aware of the spiritual experience that it can be. Those in doubt of nature's healing powers need only spend a few hours atop a mound of outdoor cushions, nestled in a quilted hammock or sipping cocktails on a comfy deck chair to be fully converted to sun-loving fanatics.
But you don't need a great sprawling decking or palatial patio to get your outdoor space looking its best. Size isn't everything when it comes to outdoor spaces, and you'd be surprised at the difference some carefully considered decorating can make. "If impact is what you want, pack in personality by adding a statement colour wall or fence" advises Anna, furn.'s brand manager. "This will make a great backdrop to any furniture and accessories you have, but also can add warmth in a space that maybe doesn't get as much sun".
The beauty of the modern garden lies in its simplicity, and its ability to act as an open-air extension of your home's character. Whether you're hell-bent on building a bookish hideaway or have your heart set on a château-style social hub – we've got expert advice for crafting the outdoor space of your dreams, no matter what square footage you're working with.
So, without further ado – here are 4 modern small garden ideas that defy dimensions and pack a serious punch of sunny style.
---
prim and proper.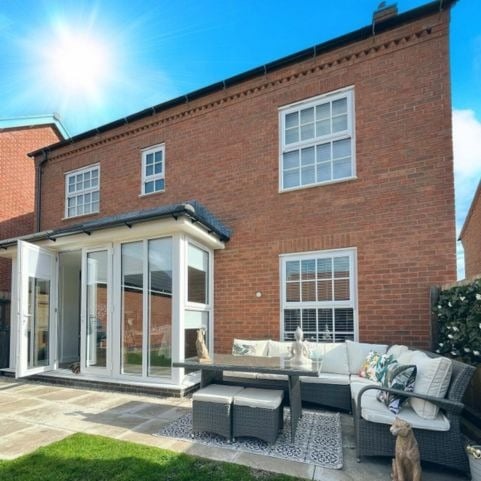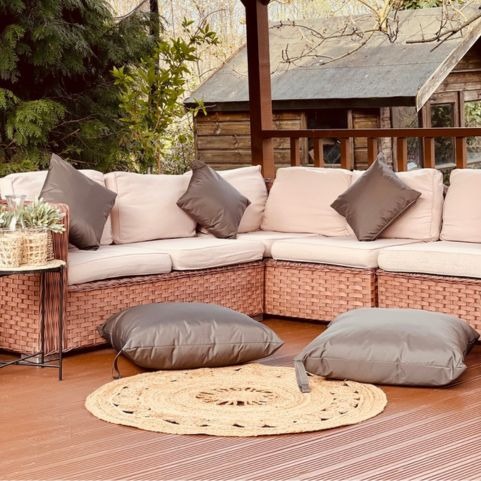 There are few things in this life quite as soul-soothingly satisfying as an orderly garden. Clean lines, straight edges, tidy patterns and a pacifying palette scratch a certain itch in many decorators' brains, leaving no great mystery as to why the minimalist garden seems as á la mode as ever.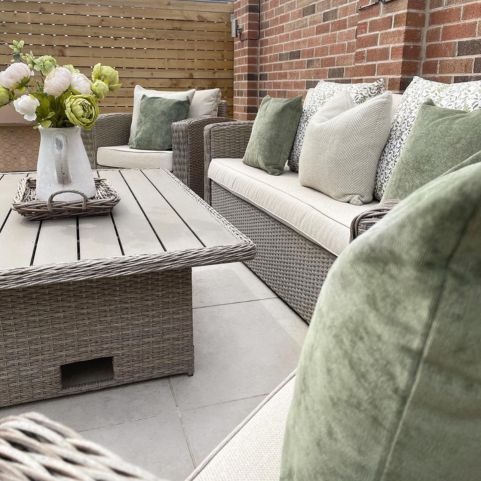 A tidy garden aesthetic doesn't have to mean white picket fences and saccharine posy patches. Muted earthy tones are massively on-trend at the moment and allow for a subtle garden colour scheme that softens the barrier between scene and setup.
Our Minton Tiles Outdoor Cushion in Olive strikes the perfect balance, blending a clean white background with serenely green Mediterranean tile florals. The design is available in a full spectrum of soothing earthen shades from petrol blue to buttery saffron yellow, offering a subtle pop of colour for your minimalist garden space.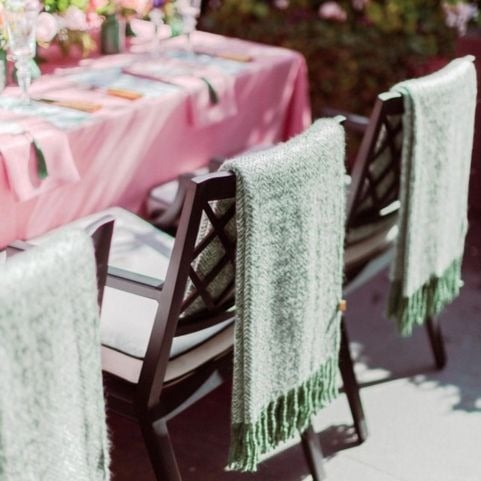 A woven throw blanket is a welcome addition in any open-air enclave, but can work particularly well in bringing a sense of depth to more subdued designs. Our resident design expert and brand manager, Anna, is confident that "throws look good from every angle, whether cascading over chairs, sprawled on a sofa or neatly folded in wait of chilly garden guests". The beauty of throws is that they look great with minimal effort, and don't demand much time or thought in how you set them up.
Our Weaver Herringbone Throw in Teal makes the ideal summer night layer, bringing warm and wooly comfort in a sophisticated geometric weave design. We've got a sleek grey option for the more minimalist-inclined, as well as vibrant sunny versions in rust and gold.
---
running wild.
Garden design has come a long way since tailored topiary shrubs and astroturf lawns offered the only look worth striving for. With the emerging departure from fast furnishings in favour of a more sustainable design approach, it's no surprise that our outdoor spaces have begun to follow suit. Wildflower plots, bustling bug hotels and even DIY ponds are just some of the conservation-conscious features making waves in the contemporary garden space – and we, for one, are fully on-board.
"If you're not green-fingered, you can still get the look of a full, flourishing garden by using printed accessories" advises furn. brand manager Anna. "Botanical, jungle and floral prints can instantly transform a plain looking space. Whether you're looking for country, exotic or flower show vibes, there's an array of prints for you to layer up and create your desired theme - no watering required!".
Nailing an ethereal meadow aesthetic starts with rooting out the garden gloves and getting stuck into some good old-fashioned landscaping. Sacrificing a foot or two of lawn space in favour of widened wildflower beds might sound like a raw deal, but your local pollinators will be first in line to thank you.
The decorative benefits are also aplenty, as even the humblest of wildflower plots will bring bundles of colour, texture, shape and scent to your backyard sun-scape. You can pick up packets of wildflower seeds online or in your local garden centre for cheap, scatter them over soil and they'll happily sprout up without much need for upkeep.
The meadow motif doesn't stop at the edge of your flowerbed, however. We've got bunches of blossom-inspired designs that'll give even the lushest of lily beds a run for their money, and completely transform your garden space into a floral feast for the senses.
Our House of Bloom Celandine Outdoor Cushion in Saffron sings in perfect harmony alongside summery wildflower hues, ensuring your prairie-style planting is complemented from every possible angle. Look out for matching rectangular options in olive and celandine green, for a fresh flurry of florals that rivals the real thing.
---
villa-vibed.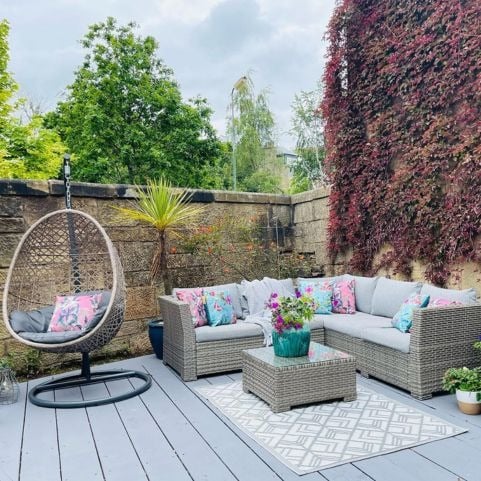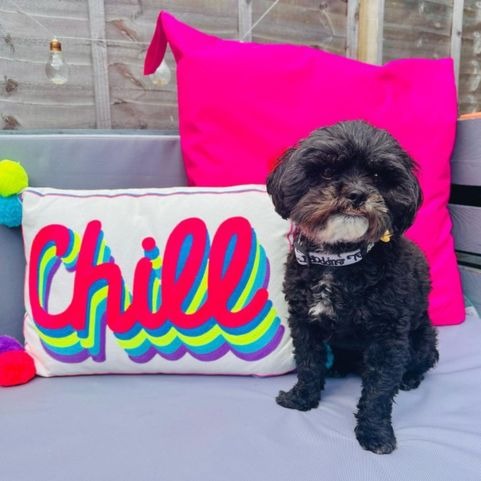 If you've ever wished you could bring the Love Island villa home and spend your summer sunk in a beanbag or lazing on a hot pink lilo, it's safe to say you're not alone. Nothing sparks the sunshine vibes alight quite like the breezy open-plan aesthetic of a Mediterranean villa house, and while you might not be able to bring the weather home, you can closely replicate just about everything else.
Many elements go into making the typified tropical retreat, and it all begins with a healthy spread of verdant greenery. Think large-leaved foliage plants with palm-like pointy edges, gracefully scaling wood-panel fences or sitting pretty in sculptural stone pots. This will set the perfect tone for a summer paradise aesthetic, and all that's missing now are some tropical trimmings in your decor.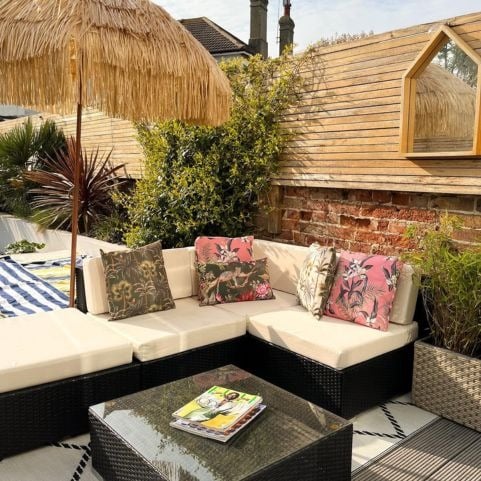 No sunny summer paradise is complete without a smiling crowd of sun-tanned guests, and that means you'll be needing plenty of seats and functional surfaces. Floor cushions are a stylish and straightforward seating solution for any garden space, needing only a quick toss on the floor before being ready for use.
"If you have limited seating, but want to host people in your space, try adding some jumbo floor cushions", recommends Anna, "they will add colour and print as well as ticking a big box!".
Our Peacock Outdoor Floor Cushion in Blush boasts a torrent of bright tropical shades, complete with a coordinating printed feather reverse that oozes villa vibes. All our outdoor floor cushions are water and UV-resistant, for stress-free alfresco gatherings that won't get spoiled by splashes or spills.
---
still + serene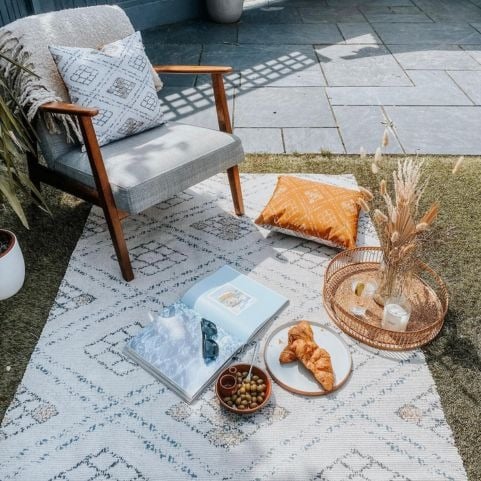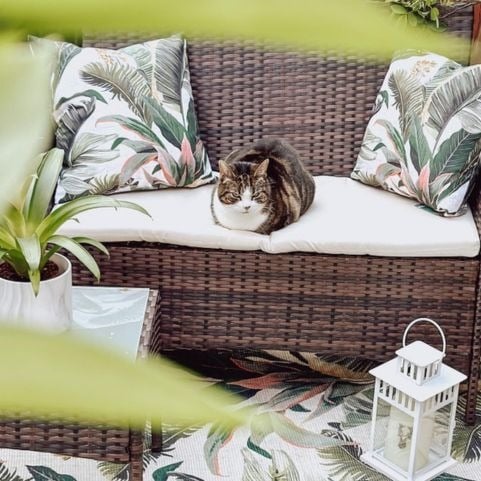 Modern small garden ideas don't have to be all about bright hues, busy patterns and summertime socials. The outdoor space represents a sanctuary for many, offering a tranquil hideaway from the busyness that home life can bring. We all love a quiet forest walk or de-stressing on the strand, but it's important to have a space to go when wilderness areas are out of reach. Whether you're envisioning a quiet corner for reading, work or pure recreational bliss – we've got just the styling tips you need.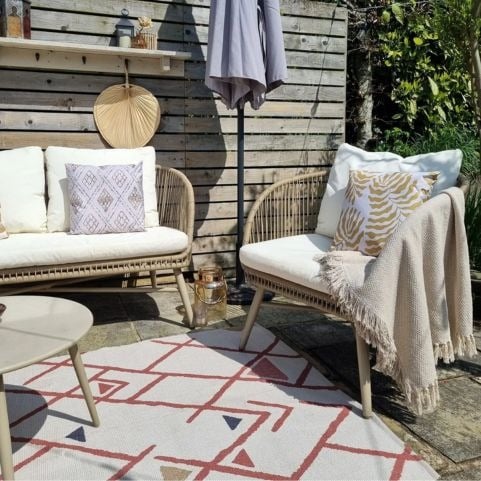 Every soothing sanctuary needs a sense of privacy and enclosure, so tall hedges or high border fencing work best for this garden style. Stick with a muted colour palette that's grounded in neutrals and try to make sure any pops of colour are warm and earthy. Our Atlas Outdoor Cushion in Natural and Tocorico Outdoor Cushion in Mustard reach perfect harmony in this understated patio design, chicly coordinating with a cosy splash of burnt brick red in our Inka Outdoor/Indoor Rug.
You'll need a snug spot to perch while tucking into a sweet iced coffee or your latest paperback, so a set of flexible weave sun loungers may be in order. Simple, stylish and ideal for nestling into after a long day, they're a must-have for any open-air sanctuary. Go with powder coated black for a simple and sleek look, or embrace a brighter take with pale pastel pink.
Layer them up with plain or muted floral outdoor cushions for indulgent, sunbathe-worthy softness, and create your perfect patch of shade with our streamlined selection of parasols.
---
---
---
---