Back to top
Cream Blinds.
 add a timeless touch to your windows with our cream blinds.

Breathe elegance and simplicity into your interiors with our stunning collection of cream blinds. Featuring both luxurious roman and modern roller designs, you're sure to create the look you're longing for. Explore the range and you'll find ready made and bespoke made to measure cream blinds to ensure the perfect fit. Shop the collection.

Browse our cream blinds and find an array of gorgeous hues with ivory, opal, and linen shades to transform your home into a soothing sanctuary or classy boudoir. Whether you prefer it patterned or plain, we have a myriad of designs to suit your home décor – find florals, geometrics, and marble effects to instantly spruce up your spaces.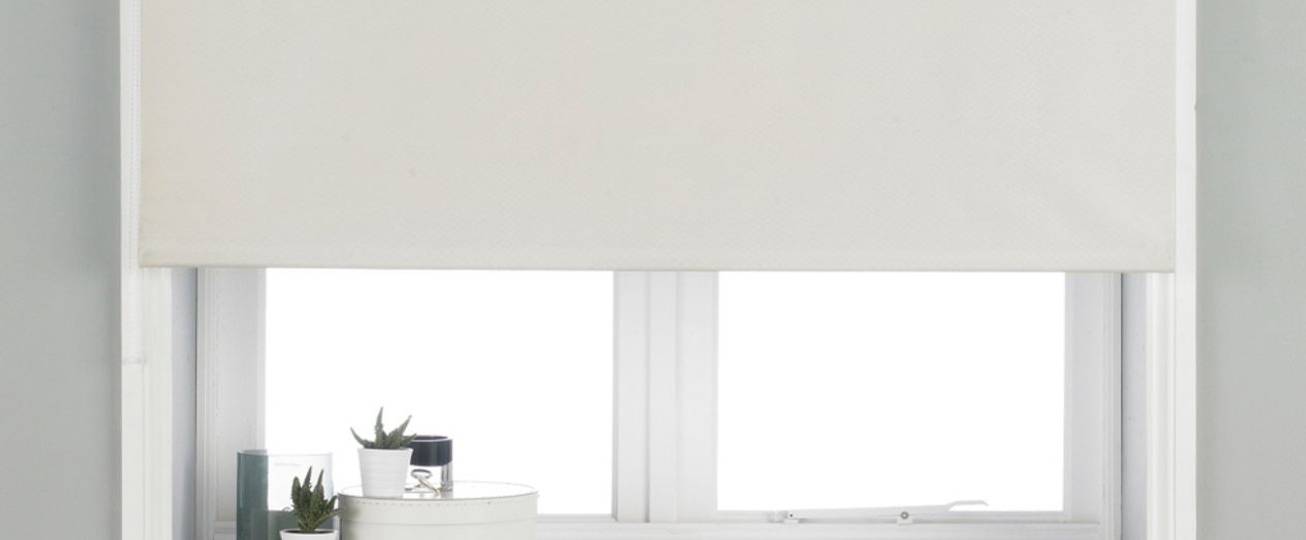 cream blinds at furn.com
It's time to transform your window recesses. Whether you're looking to swap out your old curtains, layer up, or you're completely overhauling your home – you'll find your perfect cream blind in our collection.
Offering you the utmost privacy, darkness, and warmth, a blind is a practical addition to your home, but it doesn't stop there. A blind is the ideal way to showcase your personal tastes by adding colour, pattern, and unique style into your interiors.
roller or roman?
Browse through our collection of cream blinds and you'll find a choice of cream roller blinds and cream roman blinds to curate the look you want. These two styles of blinds offer totally distinct looks and feels in your home. So, what's the difference?
A roller blind is great for any minimalist, modern or Scandi décor lovers out there. Fitted with a simple mechanism and manufactured from stiffened fabric, they're more on the practical side and are an ideal option for the kitchen and bathroom. But don't be fooled, they're still super-stylish! Find our roller blinds in an assortment of popular ready made window sizes.
Our roman blinds are folded and pleated for an effortless drape and will create a voluminous look at your window. These blinds are ideal if you're after something with a little more luxury for the living room and bedroom. Our roman blinds are available to be purchased as a bespoke made to measure option, so if your window sizes don't feature in our ready made range, then you can get your exact fit. You give us your window measurements and we'll send you the blinds!
Both our roller and roman blind designs include all the fittings and clear, easy to follow instructions to get your blinds up in a flash. Complete with adjustable pull cords and built-in child safety devices, they're great for homes with young families.
cream's the colour.
Looking to add a touch of cream to your home office, kitchen, or living room? Look no further. It's the ideal shade for opening up a smaller room – it works in the same way as white to reflect light around the room and make a room feel bigger, but it's less harsh and stark. Warm cream is a timeless, sophisticated, and neutral shade that will blend seamlessly into your home décor.
In colour psychology, cream is said to relax, sooth and ground – so cosy up and turn your rooms into a relaxing space with our cream blinds. Whilst perusing our collection, you'll see an array of stunning cream tones including light ivory, natural calico, and luxe linen shades.
If it's a plain-dye or patterned blind you're looking for, we have loads of designs to suit your requirements and add the finishing touches to your home. Are you looking to make a statement? Try a striking floral bloom or exotic leafy jungle print. Or if you prefer to keep it simple and uncluttered, go with a muted marble effect or stylish stripe.
fabrics + features.
Add classic cream to your spaces with a plethora of smooth to the touch, high-quality, and durable fabrics to choose from. For ultimate decadence and irresistible softness in your spaces, we have sumptuous velvet and traditional jacquard weaves. For a home with muddy pawprints and crayons on the loose, opt for crisp, stain-resistant polyester.
Many of our cream blinds come with 100% blackout features. Complete with a three-pass lining that blocks out all light, absorbs noise and prevents unwanted draughts, you're ensured the best night's sleep possible. Not only does the lining banish light, but it also has thermal qualities – this means you'll stay warm during the colder months and cool during the long summer days.
If you're not totally sure on which blind is best for you and your home, take a look at our handy blind buying guide for all things measuring up, light filtration, fitting, and operation.
what colours go with cream blinds?
Cream is known for being oh so versatile. It's a tried and tested hue that goes with absolutely everything. Cream can add a myriad of stunning looks and feels to your interiors – depending on what colours you choose to match it with!
Consider marrying your cream blind to pink home accessories. If you're looking to create a room that feels soft, subtle, and ultra-feminine, go for a blush pink and cream colour scheme. Think blush pink cushions plumped up and scattered over a neutral sofa-scape for a charming rosy glow. If it's a vibrant room full of positivity you're after, opt for hot pink shades that really pack a punch and off-set the neutral cream hue.
All about deluxe décor? Try cream, gold and black. A classy option that supplies a gorgeous sheen, gold will add luxury and extra warmth to an otherwise muted cream palette. Consider adding glinting gold clocks, gold mirrors, and photos of your family and friends in gold picture frames to a strikingly dark black wallpaper backdrop. Your cream blind will fit right in. The mix of light, dark and metallic is a real winner – trust us, there's no colour arrangement more glamourous.
Elevate your spaces with a cream and green colour scheme. Natural green paired with the warmth of cream will leave you feeling so very serene. It's a fresh and supple colour palette that's ideal for the bedroom where relaxation is a must. Complement your cream blind with soft beige bedding and sage green throw – then arrange green cushions in various shades on top for an easy-on-the-eye look and comfort galore.