Back to top
Grey Blinds.
 add simple style to your windows with grey blinds.

Get sophistication at your windows with our stunning collection of grey blinds. Choose between pleated roman and modern roller blinds to update your spaces. With both ready made and bespoke made to measure blinds, you're sure to find your perfect fit. For a deep sleep, many of our grey blinds are complete with room darkening features. Shop the range.

We have a plethora of grey shades for you to create the look you're longing for. There are loads of plain and patterned designs in grey colourways – discover silver and nickel metallics as well as dark graphite and charcoal hues. With so many super-soft and durable fabric choices, add texture with sumptuous velvet, 100% cotton and faux wool finishes.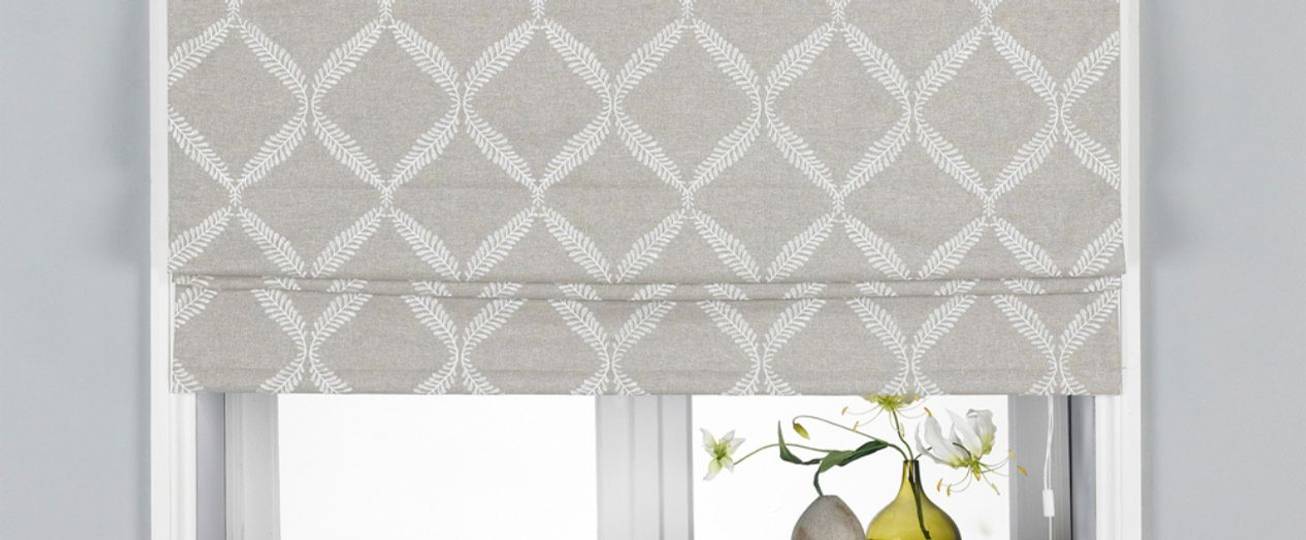 grey blinds at furn.com
If you're considering adding grey to your colour scheme, look no further. Update your interiors with blinds in gorgeous grey. An essential home accessory and the perfect alternative to curtains – a blind will provide your home with all-important privacy and warmth, as well as plenty of personality and style.
Whether you're looking to add a blind to your living room, kitchen, home office or bedroom, with such a wide range of stunning designs, you won't struggle to find a grey blind to fit into your home décor.
blind type + size.
Browse between two types of grey blind. For something more on the minimal and contemporary side, there's grey roller blinds, or opt for grey roman blinds if you prefer a fuller, pleated look with a little more luxe. Both come with all fittings included and easy to follow instructions to get your blind up in no time. And, bonus! All our blinds feature an adjustable pull cord with a built-in child-safety device that's great for homes with young families.
Encompassing a variety of popular window sizes, you're bound to find your perfect fit. But if your window size doesn't appear in our collection, don't worry! We also offer a bespoke made to measure service across our full roman blind range. You just tell us your window measurements and we'll send you the blinds to fit your windows, easy as that.
Ideal for the bedroom, many of our grey blinds come with a 100% blackout 3-pass lining for complete darkness. This means light sleepers are in for a deep sleep as no streetlights or sunshine will seep through. The blackout properties also provide thermal features that keep in the heat and banish any unwanted draughts.
colour, pattern + fabric.
Make your day with grey! A charming colour that conveys calmness and composure – grey is the perfect colour for adding neutrals into your colour arrangement. Create a variety of looks with blinds in loads of soothing shades and colourways. Go luxury with metallic silver or opt for drama with dark charcoal. Or add a soft and subtle feel with fog, smoke, and sycamore shades.
Our range of grey blinds includes a whole host of plain and patterned designs. A plain blind will offer you a minimalistic look and is perfect for if your rooms are already brimming with pattern. Whereas a patterned blind will work to draw the eye and go a long way in expressing your personality.
Find heritage tartan and decorative latticed designs to suit a traditional home décor. Or we've got geometrics galore for a contemporary touch. If you can't get enough of florals, discover delicate botanicals, tropical jungle prints and leaf motifs. And we've even got art-deco designs for the retro lovers.
Browse an array of super-soft and durable fabrics to add to texture to your window. With everything from shining chenille and sumptuous velvet to 100% cotton and jacquard weaves, there's something for everyone to draw the curtains in total bliss.
For a detailed run through on which blinds are your best bet – take a look at our blinds buying guide for more info.
what colours go with grey blinds?
Grey is one of the most versatile colours on the colour wheel. It's a neutral and achromatic hue that looks great matched with pretty much every shade. But we're here to help you create eye-catching looks with these gorgeous colour combos!
If you're looking to create something bright, bold, and daring, lime green is a great shade to pair with subtle grey. Use the lime as an accent colour – the grey backdrop will let it really pop. The energy of the lime married with the muted grey is a match made in home furnishing heaven.
Either create a checkerboard effect or keep it monochrome by marrying your greys with black or white. Create the classiest of bathrooms by pairing your grey blind with bold black towels and a white bath mat. Go a step further and really add the drama by covering the walls with statement black wallpaper.
For a good dose of warmth, match your grey blind with burnt orange accessories. As a rule, warm and cool tones work together to create a sense of balance in a room, so you can't go wrong. Scatter burnt orange cushions over a grey sofa and pull down the blind for a cosy night in.