Back to top
Kitchen Wallpaper.
brighten up meal times with our wallpaper for kitchens.

Transform your kitchen walls. Our paste-the-wall kitchen wallpaper is available in a large variety of patterns from exotic animal prints to sophisticated art-deco designs. It's not only easy to apply but can be wiped clean, making it ideal when things get messy. Browse the full collection now.

With many kitchen wallpapers to choose from, we know how tricky it can be to find the perfect one to suit you and your tastes. That's why we provide a sample service across the full range – add to your bag for just £1. Find out how much to order with our usage calculator which estimates the amount of wallpaper you'll need to revamp your kitchen walls.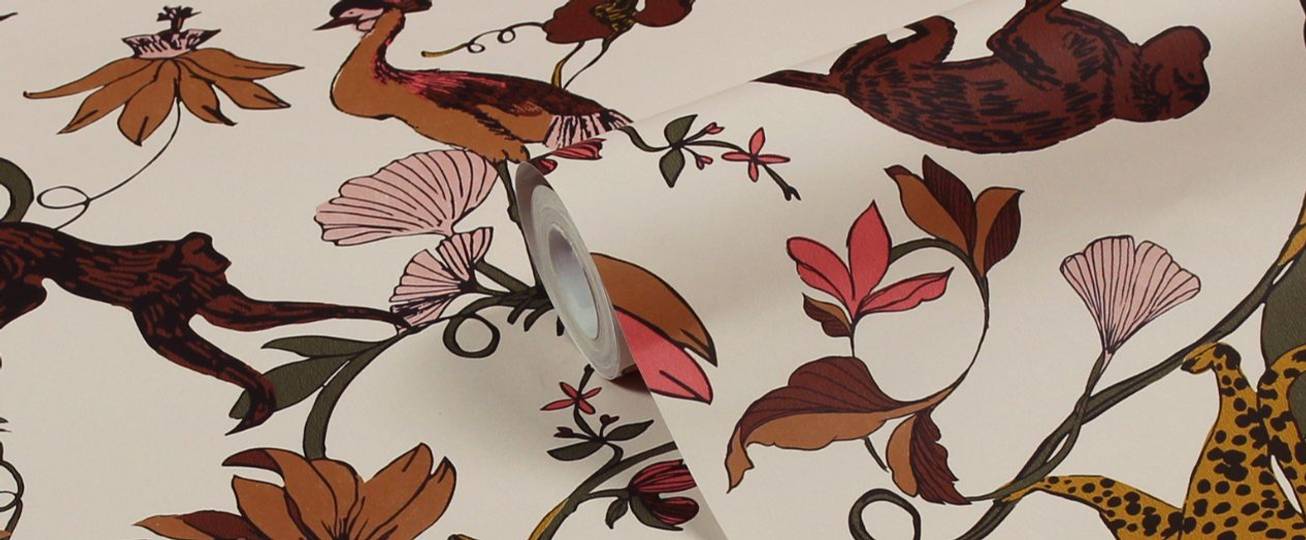 kitchen wallpaper at furn.com
The kitchen is the heart of the home, so create a space you'll love to cook in with our kitchen wallpaper.
Whether you're completely renovating your kitchen or just fancy changing up your walls, we have the perfect wallpaper to brighten up your kitchen. In fact – we think they look good enough to eat!
Available in an array of delicious designs and colours, you can go for pretty floral patterns in yummy yellow hues or more neutral marble designs in champagne shades.
Our wallpapers come in an assortment of different finishes - choose from textured, vinyl, metallic or printed. Whatever your taste, we've got you sorted.
Our paste-the-wall wallpapers are durable and non-fading meaning they'll retain their brightness and look newer for longer.
If you're not 100% sure on which wallpaper will be the right fit for you, take a look at our wallpaper buying guide for extra advice.
what is paste-the-wall wallpaper?
Perfect for more impatient decorators or those with busy schedules who don't have much time on their hands, paste-the-wall wallpaper takes less time to apply than other methods.
You simply paste the wall and place the wallpaper on top, which means you won't need any extra tools that take up space, like wallpapering tables.
If you like to change your look often, it's extremely easy to get off the walls as it peels straight off!
can you put wallpaper in the kitchen?
You might be thinking: wallpaper in the kitchen? Really? Our answer is a resounding yes!
It doesn't just add gorgeous colour, texture and dimension to your kitchen that you'll want to show off. Our wallpaper can also be wiped down, making it an ideal choice for the kitchen where food can get splattered around by enthusiastic cooks.
Vinyl wallpaper could be most preferable in your kitchen as it's hardiest to moisture, this means you can pop it on the wall by the sink without having to worry about it getting spoiled.
Wallpaper is much cheaper and far easier to replace than tiles, and less time consuming to apply than paint. It also lasts up to 15 years (when applied correctly), making wallpaper a super sustainable decision. It's a win, win situation.
styling your kitchen wallpaper.
Are you after a sleek, modern style kitchen? Wallpapering the walls – even if it's just one feature wall in a striking geometric print – will make the world of difference in brightening the room and grabbing your guests' attention.
A warm, country style kitchen will benefit from a floral wallpaper, it'll brighten and freshen up your kitchen if it's feeling a little dull, as it provides more than just colour. You'll get added depth, pops of colour and finesse to an otherwise functional space.
If you have a north-facing kitchen that doesn't get much natural light, think about a metallic wallpaper. The subtle sheen will help bounce light around and brighten your mealtimes.
Time for tea! Accessorise your kitchen wall further with a complementary clock on the wall. Pair a bold green wallpaper with a round gold clock for an effortlessly stylish look.