Back to top
Pink Bed Throws.
add a pop of pink with our pink bed throws.

Sure to make your bedroom rosy, our pink bed blankets are available in a range of gorgeous pink shades. With everything from beautiful blush to funky fuchsia, we've got all your favourite hues. There's loads of textures to choose from – find heavyweight fleece throws for colder nights and lightweight tasselled designs for a boho bed-scape. Shop the collection. Whether you fold it up and pop it at the end of the bed, drape it diagonally or cover the whole bed with it, a bed throw is a cosy and decorative addition to any bedroom. Find chunky knits, textured tufts and woven recycled yarns to add comfort, style and warmth to your sleeping space.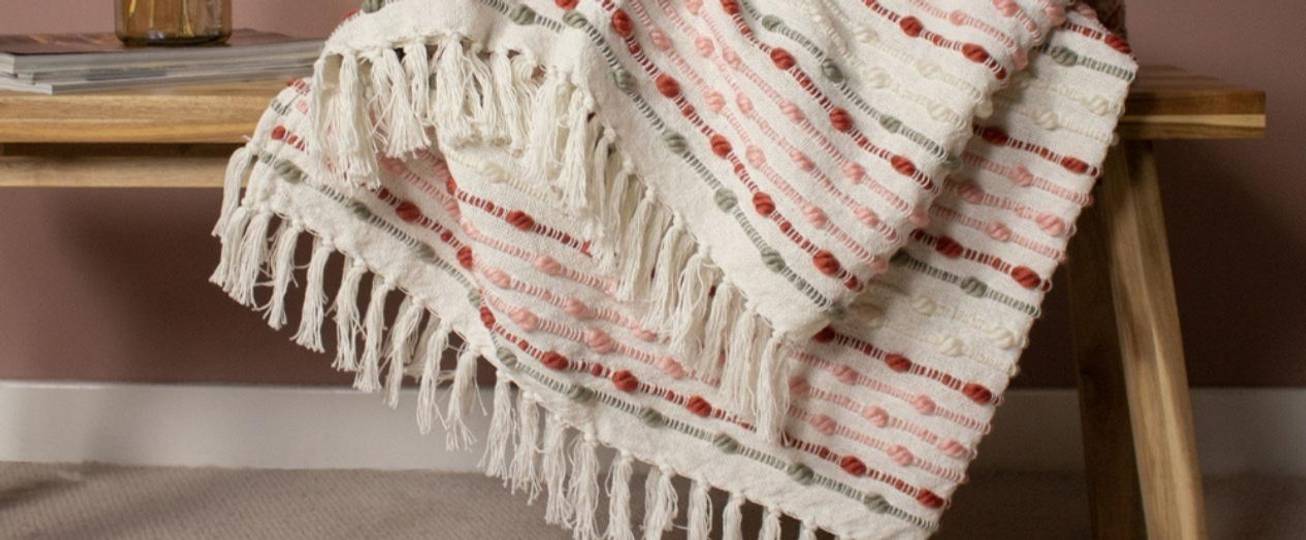 pink bed throws at furn.com
Wakey, wakey! It's time to transform your bed. We can all agree, the bedroom is a room that just has to be cosy. Introducing a pink bed throw is a quick, easy and affordable way to add snugness and style.
Pink is a feminine colour that symbolises harmony and love. So, if you love pink, look no further. Explore our collection and find calm and subtle blush tones for a soothing space. Or opt for vibrant and playful fuchsia to add energy to a bedroom that's feeling a little dull.
Warm, super-soft and perfect for single or double beds, our throws come in an array of sumptuous textures. If you want to snuggle up in the colder months there's faux fur and velvety fleece to keep you toasty. Or go for multi-tonal knits for a homely and on-trend crochet element.
No matter your bedroom tastes, we're sure to have the perfect pink bed throw for you. Browse boho tassels, stylish stripes and geometric designs for a bedroom that won't fail to deliver on the cosy and contemporary vibes.
Don't stop with the bedroom. Take a look at our guide to using throws around the home.
how to style pink bed throws.
Pink is a surprisingly versatile colour – it can stand alone against neutral tones for a pop of colour or be married seamlessly into many colour schemes.
A blush pink bed throw will work great with other soft, pale shades to add tranquillity to your bedroom. Think sage green, light mauve or duck egg blue. These softer tones are perfect for when you want to create a space that's zen. When it comes to how you position your throw, you've got a few options. Fold your throw in half and place it horizontally at the end of your bed for a clean look. Or go for a diagonal drape that hangs off the edge for a casual aesthetic. Layer sage green cushions in different shapes and sizes on top to add comfort and complete the colour scheme.
For all things pink, layer your throw over a pink bedding set and pile on pink cushions to your heart's content.
For feminine luxury, dress your bed with fuchsia and white. It's a colour scheme that's memorable, vibrant and unique. However, you don't want to overdo it with the fuchsia, it's an intense colour that can be a little OTT. Paint one feature wall fuchsia and keep the rest white so it really pops. Drape a fuchsia throw on classic white bed linen and scatter white and fuchsia cushions on top for a 5* bedroom.
Need more ideas on how to dress your bed? Check out our bed layering guide for top tips.