Back to top
Red Blinds.
 add warmth to your windows with our red blinds.

Infuse your home with passion and fire with our stunning collection of red blinds. With a choice of luxurious roman and minimal roller blinds, you're sure to find a red blind to update your interiors. Browse through and you'll discover ready made and bespoke made to measure red blinds for the perfect fit at your window. Shop the range today.

Delve into our red blind collection and you'll see an assortment of gorgeous shades – with russet, sunset, and wine tones, you're bound to find your best-loved hue. No matter whether you prefer to go patterned or plain-dye, we have a plethora of designs to choose from. Expect to see floral, checked, and animal prints aplenty for instant transformation.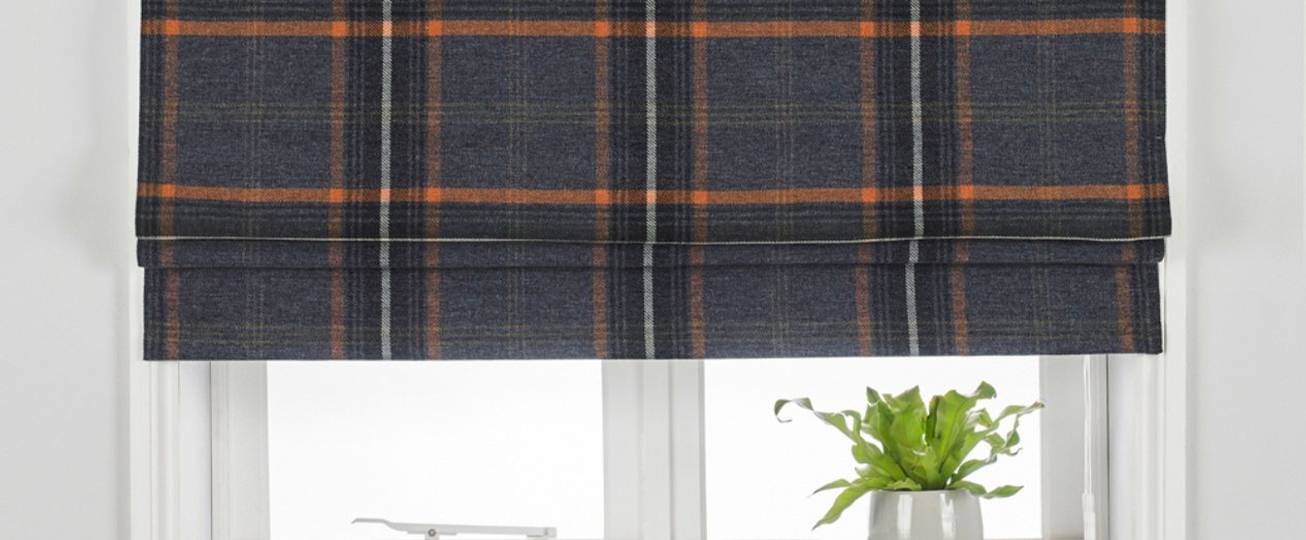 red blinds at furn.com
Are you ready? It's blind time. Introduce the colour of love into your home with our stunning collection of red blinds. Whether you're looking to add a dash of red to your living room, brighten up the bedroom, or perk up a tired home office, look no further. You're bound to find the perfect red blind in our range.
Blinds are a vital accessory in providing a room with all-important privacy, warmth, and darkness. Not just a functional item, our red blinds will also supply a room with character, vibrancy, and loads of breathtaking style to take your interiors to a whole new level of trendy.
roller or roman?
Explore our collection of red blinds and you'll find both roller blinds and roman blinds to help you create the look you want in your interiors. Red roller blinds are the ideal option for more practical rooms like the bathroom and kitchen – with a clean design and simple mechanism, they'll look the part in a minimalist or scandi home. Find them in a variety of popular ready made window sizes.
Opt for red roman blinds if you're into the luxe look. Our roman blinds fold, pleat, and drape for a voluminous, decadent aesthetic in your window recesses. Available to buy as both ready made and made to measure options, you're guaranteed the perfect fit at your window. Simply send us your window measurements and we'll send you your bespoke red blinds!
You won't see red whilst installing our red blinds either. All our blinds come with fittings and easy to follow instructions to ensure getting them up is an effortless affair. Both our roman and roller blinds are complete with adjustable pull chords and built-in child safety devices – great for keeping a safe, secure, and happy home!
all things red.
A warm colour that encompasses a myriad of gorgeous tones from the intense and lively to the subtle and soft – red creates a positive and uplifting atmosphere in whatever room you choose to use it in.
In colour psychology it represents love, power, and positivity. It's a great colour to use if you're looking to curate an air of optimism or cocoon of warmth. And fun fact – in the ancient art of Feng Shui, red is seen as the most successful colour as it's related to fire and passion.
Whilst browsing our red blinds you'll see comforting rust hues perfect for the living room or bedroom where you want to settle down and relax. There's deep jewel toned ruby and red wine shades if you're looking for a touch of elegance. Looking for a vibrant addition to your window? Opt for striking sunset and sienna shades.
Whether you're looking for a red blind that's plain-dye or full of pattern, we have loads to suit your individual tastes. A plain blind is perfect for any home rocking a minimal theme, whereas a patterned blind can go a long way in expressing your personality or making a statement. Take a look and find traditional tartan, charming watercolour florals and art-deco geometric motifs to upgrade your spaces.
fabric + features.
Our dreamy designs are printed upon an assortment of super-soft and hardwearing fabric compositions. It's texture galore! In search of something luxurious? Go for red blinds made from lustrous velvet or sumptuous 100% cotton. If it's cosy vibes you're after, try faux wool or a woven number. And if you have a household running riot with kids and pets, stain resistant polyester is your best friend!
Many of our red blinds are fitted with 100% blackout linings. This means that when they're closed, they'll block out all light, help to absorb noise and banish unwanted draughts. A blackout blind is ideal for your bedroom if you're a light sleeper and prefer it pitch black to get your 40 winks in. Introducing a blackout blind means you'll also save some money on your energy bills – the three-pass thermal lining keeps the heat in during the winter and out whilst the summer sun is at its hottest.
Not certain on which type of blind is best for you? Check out our blind buying guide for extra info on measuring up, light filtration, and fitting.
what colours go with red blinds?
As a dominant colour, red can be tricky to know what to do with. But fear not, it's surprisingly versatile! Whether you're looking to create a striking colour palette, something monochromatic, or you'd simply like to punctuate your neutral décor with red accent colours – we're here with all the tips to work red into your interiors like a pro.
For a room that screams sophistication, marry your red blind with grey accessories. The muted nature of the grey will make your red blind really come to life. Choose metallic silver with mirrors, wallpaper, and lamps if you like it super glam. Or opt for dark charcoal items for a daringly dramatic moment.
For a splash of colour amongst an otherwise neutral toned room, pair red with cream, white, and beige shades. This will create a calm and relaxing space that still has elements of stimulation. If it's in the living room, match your red blind with natural throws and white cushions for a sofa-scape your blind can't help but complement.
Looking for a high contrast colour combo for your maximalist décor? Match your red blind to bright coral and aqua accessories. This might give traditional décor a headache, but if you're a rule breaker, this one is definitely for you. Go wild and high-energy by introducing your red blind in the kitchen-diner and clashing it gorgeously with coral seat pads and aqua tiling.