Back to top
Yellow Blinds.
 add the happy hue to your windows with our yellow blinds.

Start your day with yellow! Raising the blinds is often the first thing we do in the morning – do it in style with our stunning collection of yellow blinds. Available in roller and roman designs, there's options for every décor style. Our blinds come in both ready made and bespoke made to measure blinds to ensure the perfect fit at your window. Shop the range.

Discover yellow blinds in an assortment of warm tones including mustard, ochre, and citrus shades. With a plethora of plain-dyes and eye-catching patterns – find everything from blooming florals to symmetrical geometric motifs. And with so many fabulous fabrics, including velvet and cotton, you're bound to create your ideal look.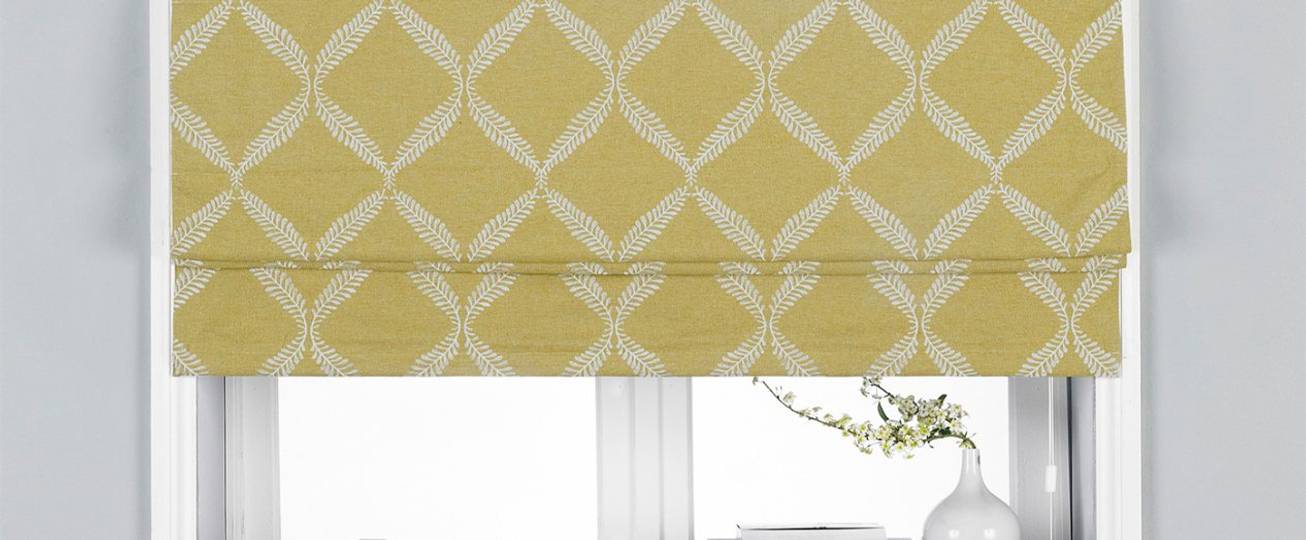 yellow blinds at furn.com
Raising the blinds is often the first thing we do in the morning – do it in style with our stunning collection of yellow blinds. Perfect for any sunshine fiends out there, the sun will pour through your window all year round.
Blinds are super practical as well as stylish. They offer a room with darkness, privacy, and warmth and give you the opportunity to completely transform a room with a pop of yellow. Whether you're looking to update your living room, kitchen, bathroom, or bedroom, we have the yellow blind for you to layer up with curtains or just go solo.
roller or roman?
With a choice of two different styles of blind, you can create the look you want. If you're in search of something on the modern and minimalistic side, our yellow roller blinds are the ones for you. Manufactured from a stiffened fabric and featuring a simple mechanism, roller blinds are also a great option for more practical rooms like the bathroom or kitchen.
For a deluxe addition to your window recesses, opt for a yellow roman blind. These decadent blinds flow down in voluminous pleats and folds to create a look of luxury. Both our roller and roman blinds include all the fittings and easy to follow instructions, meaning getting your yellow blinds up will be an absolute breeze. With adjustable pull chords and built-in child safety devices, they're ideal for homes with young families.
say hello to yellow.
Often seen as the happiest of hues, (and for good reason) adding yellow to your home décor is a way to instantly uplift your interiors and mood at the same time! It's a welcoming shade that translates through every season – supplying you with brightness all year round. Our range of yellow blinds encompasses a wide array of shades from vibrant to subtle. Discover earthy ochre, zesty citrus, muted mustard and sophisticated saffron.
We've got a plethora of plain-dye and patterned yellow blinds for you to add the finishing touches to your home. Whether you're after a strikingly bold design or a more subtle and soft motif, you're sure to find it in our collection. If you favour a fresh floral, graphic geometric, or jazzy jungle print, look no further.
fabrics + features.
Delve into our range of yellow blinds and find a selection of fabulous fabrics to create the look you're longing for. Curate a decadent window with blinds in shimmering chenille and sumptuous velvet. Or go classic and hardwearing with a polycotton blend. For a traditional twist we have jacquard weaves, and for the cosiest of yellow blinds there's faux wool.
Loads of our yellow blinds are 100% blackout. Perfect for light sleepers, they're fitted with a three-pass foam lining that blocks light, absorbs noise, and prevents any unwanted draughts from seeping through into the room. The blackout features also make them thermal and energy efficient, so you'll stay toasty during the colder months, cool throughout the height of summer, and save some money on your energy bill, too.
Our roller blinds come in a variety of popular window sizes. However, at furn. we know no two windows are alike, so with our roman blinds we offer a bespoke made to measure service – meaning if you can't find your correct size, we can do all the work for you. Simply give us your window measurements and we'll supply you with the blinds to fit your windows. Take a look at our blind buying guide for more info on measuring up correctly.
what colours go with yellow blinds?
Yellow can be seen as a daunting colour to work into your home décor, but with the right accessories your yellow blind will really pop! Whether you're looking to create a warm, refreshing, or vibrant feel in your rooms, here are our top-tips on styling your yellow blind into your colour scheme.
Are you looking to create an interior full of cosiness? Pair your yellow blind with brown accessories. Go for richer shades of yellow like mustard and marry with mahogany browns. These colours are perfect if you're running with a natural, rustic décor, due to their warm undertones, they create a space that feels ambient and enveloped in comfort. Consider starting off with a leather sofa and layering it up with brown throws and brown cushions for not only snug vibes but a colour match made in heaven.
If you love all things fresh, light, and airy – try paler yellow tones with crisp white. Equally as cheerful, this colour combo is sure to add a refreshing feel to your interiors whilst still boosting your mood. Feel on top of the world every morning by using this colour arrangement in the bedroom. Opt for crisp, white bed linen to offset your yellow blind and drape your bed with a yellow throw for added texture and comfort.
For something vibrant, lively, and full of zest, complement your yellow blind with pink accessories. Perfect for anyone who likes to have a bit of fun in their rooms, this colour fusion is buzzing with positivity. If you're looking to brighten the bathroom, pop down a pink bath mat for the ultimate splash of colour and display extra sunshine and buttercup tones with yellow towels.