Back to top
Boho Throws.
embrace free-spirited style with a funky boho throw.

The ultimate laidback layers for a fresh touch of playful style, our boho throws embody chic relaxation. Swing your way through the softest fabric tassels, chunky tufted stripes and intricate geometric designs – all enveloped in a warming palette of clean neutrals and cosy pastel shades. Shop the collection.

With our stylish selection of boho throw blankets, chilling out has never been chicer. Whether you're a fanatic of the folky festival look, enthralled with tufted textures and thick tassels, or you're simply craving a pop of easy-going elegance – you'll find the ideal solution with our selection of boho throws.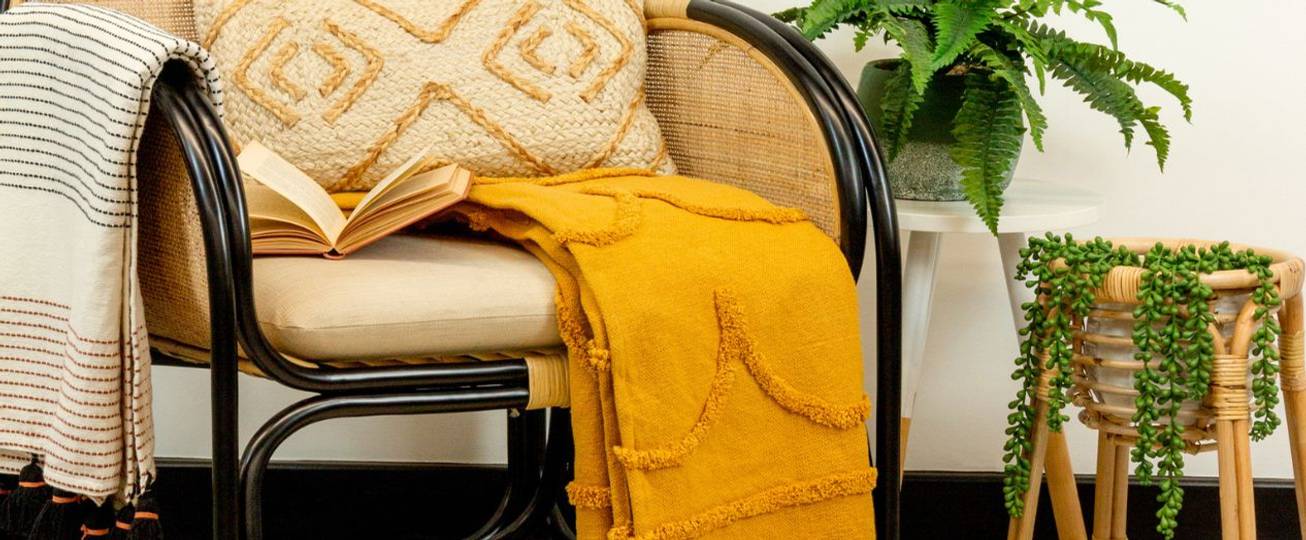 boho throws at furn.com.
Whether you're a certified boho-obsessive, partial to an artsy print or simply want to dip your toe in the free-spirited world of bohemian design – you'll find everything you're looking for with our rich collection. From plain-dye faux wool fabrics with chic swinging tassels, to detailed tufted lines and geometric designs that ooze relaxation – we've got a boho throw for every interior taste.
Entranced with our throws but not sure which is right for you? Envelop yourself in the best of expert advice with our Inspiration Blog. It's full of helpful guides, from how to pick the right throw for you to 5 ways to style throws in your home.
what is boho decor?
If you'd class yourself as a free-spirit, a forward thinker or someone who doesn't like playing by strict rules when decorating your space – boho interior design might just be your perfect match. Boho style is all about unconventional, free-thinking decoration that doesn't pay too much attention to strict design rules.
Think toasty earthen shades setting the stage for bright pops of fuchsia pink, zesty yellow or electric cobalt blue. Random artefacts collected while travelling or old family heirlooms make the perfect boho accessories, and a healthy spread of raw woods and organic woven materials will only strengthen the look.
how to style a boho throw.
If a boho style interior is calling your name, there are a few central elements of design and colour you should keep in mind. The main thing to remember is that boho design is all about being creative and unconventional, and your vibrant personality should come across clearly in the finished product.
In terms of colour, start with wallpaper and lean towards warm earthy neutrals like brown, beige and organic green. This will frame your space in a cosy, natural atmosphere, and allow your brighter-coloured accessories to really pop.
If you've got your heart set on a boho throw blanket, we've got plenty of boho cushions that'll make the perfect playful accompaniment. Don't be afraid to mix patterns, whether it's stripes and geometrics or florals and abstract illustrations. Rich textural layers are another hallmark of bohemian design, so feel free to play around with a healthy blend of tassels, tufts, pom-poms and velvet finishes. The bigger and more dramatic the mix of textures, the more depth and boho richness your space will take on – so don't be shy about blending fabrics that appear very different in style.