Back to top
White Towels.
bring the spa look home with our fresh white towels.

The universal hue of simplicity and serenity, white is the perfect colour to bring some clean-cut freshness to your bathroom. Our selection of white towels offers everything from delicate face cloths to cloudlike hand and bath towels, to draping bath sheets that'll smother you in luxury – all in the tranquil tones of white. Shop the collection.

Made with 100% cotton, our white towels bring plush and plump comfort that won't fade over time. Easily create your dream white towel set with our handy sizing options, ranging from dainty face cloths to billowing bath sheets. They're manufactured to retain their colour, so that coveted spa look will be dazzling your bathroom with pearly brightness far into the future.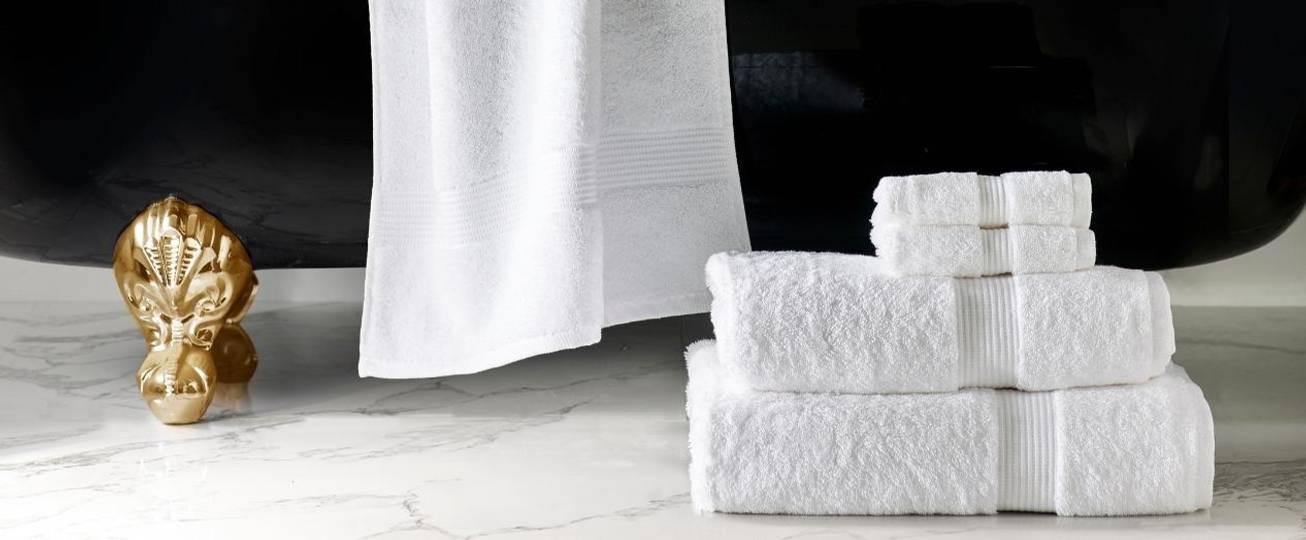 white towels at furn.com
Whether you're looking to refresh your towel collection, or simply want to upgrade your bathing experience, our white towels are a plump, plush and spa-worthy addition for a stylish five-star bathroom.
From Egyptian cotton to thick textured weaves, our white towels are made from the finest 100% cotton fabric, making them irresistibly soft, super absorbent and ultra-durable.
Create your dream white towel set with our simple sizing options – offering everything from soft face cloths to trusty hand and bath towels, to luxuriously draping bath sheets that'll bring a regal touch to your bath time.
Not sure where to start? Our helpful towel buying guide combs through all the finer details, giving you the inside track on how to kit out your bathroom with the perfect towel collection.
how to style white towels.
White is the ultimate neutral tone – it's the original minimalist look and goes with just about everything. No matter where you go from here on your decorating journey, a deluxe-feeling bathroom begins and ends with white towels.
Black and white is a timeless colour combo. Black creates depth whilst white adds effortless freshness. Think about pairing your white towels with a bold black wallpaper or bath mat. Against a black backdrop, white towels will bring a sleek monochrome look. Intensify this further with black and white tiling – either on the floor or around the bath – to really add drama to your decor.
If you're trying to maximise your me-time with that coveted spa feeling, go for calmer tones, silver fittings and a house plant or two. Layer up the look with plump, white towels and you'll have a bathroom that provides the perfect tranquil hideaway. Add candles, room spray or a reed diffuser in your favourite scents for optimum levels of zen.
On a more practical level, if your bathroom doesn't get as much light as you'd like, a pop of bright white can do wonders in brightening and opening up a darker or smaller bathroom. A white bath towel could be all it takes to create a refreshing sense of space.
how to care for white towels.
Damp towels are a hotbed for bacteria, so it's important to wash them regularly to get rid of all those unwanted germs. We've broken down some general care and maintenance tips, but always make sure to follow the specific instructions on your towel's label to avoid damage.
To keep your white towels vibrant and bright, separate your whites and always wash towels with other towels – this helps to retain their cotton-soft fluffiness.
We recommend you wash your bath towels and face cloths after every three uses, and hand towels every week or so depending on how much they're being used. This will help to make sure you and your bathroom stay clean and pristine.
Don't use too much washing detergent – it builds up in the loose cotton fibres of towels over time, making them scratchy and rough. You don't want to lose that lovely fluffy texture, so go with half the regular amount of detergent – or look for a natural alternative like eucalyptus or lavender-based detergents.
Excessive washing on a high heat can be damaging to delicate fabrics, so stick with a cold-to-lukewarm wash for general cleaning. Every few weeks or so, run your towels through a hot wash. This will keep your white towels sumptuously soft and kill any unwanted bacteria.
When the wash is done and your towels are all clean, get them out quickly to avoid any mould or mildew setting in. Let them dry – either on a low tumble dry setting or hung out on the line. Once they're well dried, carefully fold and store your white towels until your next bath or shower.