Back to top
Bedroom Wallpaper.
let your walls rise + shine with our wallpaper for bedrooms.
Refresh your bedroom walls with stunning wallpaper in patterns ranging from lush leaf prints to attractive abstract designs. First timers and those who've not got much time on their hands will be pleased to know our paste-the-wall wallpaper is easy to apply and can be wiped clean – simple and stylish! Browse the full collection now.


With loads wallpapers to choose from, it can be a nightmare making up your mind. That's why we offer a sample service across our full range of wallpapers. Just add to your bag for £1. You can find out how many rolls of wallpaper you'll need to cover your bedroom with our usage calculator.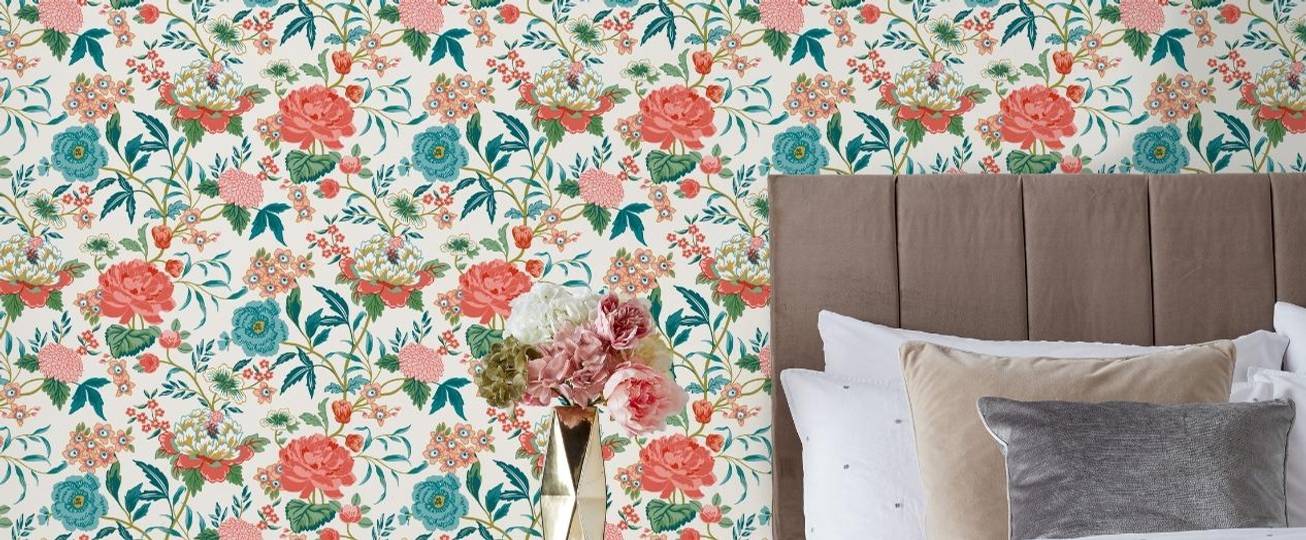 bedroom wallpaper at furn.com
Create a bedroom that you love and you'll always wake up in a good mood.
Find bedroom wallpapers in distinct designs and colours full of character – including decadent art-deco in emerald tones and fun florals in punchy pinks. No matter your bedroom tastes, we're sure to have the wallpaper you've always dreamt of.
Available in an assortment of finishes, you can go for wallpapers that are textured, vinyl, metallic or printed and more.
Both durable and non-fading, all our paste-the-wall wallpapers will retain their colour, keeping them looking newer for longer.
And if you're stuck between a few different wallpapers, just add a sample to your bag for £1. Or, take a look at our wallpaper buying guide for more information on designs, application types and more.
what type of wallpaper is best for the bedroom.
When thinking about what type of wallpaper is best for your bedroom, you'll need to think about what your aesthetic and cleaning preferences are.
Do you want something durable and ultra-easy to clean? Go for vinyl. A vinyl wallpaper in the bedroom will create a seamless, sophisticated look. It's a little more minimal in design, which makes it perfect if you're looking to create a bedroom that's more on the neutral side.
Or are you looking for something eye-catching and rich in radiance? If so, opt for a printed finish. With our collection of bright hand-drawn and digital designs that are bursting with colour, you can make your bedroom bright and beautiful.
For a sumptuous velvety finish to fall asleep to, go for a textured wallpaper. It'll provide elegance and luxury by adding a quilted effect to your bedroom walls.
If it's something glitzier you're after, a metallic finish will work wonders in upgrading your bedroom to a boudoir. Made with gold foil, it'll create a glossy look for a bedroom that you can't wait to pamper yourself in. It's also a great option if your bedroom doesn't get as much natural light as you'd like – the gold foil bounces light around the room to create an ambient atmosphere.
how to choose wallpaper for the bedroom.
It can be tricky to know where to start when it comes to choosing a wallpaper. However, if you know what kind of bedroom aesthetic you want to create, it will start to become easier.
If you're into the boho look, begin with an abstract or floral wallpaper. Now you've got the base down you can begin to accessorise your bed with masses of bed cushions and tasselled throws. Add a lamp to the bedside, a house plant or two and voila, you've got a cosy boho bedroom to relax in.
For a more modern, minimalist bedroom, a delicate print or a geometric pattern is a perfect choice for an uncluttered yet stylish look. Add some simple, contemporary ceiling lights and a blackout blind in a monochrome shade for not just a sleek look but a good night's sleep, too.