Back to top
Grey Sofa Throws.
embrace sophistication, softness + timeless style with grey sofa throws.

Sleek, smart and never out of style – a grey sofa throw is the ideal living room accessory. Wrap yourself in fuzzy fleece, faux fur or classic knitted blankets with chunky tufts and tassels. Go sophisticated with monochrome grey and charcoal, or up the flair with geometric herringbone and textured boho designs in stone and silver shades. Shop the collection.

The perfect finishing touch for your living room decor, our stylish grey sofa throws offer the ideal blend of comfort and style. Choose from chunky waffle weave, shiny sherpa fleece and silky fringed detailing in a striking pallet of grey and silver shades.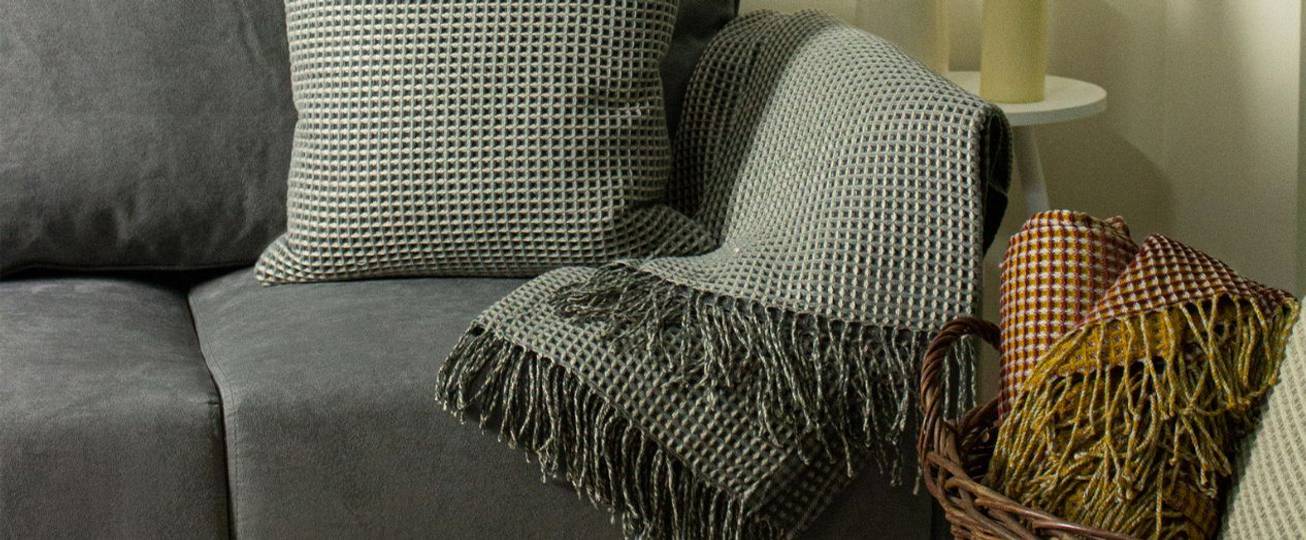 grey sofa throws at furn.com
We've got a sizeable selection of grey throws for sofas that'll make the perfect style statement in your living room decor. Grey is a timeless and trend-defying shade, meaning every throw in this collection will fit beautifully in just about any interior scheme, and definitely won't be going out of style any time soon.
Want to know more? Our Inspiration Blog is full of helpful guides, tips and advice for all things interiors. Learn how to pick the right throw for you, and get your design going with our 5 ways to style throws in your home.
Grey is a great all-round neutral and works beautifully when paired with just about any colour. However, the sheer number of grey shades can be a bit overwhelming when deciding which is right for you. From stone to charcoal, slate to silver and beyond – we've broken down how to style each shade of grey sofa throw.
dark grey sofa throws.
Our dark grey sofa throws – in shades like charcoal – are likely to feature green undertones in their colour profile, making them the perfect uplifting choice for low-lit living rooms that don't get much natural light.
Dark grey makes a lovely fit with almost any other colour, and work especially well with natural tones and textures like wooden furniture or jute cushions. Pair with moody, dark-toned pink cushions for a modern twist, or go with brown cushions for a calming, understated take.
light grey throws for sofas.
If you're opting for a lighter grey shade, go with colour combinations that'll add to the light and airy feel. Cooler shades will work best, so pairing your light grey throw with white cushions is always a great option. If you're really loving this combo, go with white wallpaper for a classic minimalist aesthetic that's refreshingly crisp.
For an uplifting pop of colour, go with cool-hued accents like teal cushions or a sage green rug – you'll end up with a playful scheme that's firmly grounded in soothing neutrals.
silver grey throws for sofas.
A seamless fit with scandi home decor schemes, our silver-grey sofa throws give a soft and freshly cooling look. Most silver shades have gentle undertones of blue and give off a glossy sheen, making it a great match for well-lit living rooms, silver metallic fixtures and brighter colours.
Couple your silver sofa throw with a silver metal clock, mirror or lighting fixture to make your living room shine all the brighter. Introduce black cushions for a burst of dramatic impact, and pepper with a red velvet cushion or two for a healthy dose of textural glam.