Back to top
Living Room Curtains.
open up your space with our living room curtains.

Whether you're looking to create a sense of privacy, regulate light and heat, or build on colour and design – curtains are an essential part of any living room's décor. From ready made curtains that fit most window areas, to made to measure options that'll satisfy the fussiest of stylists, we've got a stunning range of living room curtains to shade your space in style. Shop the collection today.

From ready made curtains in a range of standard sizes, to made to measure options that are tailored to fit like a dream – our eclectic curtain collection has a set for every style. Our bespoke made to measure service ensures your curtains will slot in with satisfying precision (down to the centimetre), no matter what finnicky measurements you're working with. Choose from classic pinch and pencil pleat headers, or embrace a contemporary look with our sleek eyelet options. Be extra confident in your decision with 5 free fabric samples on all made to measure curtains.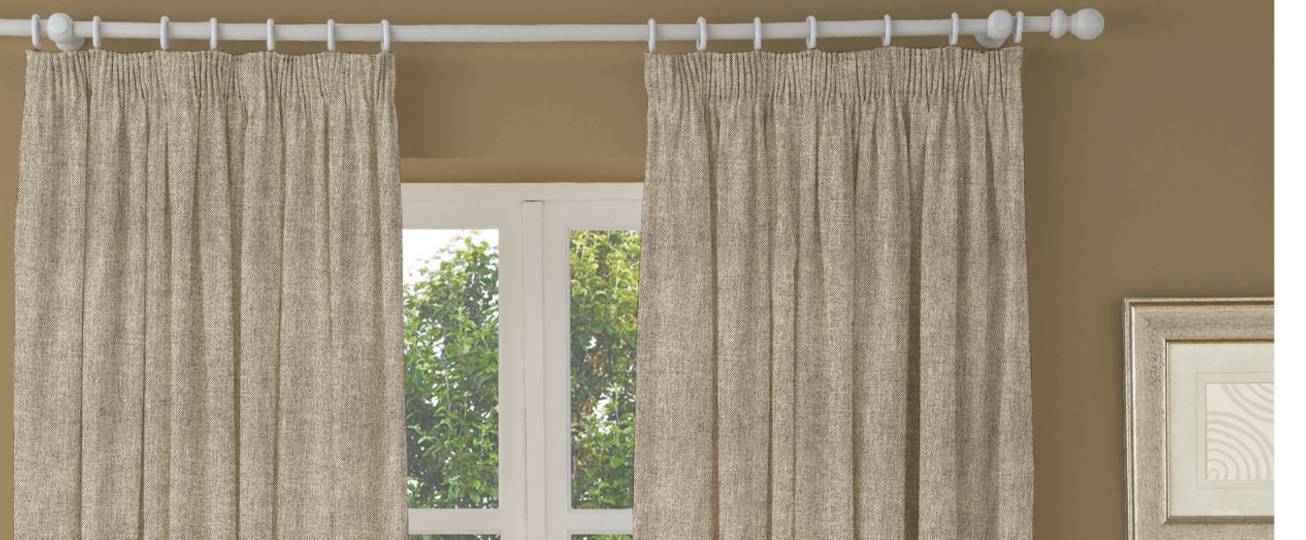 living room curtains at furn.com.
Designed and made in the UK from our finest quality fabrics, our selection of living room curtains offers the perfect blend of quality and style.
We've got ready made curtains in a range of standard sizes – perfect if you're not too hung up on the exact fit or if you want a longer, pooled style. They come with luxurious pencil pleat or sleekly modern eyelet heading options, and our handy measuring guides will make sure that you get the ideal ready made size for your space.
Our blackout ready made curtains block light, regulate temperature and transform your space into an intimate den of privacy – perfect for sun-drenched south-facing living rooms, or for creating that cosy cinema vibe at home.
Our custom made to measure curtains are the way to go if you want a fit that's satisfyingly tailored – no matter what awkward dimensions you're working with. The collection features a choice of 250 high-quality fabrics; and gives you the option of eyelet, pencil pleat, double or triple pinch pleat heading. Choose from four different fabric lining options – blackout thermal, unlined, bonded interlining and cotton sateen – to ensure your made to measure curtains suit your style to a tee.
We've got specific measuring guides for our made to measure pencil pleat, pinch pleat and eyelet curtains all in one handy place, so you can get the tricky stuff out of the way and order your customised curtains with just a few clicks.
Feeling a bit lost? Our straightforward curtain buying guide breaks down the entire process into simple steps – from deciding on fabric, to pattern, to whether you should go for ready made or made to measure curtains.
how to style living room curtains.
Both a necessary utility and stylish accent piece that can completely transform your space, a good pair of curtains is a vital piece of any interior design. Whether you want to ground your audacious living room wallpaper with a neutral touch, or embrace opulence with a vivid floral or crushed velvet design – our selection of living room curtains has the perfect set for you.
While it's often said that curtains should enhance a space's style and not overwhelm it, there's no rule against going all out in your living room accents. For an eclectic interior style that radiates exuberance and personality, introducing some boldly-styled curtains can go a long way.
For a casual, breezy look – go for made to measure curtains that extend about 5cm beyond the distance you need. This will give you a nice middle-ground look between floor length and puddled curtains, known as breaking.
Many eclectic-styled rooms feature neutral walls, giving you the perfect opportunity to dial up the playfulness and showcase your personality with some dazzling accent pieces. Look for bright and bold curtains with an expressive floral or geometric pattern, and think about continuing this motif with coordinating sofa cushions or a quirky matching rug.
For a more traditional style that screams classical sophistication, choose floor-length made to measure curtains that have a pinch pleat heading style. We've got plenty of pinch pleat curtains for the living room that offer a smart look without getting too formal, and the precise floor-length sizing will give your curtains a sleekly tailored vibe. Look for neutral or plain designs in a muted tone, and echo this colour scheme throughout your space.
Traditional interior design is all about creating a symmetrical and sophisticated environment that still feels warm and inviting, so don't be afraid to play around with textures and patterns. Rich textiles are a hallmark of traditional style, so velvet curtains and cushions are a great way to nail the look.
Still stuck? Our full living room collection is full of striking statement pieces and alluring accents to give your space a whole new look.