Back to top
Blue Bed Throws.
settle down in soft serenity with our blue bed throws.

The quintessential calming shade to have you dozing off in no time, your perfect slumberous layer awaits in our selection of blue bed throws. From misty duck egg throws made with insulating microfleece, to faux fur navy blue bed throws that dial up the luxe – discover our signature tufted, woodland and woven geometric designs. Shop the collection.

Whether you're weak for woven cotton, a big fan of frilly fringes, or can't get enough of classic herringbone patterns – you'll find your dream blue bed throw with our tranquil collection. Choose from the finest natural and synthetic fabrics, from airy 100% cotton to durable blends, or discover the warming powers of fleece and faux fur.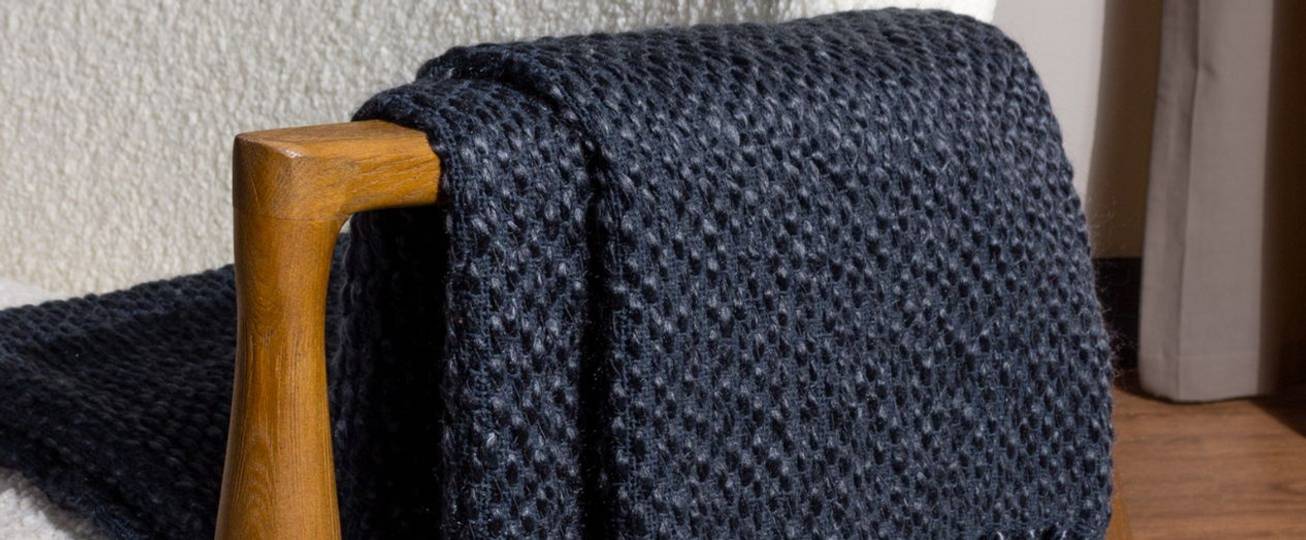 blue bed throws at furn.com.
Comfort, style, warmth, softness – all things we want to experience more than just once in a blue moon. With our snuggly selection of blue throws for beds, kicking the style, comfort, and texture of your bed up a notch has never been easier. Whether you've got tired old bedding that needs a quick cover-up, blue room accessories that could do with some coordination, or you simply want your bed to pull off that cosy five-star layered look – you'll find the perfect fit with our blue bed throws collection.
Feeling lost? Get inspired and feel confident in your purchase with our expert blog posts. We've got tons of style guides and helpful advice, from how to pick the right throw for you to 5 ways to style throws in your home.
which blue bed throw should I go for?
So, you've decided that blue is for you, but you're not sure which shade or style would work best in your decor. The good news is that there's a shade of blue for just about every taste and style, so you're bound to find the perfect fit in our collection.
Overall, blue is a cool and calming colour that represents honesty, imagination and serenity. Darker shades like navy and royal blue create a regal and sophisticated look, while lighter tones like duck egg and teal offer a more laidback, playful alternative.
Our deep and navy blue bed throws are a great option if your tastes lean towards more traditional or luxury interior styles. Navy pairs beautifully with sleek neutrals like black, white, grey and beige – with combinations varying from dramatic to elegant, to invitingly relaxing and beyond.
Our duck egg blue bed throws – and other pale shades like mist and teal – work brilliantly with breezy, laidback interior styles like coastal or country. White makes a legendary combination with pale blue shades and will give your space a refreshingly crisp aesthetic.
how to style a blue bed throw.
There's really no limit to the amount of style routes you can go down when working with a blue bed throw. Blue is an extraordinarily versatile hue that pairs gloriously with neutrals like white, grey, black and brown, while making spectacular contrasts with vibrant shades like orange, green and pink.
Blue and white is a classic combination that works perfectly if you're after a more sophisticated look. It's slightly softer than the classic monochrome black and white look, but still strikes up a dramatic contrast that'll lend real depth to your space. Pair a navy blue bed throw with crisp white bed linen and a scattering of navy blue cushions to round off your polished bedroom look.
For a relaxed boho bedroom, layering up a healthy mix of throws, textures and bedroom accessories is a guaranteed way to nail the look. We've got a full selection of boho throws that's teeming with tufts, tassels and funky embroidered designs – perfect for a cosy, texture-rich interior.
Mixing textures works great to build a layered boho look, so try pairing a woven blue bed throw with a sprinkling of velvet cushions in contrasting shades like pink, gold, and beige.
If you'd like more tips on layering, coordinating and giving your bed that five-star finish, check out our bed layering guide for a full walkthrough.