Back to top
Orange Curtains.
bring freshly squeezed sunshine to your windows with orange curtains.
Bring a zesty splash of energy to your windows with our optimistic orange curtains. Featuring both plain and patterned designs – discover classic checks, feminine florals and rustic tartan prints, all set in a sweet selection of sunset, rust and burnt orange hues. Keep things airy with a breezy polycotton blend, or go with one of our thermal
100% blackout
options. Shop the collection.
We've got a range of orange curtains to suit all styles of decor, from traditional
pinch
and
pencil pleat
headers that exude sophistication, to sleek stainless steel
eyelets
that offer a contemporary twist. Choose from our vast selection of
ready made
sizes – ideal for most standard window spaces – or enjoy a tailored fit to the nearest centimetre with our bespoke
made to measure curtains
.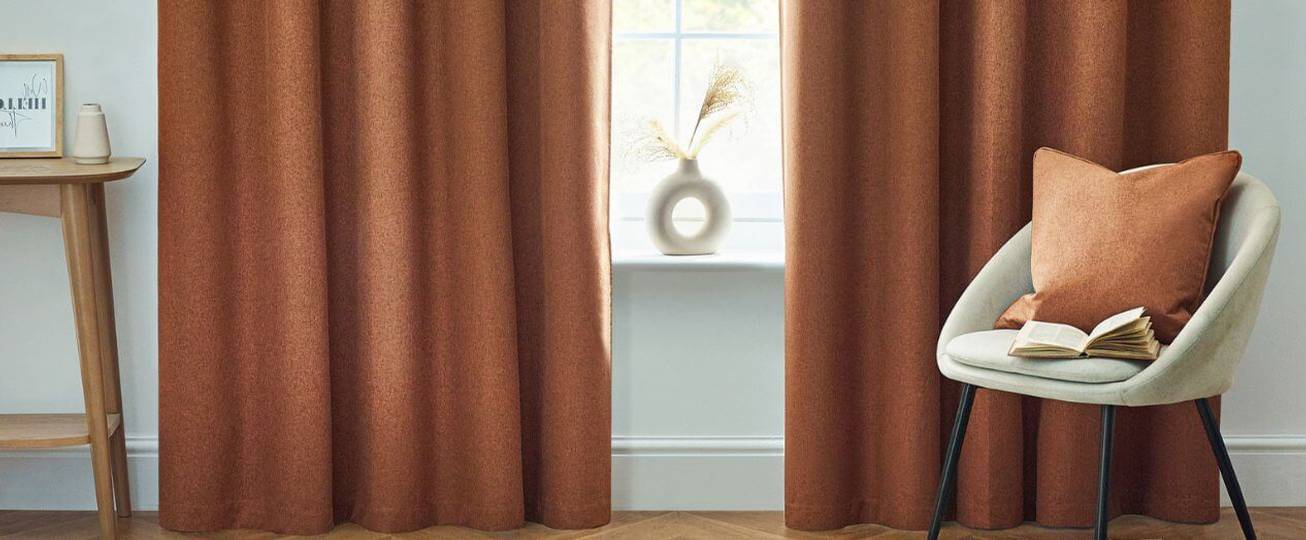 orange curtains at furn.com.
Craving a burst of energy at your window space? Few hues bring more oomph than orange, and our orange curtains are the ultimate example. Whether you're seeking a splash of sunshine for your living room, soothing coral shades for your sleep sanctuary or the rustic impact of deep terracotta tones – we've got orange curtains to suit any interior style. Keep it sweet and sophisticated with plain polycotton, velvet and twill woven designs, or dial up the drama with our range of orange patterned curtains.
Our orange ready made curtains are the ideal affordable option, available in a variety of sizes that'll fit perfectly in most window spaces. If you're after something a little more precise, our orange made to measure options offer bespoke sizing down to the nearest centimetre – for those tricky window spaces that need a tailored touch.
Feeling zesty? Why not take a look at the rest of our orange home furnishings, from bedding and cushions that guarantee a tangerine dream, to toasty throws and wallpaper that'll give your space a fresh shower of style. Or, if you're open to styling suggestions – check out our 15 orange home accessories for a zesty refresh.
If you're on a curtain-buying quest but aren't quite sure where to begin, our inspiration blog is packed full of expert guides and helpful styling tips. We've got simple guides for buying and fitting your new curtains, as well as a handy series of measuring guides that take the stress out of the sizing process.
what colour walls go with orange curtains?
A quick look at our guide to colour psychology will tell you that orange is a warm, optimistic colour with ancient ties to traditions of spirituality. From vibrant juicy hues to gently glowing sunsets, to spiced autumnal tones of pumpkin – orange is an impressively versatile colour that makes a sweet pairing with neutral and bright shades alike.
For a classic colour pairing, let your orange curtains sing in front of a serene white wall background. Using white is a great way to make your saturated orange accents really pop, while maintaining a sophisticated energy that won't overwhelm the eye. The same is true for most neutral shades – with beige and grey wallpaper making standout minimalist pairings with all manner of orange curtains.
If you're in search of something a little more striking, black wallpaper will accentuate orange curtains beautifully, creating a vivid contrast that's ideal for maximalist, boho and eclectic spaces. Dramatic black tones will bring out the brighter side of orange – making any shade appear fresher, crisper, and full of zestful energy. There's always the risk of things getting a bit too Halloween-y, so use this combination sparingly if you don't fancy a year-round autumnal vibe.
For an all-out maximalist look that's bursting with beautiful brights, couple bright orange curtains with a saturated wallpaper shade of blue. Sitting right across from each other on the colour wheel, orange and blue create a powerful complementary pairing, with brighter shades providing a particularly potent impact. Go with orange patterned curtains in a strong summery shade, and layer the look with vibrant teal cushions and a marine blue throw.