Back to top
Hand Towels.
dry your hands in ultra-soft comfort with our hand towels.

Give your bathroom an instant transformation with a new hand towel. Our collection includes beautifully simple plain dye towels, bold patterns and luxe textured weaves – all designed to make your bathroom a stylish place to be. Our hand towels are made 100% cotton, and many of them are 550gsm and above, making them soft and fluffy. Shop the collection. Choose from a range of plain colours, including muted colours like eucalyptus green, dove grey and blush pink as well as rich ochres, teals and rusts. Prefer a pattern? We've got abstract eyes, winter animal scenes and glamourous leopards all adorning our hand towels.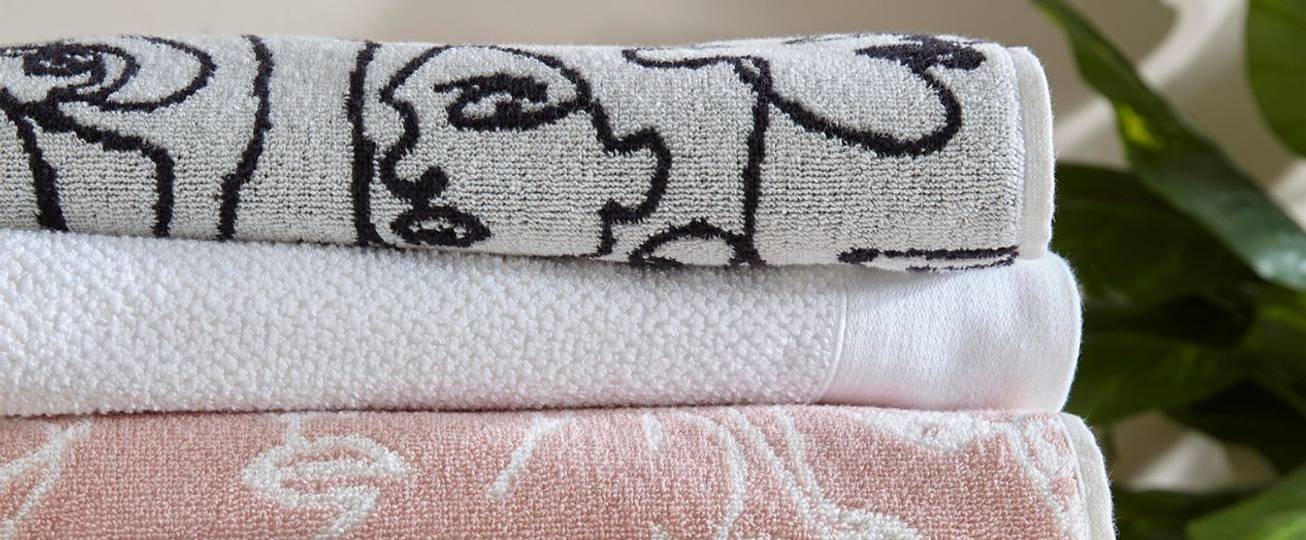 hand towels at furn.com.
Soft against the skin, super absorbent and stylish, our hand towels combine form and function to inject a little bit of luxe into your bathroom. Keep it on trend with a bold pattern or go tonal with a complementary colour.
Our collection includes both combed cotton, Egyptian cotton and jacquard, so you can choose your level of luxury too.
If you'd like more help choosing which towels are the right ones for you, take a look at our towel buying guide.
how to fold hand towels.
There are loads of different ways to fold towels, but the easiest way for hand towels leaves them looking neat and tidy for stacking in a cupboard or on a shelf, and for hanging on a towel rail.
First, lay your hand towel out flat. Then, fold it into thirds lengthways. Lastly, fold it in half widthways. You can then stack other hand towels folded in the same way on top of each other, or use the fold to hang on a towel rail.
how to display hand towels.
Displaying hand towels and towels in general in your bathroom really depends on how much space you have. There are lots of options, from hooks and rings to shelves and baskets.
If you like open storage, try hanging some shelves and stacking your beautifully folded towels neatly on them. Add a towel rail to the bottom shelf and hang the towel that's in use – a space-saving exercise that looks stylish too. Add an industrial element and use a pipe for the towel rail.
Got a vanity sink? There might be room on shelves or in baskets to pop your hand towels underneath.