Back to top
Stag Cushions.
bring the best of British wildlife to your home with stag cushions.

An ancient symbol of strength, virility and magic – stags have been roaming British wilds and woodlands for up to 11,000 years. From rustic tartan and hessian fabric covers, to smooth velvet finishes and bold floral designs, capture the majesty of this noble creature with our selection of rustic stag cushions. Shop the collection.

Our stag cushion covers are made in the UK from the finest linen-blend and polyester fabrics, for crisp and airy softness that's impressively hard-wearing. Enjoy a wrinkle-free, freshly plumped look that won't fade over time, and reliable durability that's a perfect fit for family homes and busy spaces. Some of our stag cushions are available as cover only, while others come pre-filled with our plump polyester or luxurious duck feather fillings.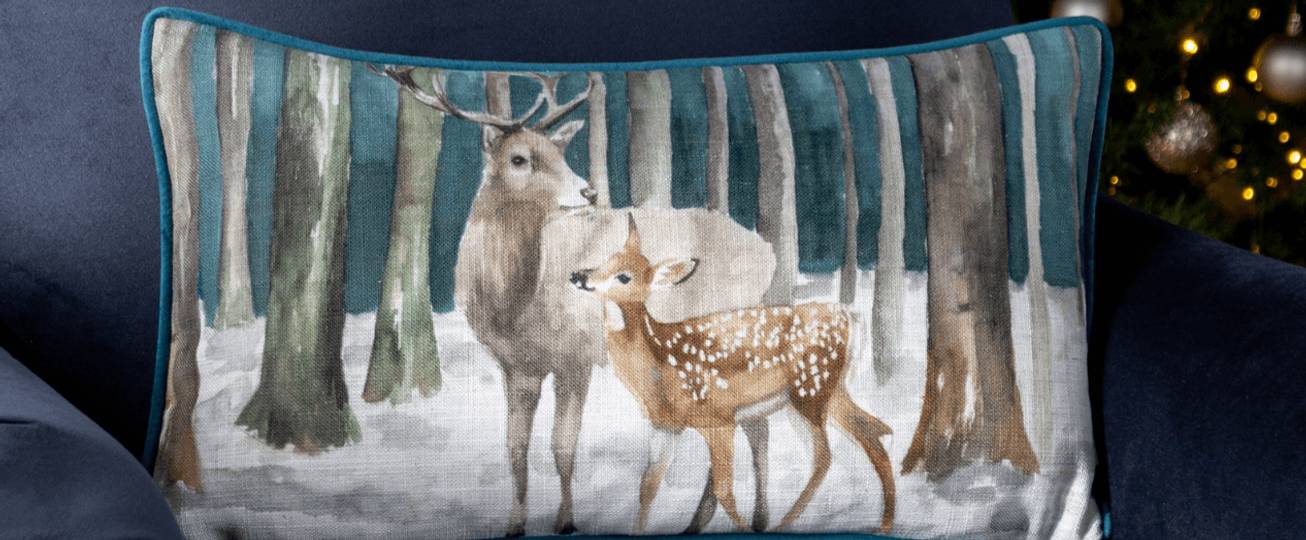 stag cushions at furn.com.
Whether you're putting the finishing touches to your country farmhouse living room, bringing a touch of the wild to your dining room, or layering up on your bedroom's rustic decor – you'll find the perfect solution with our collection of stag cushions.
The perfect decor accent for rustic, country and British heritage-inspired interiors – introduce a sophisticated touch of wildlife imagery that's the perfect symbol of strength and stateliness.
Some of our stag cushion covers can be bought separately, while others come pre-filled with a choice of our sturdy polyester or plush duck feather pads.
Not sure which inner pads are right for you? Our helpful cushion filling guide is stuffed with handy advice to help make your decision easier.
Just getting a cover and planning on filling it yourself? Check out our cushion covers and pads sizing guide for no-frills advice on how to end up with a beautifully plump end product.
which cushion filling should I choose?
Every cushion serves its own special purpose. You might be looking for a sturdy decorative piece to give your bed that luxury layered look, or you might want to cuddle up on the sofa with a super-soft cushion that feels like a fluffy cloud.
Whatever you have in mind for your stag cushion, we've got a quality selection of inner pad options that bring a range of different benefits.
Our hollowfibre polyester filling is the perfect fit if durability is your top priority. Hollowfibre is an extremely fine synthetic fibre, and gets its name from the hollow strand of polyester that its made from. It's a popular filling for duvets and cushions, offering a light and airy feel that's refreshingly cosy.
Our polyester-filled cushions are extremely hard-wearing and retain their shape over time, for a freshly plumped look and feel that simply doesn't fade. They're also more affordable and completely allergy-friendly.
Our feather-filled cushions are the way to go if you're after a luxury look, or just want that extra level of comfort. They're gloriously plush and soft, providing sinking comfort that compresses and relaxes when leaned or sat on.
Luxuriously heavyweight, and filled with ethically sourced 100% washed duck feathers – they're the ideal option if you're after a cushion that screams luxury. They're durable too, and will last for years if looked after properly.
When it comes to sustainability, our duck feather filling comes out on top. The feathers are fully biodegradable, and actually offer a great way to raise the nitrogen levels in your soil. Once your cushion has run its course, simply remove the feathers from their case and tip them into your compost bin.