Back to top
Green Towels.
keep your bathroom serene with green towels.
Bring nature's tones into your bathroom with our collection of green towels. Whether you're looking for muted tones like sage and eucalyptus or a rich jewel tone like emerald, you'll find the perfect colour with us. Choose from plain dye towels, boldly patterned towels and textured weave towels, all in a beautiful shade of green. Shop the collection.
Create your own green towel set with our range of sizes, from dainty face cloths to bath towels, to big bath sheets that you'll love wrapping up in. The collection is made from 100% cotton, guaranteeing you a soft, plush experience every time you get out the shower or bath. Our combed cotton, jacquard and textured weave options bring the luxe to bath time – setting the standard for dreamy-soft comfort. Don't forget to grab yourself a matching 
green bath mat
 too.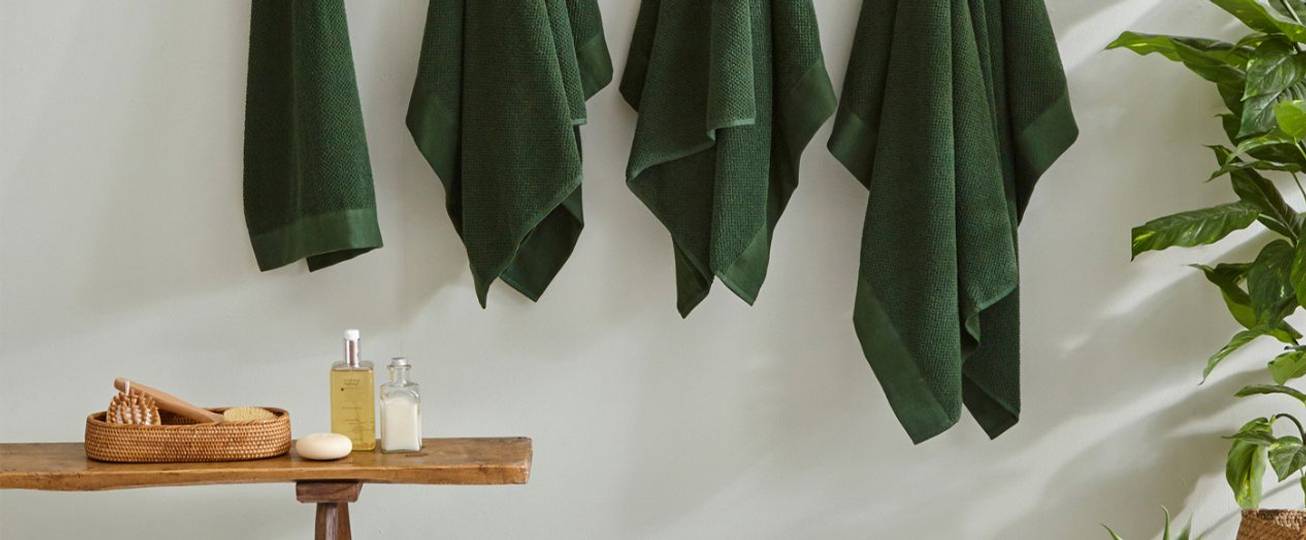 green towels at furn.com.
Discover our gorgeous green towel collection. From soft tones like sage green, fresh forest greens to dark, emerald greens, finding the right green for your bathroom is easy. And you won't just find plain dye towels, you'll also find a selection of bold patterns to make a statement – think gold bees, tropical leaves and woodland animal scenes.
In need of a whole new bundle? Keep the colour scheme going and create your dream green towel set with our handy sizing options. We offer neat face cloths to top off your skincare routine, useful hand and bath towels, and big enveloping bath sheets you won't be able to resist rolling yourself up in.
Our sumptuous combed cotton, textured weave and jacquard fabrics reach highs of 650gsm thickness – for cloudlike comfort and absorbency that leaves no splash behind.
Many of our green towels are designed for easy care – simply pop them in a cool-to-lukewarm wash and tumble dry on a low setting. However, make sure to check each individual product page (and your towel's label) for specific washing instructions.
what colours go with green towels?
Green is a calming colour. It evokes nature, peace and renewal – so it's a perfect colour to use in the bathroom. It's very adaptable too. You can create a soothing feel with muted greens, a glam vibe with rich, dark greens and a refreshing look with minty green.
Match your green towels with green wallpaper to make a real statement. Whether you lean in to the nature motifs and go for a green leaf pattern with leaf print towels and deeper green panelling, or make it glam with an exotic pink animal print, pink tiles and emerald towels - you'll create a beautiful feature bathroom.
Green sits directly opposite red on the colour wheel, so opt for reddish shades to create some interesting contrast with your green towels. A deep red or blush pink bath mat will complement green tones beautifully, bringing visual and textural depth that'll keep your bathroom from seeming one-note.
For a vibrant bathroom, pair your eucalyptus green towels with a splash of peachy orange on the walls or in the tiles. It'll give your bathroom an invigorating feel every time you walk in.
Create a serene feel and go tonal, matching your sage green towels with a similar shade for your walls and tiles. Ground it with black crittall shower doors and black fittings for a cool, contemporary bathroom.
Need more help? Take a look at our towel buying guide for sizes, types of material, what gsm means and more.