Back to top
Grey Bed Throws.
discover why classics are classics with our timeless grey bed throws.

One of the most enduring and easily coordinated colours you can use in your home, it's never a bad idea to cosy up with a grey bed throw. From pale stoney grey to glistening silver and striking charcoal – discover a range of grey shades entwined in sumptuous microfleece, silky faux fur and tastefully tufted fabrics. Shop the collection.

Bed throws are the ultimate accessory to bring new levels of texture, colour, comfort and style to your den of slumber. Whether you prefer the insulating warmth of smooth sherpa fleece and faux fur, or the textural frills of quirky tufts and tassels, you'll have plenty to explore in our snuggly selection of grey throws for beds.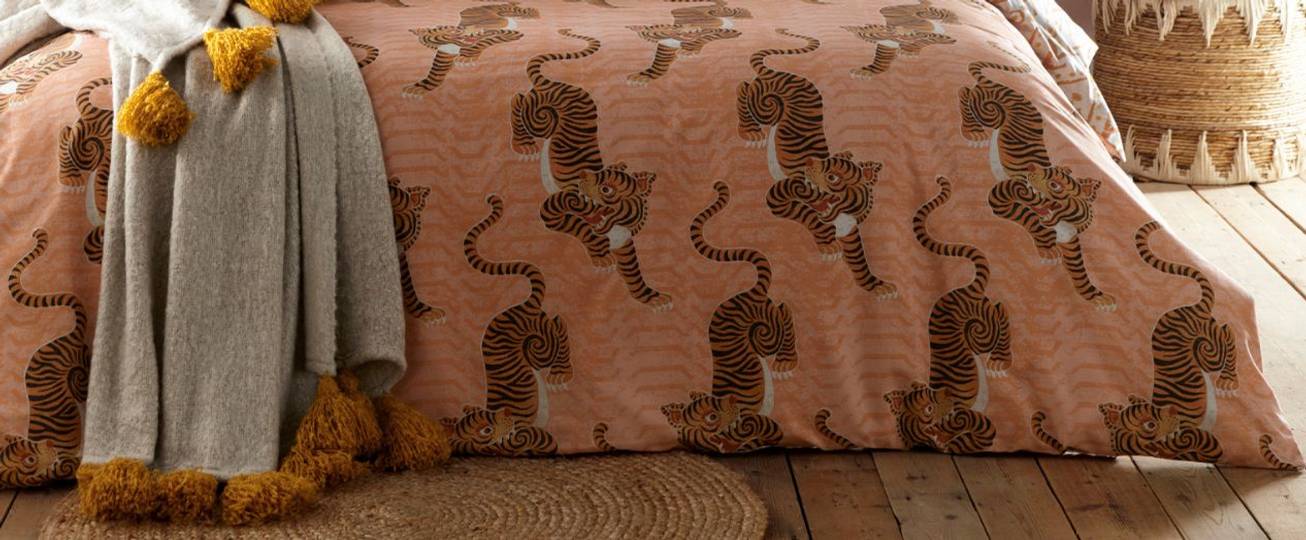 grey bed throws at furn.com.
A classic shade that's been riding the waves of interior trends for decades, it's safe to say that the craze for grey won't be fading out any time soon. It's a powerful neutral shade, with a unique ability to coordinate with just about any interior colour scheme. From misty greys to blue-tinged silvers, to ashy charcoal shades – our grey bed throws collection celebrates the full scale of this elegant colour.
If you're thirsty for throw knowledge but aren't sure where to start, head over to our blog for a fresh blast of inspiration. We've got a detailed guide on how to pick the right throw for you, as well as some design inspo with our 5 ways to style throws in your home.
Feeling the call of a grey bed throw but not sure which shade or style would work best in your home? Not to worry – we've broken down our different designs and grey shades below, as well as offering some handy style guidelines.
dark grey bed throws.
Looking to delve into the darker side of grey? Well, we don't blame you. Dark grey shades like charcoal are dramatic, moody and can make a big impact in a space. In the bedroom, dark grey shades can have a comforting, cocooning effect due to their sense of heaviness.
One handy approach is to keep dark grey shades like charcoal exclusively for the finer details of your room. When used too much, darker shades can become overpowering and make your space feel smaller. Instead, try layering your dark grey bed throw with a mix of light, silver and dark grey cushions. If things start to feel a bit too heavy, introducing whites in your bedding or wallpaper can go a long way in balancing things out.
light grey bed throws.
If you'd rather go with something a bit more bright, fresh and airy – a light grey bed throw might be the ideal option for you. With off-whites, cloudy shades and wispy stone greys, we've got plenty of breezy options that bring out the brighter side of grey.
No one wants a bedroom that's cold and clinical, so going for warmer light greys with undertones of brown or pink is a great way to keep things feeling cosy. Pairing a light grey throw with darker grey shades in your wallpaper and cushions will create a cosy tonal effect, while making sure your bed remains the focal point. If this feels a little too one-note for your liking, experimenting with different textures and patterns can give monochrome schemes a whole new lease of life. The quick addition of a bouclé cushion or simple striped bedding will go a lot further than you think.
For indecisive decorators who love giving their interiors a style shakeup whenever the mood strikes, using grey in the bedroom provides a solid base to play around with down the line. Yellows, dusky pinks and organic wood tones all sit in perfect harmony with light shades of grey, so you won't be short on options when a pop of colour starts calling your name.