Back to top
Brown Curtains.
encase your space in chocolatey goodness with brown curtains.
Cosy, reliable, rich and warm – experience the epitome of cooped-up comfort with our brown curtains. Trot your way through our stunning range of signature designs, from flourishing florals to playful geometrics, chic marled fabrics and more – available in a range of coffee, beige and earthy brown shades. Shop the collection.
Don't see your size? Enjoy tailored brown curtains sized to the centimetre with our bespoke
made to measure
service – sure to fit even the fussiest of windows. If you've got a standard window space or fancy something more affordable, we've got tons of
ready made curtains
in a range of standard sizes. Embrace a traditional look with
pencil
and
pinch pleat
curtain headers, or opt for a contemporary twist with our stainless steel
eyelets
.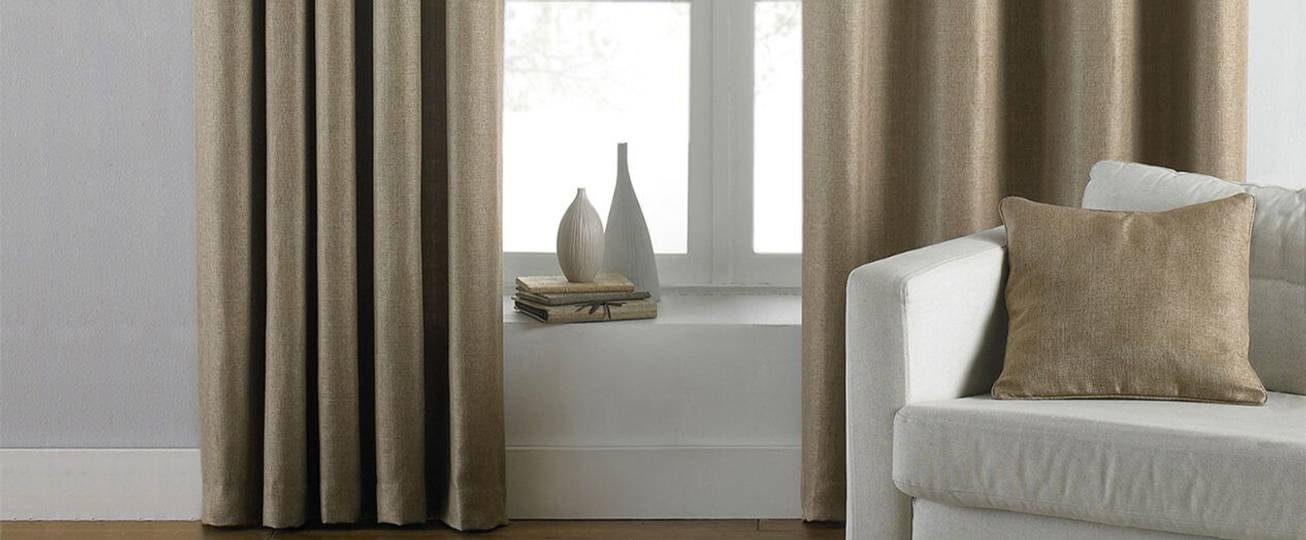 brown curtains at furn.com.
An earthy, cosy shade that's giving grey a run for its money in the world of neutral interiors – brown is the ultimate fireside hue. From sophisticated tans to sweet coffee shades, to earthy tones of taupe that capture nature's understated beauty, our collection brings brown to new levels of versatility. Keep cosiness your top priority with minimalist mélange and plain dye fabrics, or bring out the brighter side of brown with dazzling geometrics and lush floral prints.
Our made to measure brown curtains collection is a lifesaver if you're working with a busy bay window or simply struggling to find your size. We offer tailored sizing down to the nearest centimetre, so your curtains won't look any less perfect than they do in your imagination. If you've got a more standard window space or just need something a bit more affordable, our brown ready made curtains come in standard sizes that are ideal for most windows.
Ready to explore brown decor? We've got collections brimming with brown beauty, from snuggly beige bedding sets to chocolate-coated cushions, to toasty throws and raw wood furniture that celebrate brown's organic appeal. If you'd rather brush up on your interior knowledge before committing to a purchase, our inspiration blog is packed full of how-to guides and expert design advice. Get off to a winning start with our introductory curtain buying guide, or dive right into the finer details with our easy-to-follow curtain measuring guides.
You'll find three different curtain heading types in our brown curtains range, and the right choice for depends entirely on the interior style you're going for. Our classic pinch and pencil pleat headings are all about sophisticated style, and offer a neat look that feels perfectly at home in more traditionally-styled spaces. If you're after something a little more modern, we've got tons of stainless steel eyelet curtains that bring a sleek contemporary edge.
what colours go with brown curtains?
Brown has had somewhat of an unfortunate history in the world of interiors. The all-brown boom that swept through homes in the 1970s was enough to turn some decorators off the hue for life – but we couldn't disagree more. Warm, reassuring and effortlessly versatile, brown is picking up where the grey craze of the 2010s left off – and a whole spectrum of possibility awaits.
One of brown's many winning characteristics is that it looks great alongside any other neutral hue. From clean, wispy whites to shades of grey both pale and dark, to the unique drama of black – brown always makes an ideal neutral pairing. Hang dark brown curtains against crisp white wallpaper for the ultimate combination of coolness and warmth, and introduce a mix of brown and beige cushions to soften the contrast and strike a balance.
If you're interested in exploring your earthier side, choose brown curtains in an organic tone like taupe, cedar or bark. Pop them in front of olive or forest green wallpaper to maximise the earthy motif, or stick with simple grey wallpaper and save the colour for your accents. Scatter in a mix of brown and green cushions, and layer up with a textured beige throw to punctuate the colour scheme while heightening the cosy vibes.
For those who'd rather bring out the braver side of brown, there are a surprising number of bright and bold colours that make for a beautiful pairing. Zesty orange cushions and a terracotta throw will highlight the warming effect of your brown curtains, while dusty pastel shades of pink will effortlessly uplift any neutral-heavy interior. Use blush pink cushions and pink throws to layer up the lushness, and use light brown curtains to keep things feeling fresh.