Back to top
Kate Merritt Cushions.
add a Parisian flair to your interiors.

Browse our stunning printed cushion collection by English designer Kate Merritt. Inspired by her love of Parisian parks, you will find mesmerising artworks of florals and nature complimented by bright and bold colours. Complete with contrasting piped trims, these cushions are made in the UK ensuring a quality like no other. Shop the collection.Kate's whimsical patterns show her love for nature and all things floral. Her fresh colour palette of blue, greens and coral pinks lends her work a joyful and modern feel.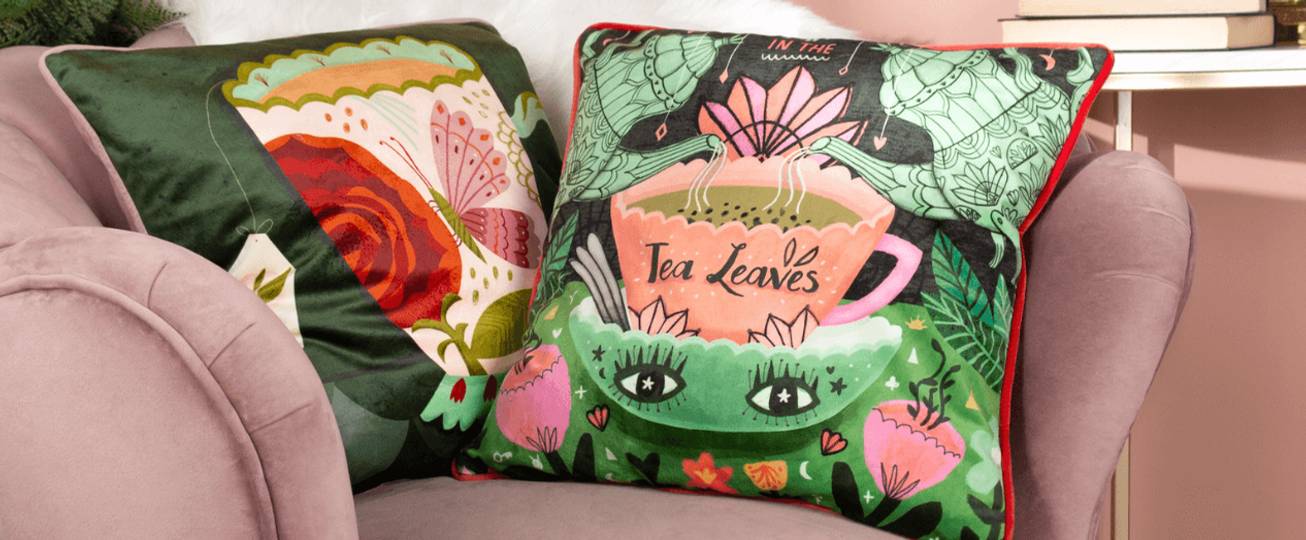 Kate Merritt cushions at furn.com
Delve into the bright and beautiful mind of Kate Merritt.
who is Kate Merritt?
Kate Merritt worked as an editor for a London-based children's magazine and after 15 years, decided it was time to try something new. She wanted to experience life in another country and chose Paris for its beauty, architecture and galleries.
What was meant to be a year break turned into permanent residence as Kate fell in love with France. Staying put was a great decision as she eventually signed with a New-York-based agent and began illustrating a series of baby books.
To expand her work, Kate looked to online classes to gain new experience and knowledge. It was through one of these courses 'Make Art That Sells' where she found her love of surface pattern design. The rest is history!
what is surface pattern design?
Surface pattern design is an art form for the surfaces of mass-manufactured products. It is an artwork that repeats in a pattern, and you will find it amongst wallpaper, wrapping paper, apparel fabric and soft furnishings.
what is her inspiration?
You may have noticed Kate's art is inspired by the world around her as her prints feature florals, foliage, animals and creatures with a bright and bold edge.
Whenever Kate needs extra inspiration, she will venture out to Parisian parks. One of her favourite spots is Parc Floral de Paris which is an extensive botanical garden that features some of the most stunning floral displays.
'I am never stuck for things to draw as I can just take a walk along the river and come back with so many photos to work with. I'm constantly taking pictures of flowers and nature.' – Kate Merritt