Back to top
Beige Towels.
style out your bathroom with neutral tones.
Beautifully soft, luxuriously thick and effortlessly stylish, our collection of beige towels is the perfect addition to your bathroom. You can choose from timeless neutrals like oatmeal and natural as well as textured weave and combed cotton. We've got a range of sizes, from face cloths through to bath sheets. Shop the collection today.
Strike up a soothing colour scheme and build your own beige towel set with our simple sizing options. Choose from dainty face cloths, trusty hand and bath towels, and great billowy bath sheets that'll smother you in luxury. Select your sizes, add to bag, and you're already well on your way to a beige bathroom makeover. They're made from 100% cotton that's soft against the skin, reaching highs of 650gsm thickness for the ultimate fluffy dry-down. Don't forget to complement your towels with a 
beige bath mat
.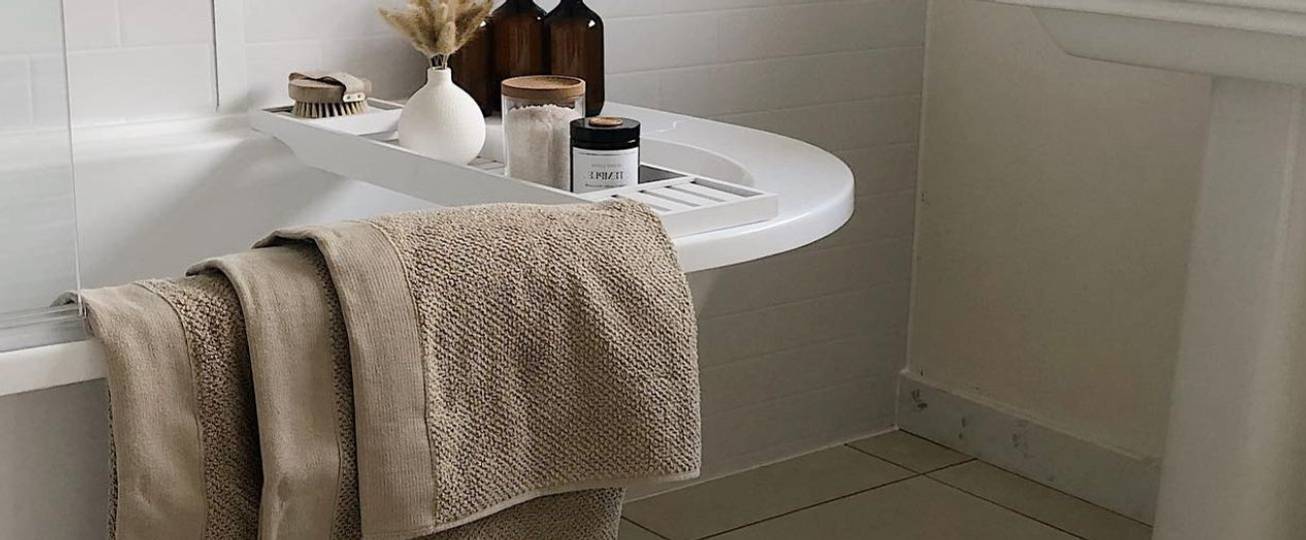 beige towels at furn.com.
Discover our range of beautiful beige towels. Available in a variety of neutral shades, you're sure to find the right beige for your bathroom in our collection. Made from plump and luxurious cotton, they're sure to give you that hotel feeling after every bath or shower.
Create your perfect beige towel set with our easy sizing options. We've got a range of sizes, from plush face cloths to fluffy hand and bath towels, to luxurious bath sheets that'll drape you in softness. Simply select your sizes, add to bag, and enjoy a beige bathroom scheme of thick cotton comfort.
Choose from combed cotton or textured weave towels, both with stylish trims or bands for a sleek and sophisticated look.
Not sure which towels are right for you? Check out our towel buying guide for a full breakdown of all things towels – from materials and sizing, to gsm thickness and more.
what colours go with beige towels?
Far from being boring, beige is an incredibly versatile colour to use anywhere in your home. A timeless neutral, it's the perfect colour to use in the bathroom. It's a calming shade that can be paired with a number of colours to create a variety of styles.
Create a tranquil, spa-like vibe with beige by layering natural shades and textures in your bathroom. Pair large sandy-coloured floor and wall tiles with natural accessories – think woven storage baskets and rattan mirror frames. Embrace the spa look with a fluffy cream bath mat, and introduce some big, leafy plants to set off your beige towels. You'll be feeling serene and pampered in no time.
Love beige but don't want your space to be plain? Then beige wallpaper could be the perfect way to add some interesting pattern into your bathroom. Go wall-to-wall and cover your space in vibrant patterns, or maintain a sophisticated feel with a unique accent wall. Pick out colours from your wallpaper to complement in your accessories, and round out the look with a gold mirror and glistening metallic fittings.
Add a bit of moodiness to your bathroom by pairing your beige towels with a deeper colour. Think mocha chocolates, aubergine purples, and forest greens. A navy blue or emerald green bath mat will bring out the more regal side of your beige towels. Combining deep colours creates a rich and lush colour scheme that might be glamourous, contrasting or moody depending on the shade that you choose.